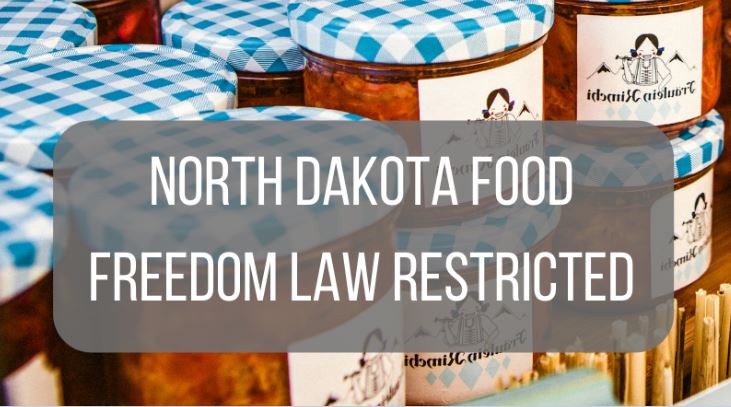 To our food freedom friends:
We recently reported that efforts to repeal the North Dakota Food Freedom law failed and that food freedom remained the law in North Dakota. In 2019, the state legislature declined to repeal its 2017 Food Freedom bill which expanded direct-to-consumer sales of home-baked goods and canned items. Thus in 2019, the state legislature clearly intended to allow for the continued sale of homemade baked goods, canned goods, and assorted other products.
Despite this clear intention, a North Dakota legislative Administrative Rule Committee recently approved regulations proposed by the Department of Health curtailing the law. This contradicts legislative intent and I'm sure we have not heard the last of this dispute. The new regulations only allow for sale of high-acid home-canned goods, impose safety and temperature controls, allow only pasteurized milk and only as an ingredient, and prohibit production of products for animal feed.
These onerous rules can be viewed HERE.
YOUR FUND AT WORK
Services provided by FTCLDF go beyond legal representation for members in court cases.
Educational and policy work also provide an avenue for FTCLDF to build grassroots activism to create the most favorable regulatory climate possible. In addition to advising on bill language, FTCLDF supports favorable legislation via action alerts and social media outreach.
You can protect access to real foods from small farms by becoming a member or donating today.