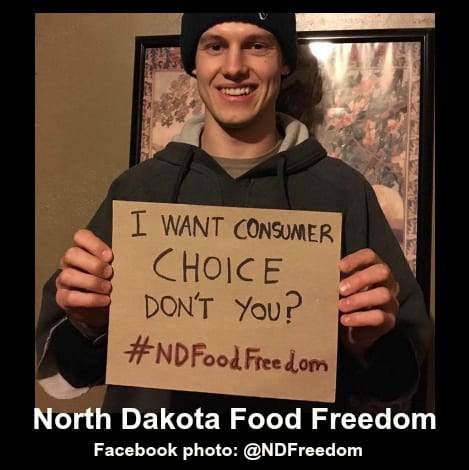 On April 14, Governor Doug Burgum signed House Bill 1433 (HB 1433), referred to as the North Dakota Food Freedom Act, into law.
On April 7, the North Dakota House of Representatives concurred in amendments the Senate made to HB 1433, clearing the way for the governor's signature. Like the version that initially passed the House, the bill allows the direct sale to consumers by producers of all foods without licensing and inspection except meat, meat products, and raw dairy products. According to USDA, federal law prohibits the unregulated sale of meat and meat products. Under the Food Freedom Act, producers can sell up to 1,000 poultry annually of their own raising without state regulation.
As for raw dairy products, they can already be distributed legally through herd share agreements without state regulation. A provision in the original bill allowing for the sale of raw milk and raw milk products was removed by the House committee that initially heard HB 1433 in February.
The bill does have labeling requirements for all foods "that require refrigeration, such as baked goods containing cream, custard, meringue, cheesecake, pumpkin pie, and cream cheese"; labels for those foods must have safe handling instructions and a "product disclosure statement indicating the product was transported and maintained frozen." There is also a requirement that a sign be present at the point of sale with the statement, "This product is made in a home kitchen that is not inspected by the state or local health department."
Local food supporters in North Dakota didn't get everything they wanted in HB 1433, but it was an impressive showing for a first attempt at a food freedom bill and bodes well for future efforts to add raw dairy products.
The Farm-to-Consumer Legal Defense Fund (FTCLDF) consulted on the North Dakota Food Freedom Act. Congratulations to FTCLDF members LeAnn Harner, Peter Bartlett of Bartlett Farms, and others who worked in support of the bill.
YOUR FUND AT WORK

Services provided by FTCLDF go beyond legal representation for members in court cases.
Educational and policy work also provide an avenue for FTCLDF to build grassroots activism to create the most favorable regulatory climate possible. In addition to advising on bill language, FTCLDF supports favorable legislation via action alerts, social media outreach, and the online petition service.
You can help FTCLDF by becoming a member or donating today.


Anyone wanting to make a contribution to support the work of FTCLDF can make a
donation online
or send a check to:
FTCLDF
8116 Arlington Blvd, # 263
Falls Church, VA 22042
Prefer to make a tax-deductible donation? Donate online here.
You may also contact us by email at [email protected] or call 703-208-FARM (3276). Thanks for your support.