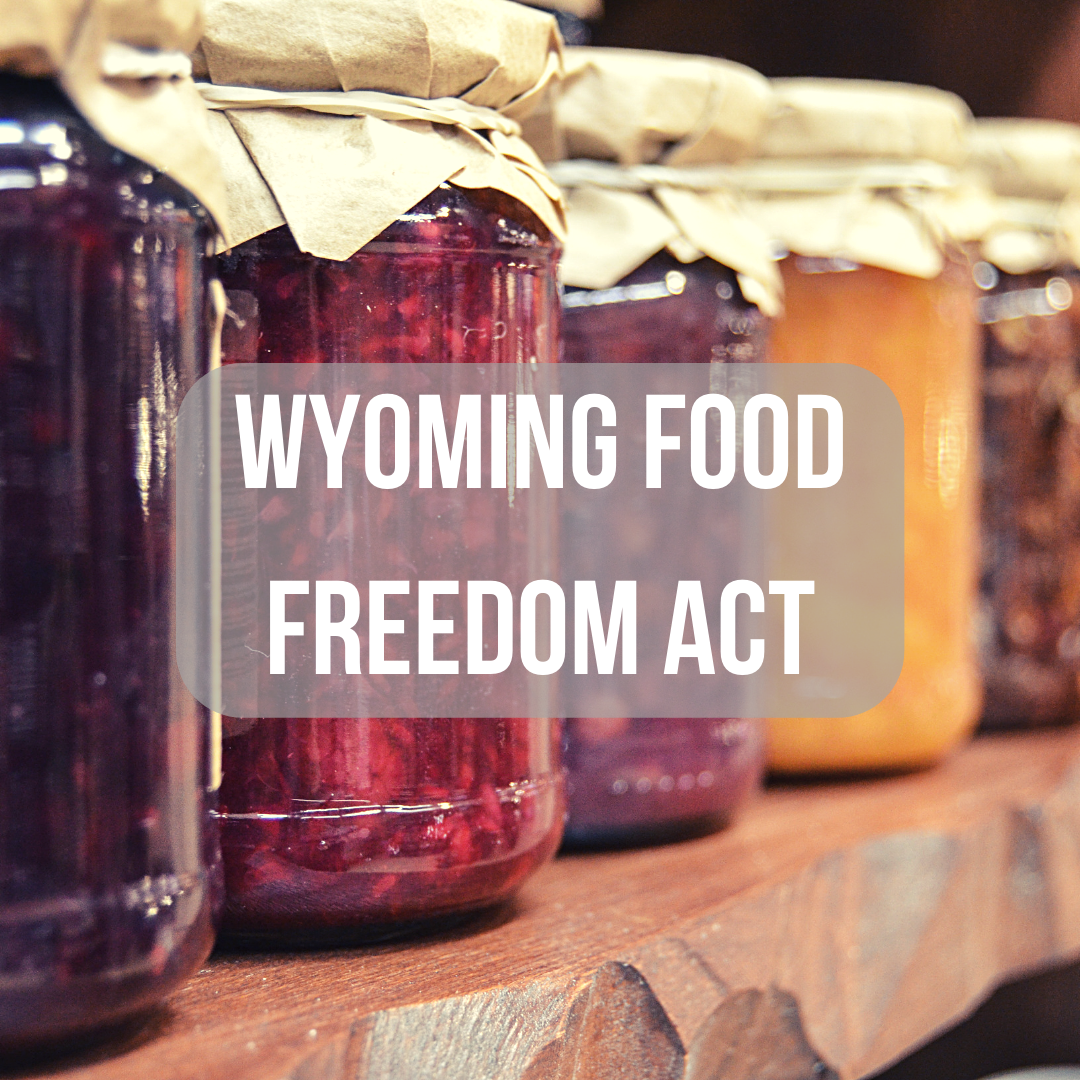 Fifth Anniversary of Wyoming Food Freedom Act
Today, March 3, marks the fifth anniversary of the Wyoming Food Freedom Act (WFFA), the first in the nation. WFFA stopped overregulation of foods locally produced from farms, ranches, and private home kitchens, allowing for many direct-to-consumer food production and sales. The bipartisan bill was sponsored by Wyoming state Representative Tyler Lindholm, a recent addition to the Farm-to-Consumer Legal Defense Fund (FTCLDF) Board.
The fifth anniversary is a huge milestone. Small food producers in Wyoming have been enjoying the freedom of legally selling foods they produced in their home kitchens or from their farms and ranches, and there have been no cases of foodborne illness tied to the legislation. WFFA is one of the better food freedom laws in the country. While other states are following suit, over 40 states allow the sale of cottage foods produced in home kitchens with no or minimal regulation but the WFFA exceeds them in scope.
Drafters of the U.S. Constitution did not see the need to include a provision about food freedom of choice because no one doubted this right. Now it's up to the states to ensure the right to produce and consume the food of one's choice.
New Legislation
Wyoming lawmakers introduced legislation this session that would further expand the WFFA. The amendment would allow for local food producers to sell some foods like homemade jams directly to retailers and restaurants. Currently, it can be tough for producers in the state to sell their foods during the off season of farmers markets because of the distance to retailers and the bureaucratic barricades. Wyoming State Representative Shelly Duncan sponsored the amendment and said, "These changes potentially create more income for farmers, stay-at-home parents, retirees, and anyone else who has a talent in the kitchen. The expansion would also allow consumers to buy more fresh, healthy and local food at affordable prices."
We are planning an event in Wyoming for later this year to honor the fifth anniversary of the WFFA—stay tuned for details!
See our original article published five years ago about WFFA: The Breakthrough in Wyoming
YOUR FUND AT WORK
Services provided by FTCLDF go beyond legal representation for members in court cases.
Educational and policy work also provide an avenue for FTCLDF to build grassroots activism to create the most favorable regulatory climate possible. In addition to advising on bill language, FTCLDF supports favorable legislation via action alerts and social media outreach.
You can protect access to real foods from small farms by becoming a member or donating today.