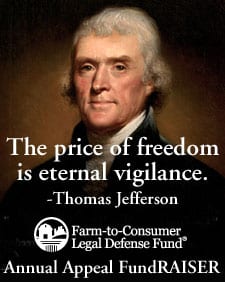 On July 4, 2007 some 500 people gathered at Jake Zook's farm in Christiana, Pennsylvania to celebrate the official launch of the Farm-to-Consumer Legal Defense Fund (FTCLDF). The event marked the realization of the Weston A. Price Foundation (WAPF) President Sally Fallon Morell's goal to create an organization to defend raw milk producers and other small farmers from government enforcement actions. More than anyone, Fallon Morell was responsible for the founding of FTCLDF.
In 2003, WAPF Board Member Valerie Curry Joyner suggested to Fallon Morell that a legal defense fund be set up to protect farmers selling raw milk and that it be modeled after the Home School Legal Defense Association (HSLDA); WAPF had received a number of reports about enforcement actions against raw milk producers. Farmers such as Joel Salatin in Virginia and Dennis Stoltzfoos in Florida also made the same recommendation. Fallon Morell agreed and for the next few years tried to find an attorney to serve as general counsel and chief litigator for such an organization.
Her search came to an end in the spring of 2006 when Fallon Morell met Gary Cox when both testified at a hearing for an Ohio raw milk bill. At the time Cox was representing dairy farmers Paul and Carol Schmitmeyer in a case they would eventually win that would effectively legalize herd share agreements in the state of Ohio. Fallon Morell asked Cox if he would be interested in being general counsel for the FTCLDF, and he took her up on the challenge.
In the summer of 2006, Cox, Fallon Morell, Taaron Meikle and Cathy Raymond met to start setting up FTCLDF. Meikle was to be president, and Raymond was hired as the administrator. In the fall of that year, the original board of directors began to meet. Cox filed articles of incorporation in Ohio, and the mailing address was set up in Falls Church, Virginia. FTCLDF was formed to protect the rights of farmers to produce the foods of their choice and the rights of consumers to obtain the foods of their choice from the source of their choice, regardless as to whether that source was regulated by the government.
The first case FTCLDF took on was that of Pennsylvania dairy farmer Levi Miller who was found guilty by a district court magistrate of selling raw milk without a permit. Cox filed an appeal on behalf of Miller; surprised at seeing a national organization provide representation to a Pennsylvania farmer on a low-level criminal misdemeanor, the Pennsylvania Department of Agriculture withdrew the action against Miller. If only all cases would be that easy.
Cox was busy for FTCLDF, having a big case load and litigating many cases that other attorneys would not have taken on because they were so difficult to win in court. There were two principles behind this strategy.
The first was that if a farmer stuck his neck out for a cause that was important to FTCLDF members, we were going to do our best to help the farmer (under IRS regulations, FTCLDF cannot guarantee representation). The second principle was that there was more than one way to win a case. The farmer could win in any of the following four ways:
A favorable court decision
The case jump-starting the legislative process resulting in the passage of a bill
The case jump-starting the rulemaking process resulting in a government agency issuing favorable regulation
A government agency changing either its interpretation of the law or its enforcement policy
In many of the cases, FTCLDF members lost in court. This is what happened: the government agency did not engage in any further enforcement, even though the farmer was doing the same thing that had landed him or her in trouble in the first place. The agencies knew that if they took another enforcement action, FTCLDF would be there to oppose them again.
FTCLDF was created to level the playing field for farmers so that government agencies could no longer deplete their resources through legal expenditures by dragging them through administrative and judicial proceedings. When the FTCLDF agrees to represent a member, it usually pays for all legal expenses. At times it would be FTCLDF wearing down the government by showing it had the resources and will to protect its members until the agency left them alone. With the willingness of attorneys like Gary Cox and current President Elizabeth Rich to work for substantially less money than they would have made for similar work in the private sector, FTCLDF was able to accomplish this and then some.
The best example of FTCLDF's ability to stretch the dollars it receives from members and donors to maximum possible benefit would be the Vernon Hershberger case in 2013. Thanks to the representation that Elizabeth Rich and Glenn Reynolds provided, the Wisconsin dairy farmer was acquitted of 3 of 4 criminal charges for violations of the Wisconsin Food and Dairy Code, enabling the farmer to continue distributing raw milk and other nutrient-dense foods to members of his buyers' club. There were numerous pretrial hearings and the 5-day trial of the Hershberger case. FTCLDF's total legal costs were somewhere between $60,000-$65,000; the state of Wisconsin spent many times that prosecuting Hershberger. It was estimated that a private law firm putting in the same amount of time Reynolds and Rich did would have charged anywhere from $500,000-$750,000 for representation.
In addition to litigation and other legal services, FTCLDF attorneys also worked on legislative and policy matters. There has been considerable progress over the past 10 years made by the FTCLDF and other organizations and individuals in areas of importance to our members such as raw milk, cottage foods, on-farm poultry processing and custom- and on-farm slaughter of meat animals. Today 42 states allow the sale or distribution of raw milk in some form, 47 states have cottage food laws, 48 states have laws governing the production and sale of on-farm processed poultry, and 48 states have laws allowing custom slaughter and on-farm slaughter.
In 2007, FTCLDF only had two membership categories: farmers and consumers.  Membership fees were initially $125 for farmers and $125 for consumers. Shortly after the July 4 launch, FTCLDF lowered the consumer dues to $50; farmer and consumer memberships have remained the same price since. Today there are three additional categories: affiliates (food buyers' clubs), artisan producers and homesteaders. In the future, FTCLDF could be adding additional membership categories.
You are making an impact with your support of the FTCLDF. We are making progress in creating a more favorable regulatory climate for our members and in advancing towards our long-term goal of having a two-tier food system that allows unregulated farmer-to-consumer direct commerce across the board. Just this year, North Dakota and Maine both passed laws allowing unregulated direct commerce from local producers to consumers; FTCLDF provided support for both measures. Work towards this goal continues under the leadership of Elizabeth Rich and administrator Marti Secondine.
Please help FTCLDF celebrate its 10th anniversary by making a donation during our Annual Fundraiser that will help us protect and expand your right to obtain the food of your choice from the source of your choice over the next decade, investing in your future and the future of your children.
YOUR FUND AT WORK

Services provided by FTCLDF go beyond legal representation for members in court cases.
Educational and policy work also provide an avenue for FTCLDF to build grassroots activism to create the most favorable regulatory climate possible. In addition to advising on bill language, FTCLDF supports favorable legislation via action alerts, social media outreach, and the online petition service.
You can help FTCLDF by becoming a member or donating today.


Anyone wanting to make a contribution to support the work of FTCLDF can make a
donation online
or send a check to:
FTCLDF
8116 Arlington Blvd, # 263
Falls Church, VA 22042
Prefer to make a tax-deductible donation? Donate online here.
You may also contact us by email at [email protected] or call 703-208-FARM (3276). Thanks for your support.