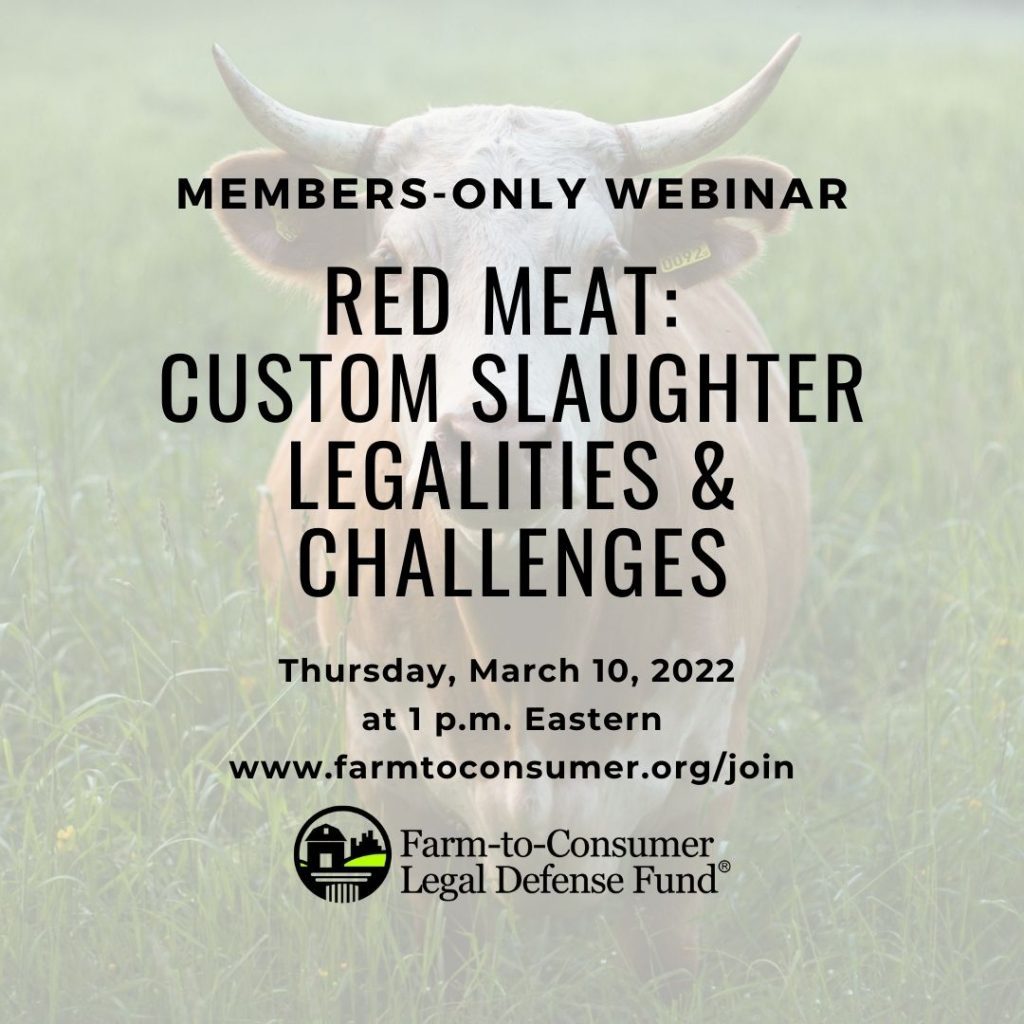 Live on Zoom at 1 p.m. EST, Thursday, March 10
MEMBERS: You can watch the replay of this webinar by LOGGING IN to your member profile and navigating to Member Resources.
Webinar Details
We host our first live members-only webinar of the year, "Red Meat: Legalities and Challenges of Custom Slaughter," on Thursday, March 10 at 10 a.m. PST, 11 a.m. MST, 12 p.m. CST, 1 p.m EST.
The webinar features our own long-time farmer member Christopher Simpson of Field of Dreams Farm, and our legal advisor Judith McGeary, as they explore the legalities and challenges of custom slaughter of red meat.
Field of Dreams Farm is a family operated 117-acre farm run by Christopher and his wife Suellen in Watertown, Tennessee. They raise pastured eggs, chicken, turkey, pork, and beef. The Simpsons don't use any chemicals on their farm, allowing their livestock and poultry to benefit from fertile pastures, rich in nutrients. Their farm journey began almost immediately after watching the documentary Food Inc. in April 2010. Learn more about Christopher and his farm HERE
A few months ago, Christopher employed the FTCLDF emergency hotline (a members-only benefit) to alert us that USDA inspectors had visited and inspected his poultry and beef custom exempt processing operations. In the end, he addressed the concerns they raised, made some adjustments to his operations, and we prepared an animal share agreement to cover the distribution of meat to his customers. Hear directly from him about his operations and interactions with the USDA.
Judith McGeary is an attorney, activist, and sustainable farmer in Texas. After seeing how government regulations benefit industrial agriculture at the expense of family farms, she founded a food freedom ally of ours, the Farm and Ranch Freedom Alliance, to promote common-sense policies for local, diversified agricultural systems. Find out more about Judith HERE
During the webinar, you will learn about:
Recent updates to the state-by-state Meat Map laws on our website,
The federal rules on Custom Slaughter and an overview of state laws,
Operational challenges of Custom Slaughter, and
Answers to related questions you may have.
Current Member Benefits
Unlimited consultation with attorneys after your first six months of membership on matters within the mission statement. Up to two hours of consultation with an attorney immediately upon joining.
Use of toll-free 24/7 hotline to speak with an attorney if there is a surprise visit or inspection.
Consultation with our farm and dairy consultants on farm matters.
Possible legal representation if there is a court case on matters that are within FTCLDF's mission statement.
Advocacy on your behalf in changing policy to help FTCLDF members.
Access to quarterly webinars and other Members-Only Resources.
To participate in the new webinar, make sure you're a current member by Tuesday, March 8. Current members will receive an automated invitation to sign up for the webinar by email shortly after signing up. If your annual membership has expired, Renew here. Replay is available for those current members who sign up but cannot attend the event live.
BONUS: Get discounts, prizes, and extras when you join before our Membership Drive ends March 15, 2022! Find out more about our membership drive HERE.
YOUR FUND AT WORK
Services provided by FTCLDF go beyond legal representation for members in court cases.
Educational and policy work also provide an avenue for FTCLDF to build grassroots activism to create the most favorable regulatory climate possible. In addition to advising on bill language, FTCLDF supports favorable legislation via action alerts and social media outreach.
You can protect access to real foods from small farms by becoming a member or donating today.