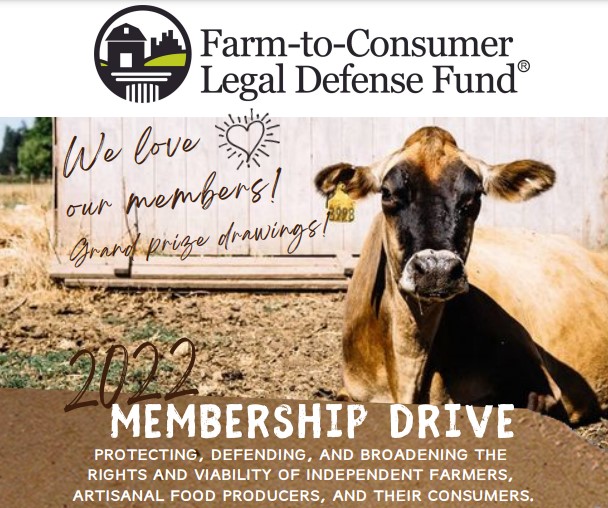 As you know, national and state policy supports large operations yet places major obstacles in the way of independent farmers and food producers simply trying to provide healthy locally produced foods to their communities.
You can help bridge this gap and participate in paving the way for food freedom. Join our expanding base of farmer, artisanal producer, and consumer members. Membership provides exciting benefits and is also vital in providing support to others trying to improve the U.S. food supply.
From now through March 15, 2022, we are offering some great discounts, prizes, and extras to our new members as well as our existing members.
Scroll down to see special, limited offers from our friends, curated for our membership drive!
Stockman Grass Farmer
Barn2Door
Dry Farm Wines
Serenity Kids Baby Food
Chelsea Green Publishing
Have you been thinking about joining our community, or know someone else who might benefit from membership, like an independent farmer, cottage food producer, chef, or concerned consumer? Now's the time to join!
JOIN NOW TO RECEIVE THESE SPECIAL OFFERS!
NEW MEMBERS
All NEW members will be automatically entered into a drawing for prizes from our supporters, Serenity Kids Baby Food and Dry Farm Wines!
Grand Prize – Dry Farm Wines Mix and Match Case (Valued at $323)!
Dry Farm Wines case of wine of your choice! All reds, all whites, or mix and match.
Every bottle of Dry Farm Wines is:
From Organically/Biodynamically Grown Grapes
Lower Alcohol (less than 12.5%)
No Sugar (less than 0.15g per glass)
Lower Sulfites (less than 75ppm)
Dry Farmed (no irrigation)
Fermented with 100% Native, non-GMO Yeast
Free of Additives (Dyes, Thickeners, Flavorings)
While most wines sold today are commercial products full of sugar and can include up to 70+ FDA-approved additives, Dry Farm Wines sources real wine, naturally grown from small family farms that use heritage winemaking practices.
First Prize  – Serenity Kids Baby Food Gift Certificate (Valued at $100)!
Serenity Kids recipes mimic the macronutrients of breast milk, offering the right balance of fat, protein and carbohydrates for babies over six months old. They use grass fed and pasture raised meats from small American family farms, that never use antibiotics, hormones, or GMO feed and blend in organic vegetables and healthy fats that leave baby nourished and satiated. Their ingredients are carefully sourced from farms that use regenerative agricultural techniques to improve soil microbial growth, reduce water runoff, and sequester carbon. Their products never contain potentially harmful ingredients like artificial sweeteners, chemicals, sugar, or GMOs. Serenity Kids further supports small farmers by donating a portion of their profits to us at FTCLDF!
HOW NEW MEMBERS CAN RECEIVE A FREE OR DISCOUNTED MEMBERSHIP FEE!
For readers of Stockman Grass Farmer: If you read Stockman Grass Farmer, or want to subscribe, in the February issue, our FTCLDF advertisement has a coupon code for a discount off of your first year of membership.
For members of Barn2Door: Barn2Door will be holding a drawing during our membership drive to give away four (4) free, FTCLDF farmer memberships!
ALL MEMBERS, NEW AND EXISTING
During our membership drive, all members, including those who join from now through March 15, 2022, receive these exciting discounts:
A SPECIAL LINK TO STEEP DISCOUNTS AND FREE OFFERS ON
STOCKMAN GRASS FARMER EDUCATIONAL BUNDLES!
A free 8-hour lesson from grazing expert Jim Gerrish plus steeply discounted educational bundles from Greg Judy, Allen Nation, and Dr. Allen Williams from our friends at The Stockman Grass Farmer. The Stockman Grass Farmer has been a leading authority in grassfarming for the last 74 years, helping graziers from all over the world.
A COUPON CODE FOR 35% OFF ALL YOUR FAVORITE BOOKS AT
CHELSEA GREEN PUBLISHING!
A discount of 35% off everything at Chelsea Green Publishing. Chelsea Green authors offer their readers in-depth, practical knowledge related to organic farming, ecology, healthy food, sustainable economics, and integrative health. Feel good when you support this independent and 100% employee-owned company! Check out Chelsea Green's publications HERE.
Access these discounts upon joining or renewing your FTCLDF membership with us. When you do, you will get access to an exclusive link to these limited-time educational bundles at HUGE discounts from our friends at the Stockman Grass Farmer and the discount code from Chelsea Green. You must join before March 15, 2022 to take advantage of these discounts!
IMPROVED MEMBERS-ONLY RESOURCES!
Access our new members-only resource area and peruse past members-only webinars, podcasts, and articles to assist and encourage you in navigating the legal pitfalls of independent farming, cottage food production, and agritourism. This benefit does not end on March 15, but will continue to grow and be available to members all the time! Current members have instant access to special offers through our member login.
Of course, membership already provides these great benefits:
Toll-free 24/7 emergency hotline in case of a surprise visit
Unlimited legal consultations after 6 months
Possible representation in court
Invites to attend live members-only webinars (the next one coming up in March)
And more!
We are fighting to protect the rights of food producers and consumers, and the right to a healthy U.S. food system. We hope that you join us!
YOUR FUND AT WORK
Services provided by FTCLDF go beyond legal representation for members in court cases.
Educational and policy work also provide an avenue for FTCLDF to build grassroots activism to create the most favorable regulatory climate possible. In addition to advising on bill language, FTCLDF supports favorable legislation via action alerts and social media outreach.
You can protect access to real foods from small farms by becoming a member or donating today.