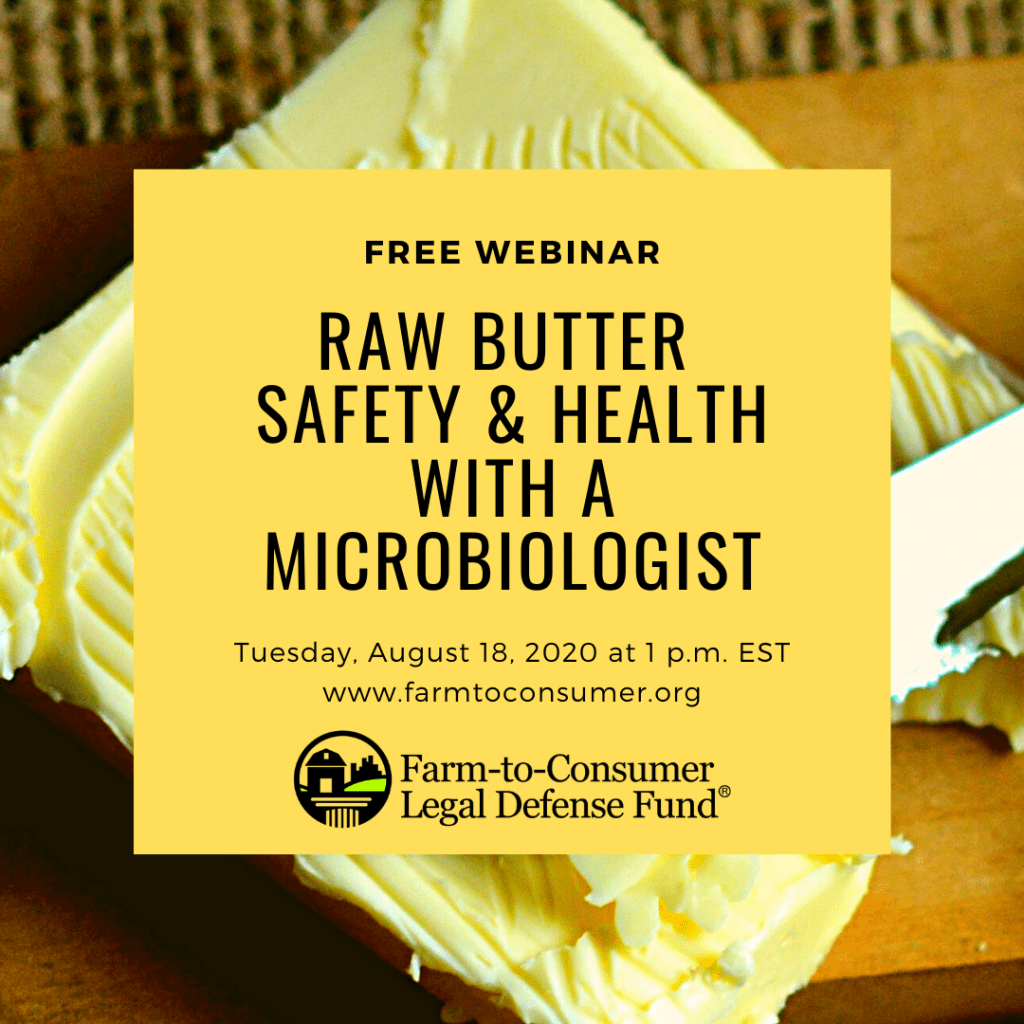 UPDATE: Sign up to watch the replay of the webinar HERE.
Anyone interested in access to raw butter would benefit from this Farm-to-Consumer Legal Defense Fund live webinar.
Our own Executive Director Alexia Kulwiec will interview microbiologist Peg Coleman for this webinar. Both are eager to help you understand butter's rightful place on the dining table. Peg holds two masters of science degrees, more recently in Medical Microbiology from University of Georgia's College of Veterinary Medicine, and previously in Biology/Biochemistry from Utah State University. Peg's expertise in microbial risk assessment began in 1992 as a United States Department of Agriculture (USDA) scientist. She contributed to assessments for all the major foodborne pathogens while at USDA. She now consults on diverse projects targeting beneficial and harmful microbes through Coleman Scientific Consulting. A recent resume and a long list of her presentations and publications is available on her website. She has served as an expert for several National Academy of Sciences committees and provided expert testimony for raw milk, raw cheese, and raw pet food in addition to support for the raw butter case.
At this virtual webinar, you will learn the answers to:
Is raw butter a healthy product?
Is raw butter dangerous?
What is the composition of raw butter?
Alexia and Peg will also take questions from the webinar participants.
To attend this free webinar on Tuesday, August 18, 2020 at 10 a.m. Pacific, 12 p.m. Central, 1 p.m. Eastern, sign up HERE and you'll receive an email with login information on Monday, August 17. If you can not attend live, check back here for access to the replay.
Learn more about our efforts to increase access to raw butter HERE.
Not a member? Join HERE.
YOUR FUND AT WORK
Services provided by FTCLDF go beyond legal representation for members in court cases.
Educational and policy work also provide an avenue for FTCLDF to build grassroots activism to create the most favorable regulatory climate possible. In addition to advising on bill language, FTCLDF supports favorable legislation via action alerts and social media outreach.
You can protect access to real foods from small farms by becoming a member or donating today.