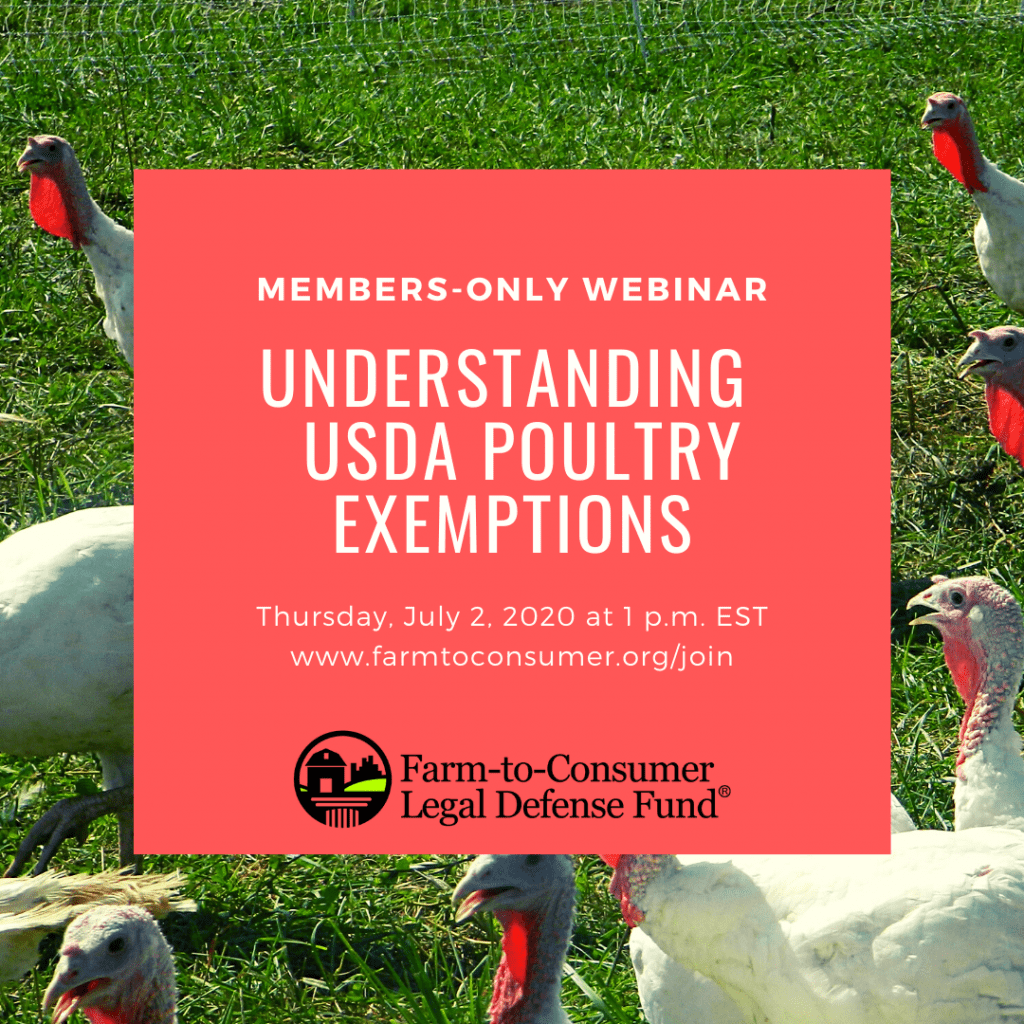 UPDATE: Already a member? Watch the webinar HERE.
Producers of poultry and other livestock intended for direct-to-consumer sales should particularly attend this Farm-to-Consumer Legal Defense Fund (FTCLDF) live webinar. Consumers and others who want to understand the regulation of on-farm poultry processing will also profit from this exciting member benefit.
Dr. Michael Fisher will be this webinar's presenter. He is a retired United States Department of Agriculture (USDA) Food Safety and Inspection Services (FSIS) veterinarian. Dr. Fisher brings decades of experience enforcing FSIS regulations during the slaughter and processing of animals for which the USDA provides inspection services. FTCLDF is thrilled to bring you his expertise and guidance to help you navigate regulatory compliance (see the regular articles he has written and published for our website HERE).
This is the second webinar in a members-only webinar series. Our intention is for this webinar to help our poultry and meat producer members understand the complexities that are involved in preparation of meat products intended for commerce with consumers, focusing on poultry exemptions that allow raw preparation in commerce without inspection.
At this virtual webinar, you will learn:
What an exemption is
A review of the exemptions that excuse an inspector from needing to be present
How to legally prepare poultry and meat for commerce
Answers to any questions you may have
To participate in the new webinar, make sure you are a current member by Friday, June 26 to attend the webinar on Thursday, July 2, 2020 at 10 a.m. Pacific, 12 p.m. Central, 1 p.m. Eastern. Current members will receive an invitation to sign up for the webinar via email on June 29. Current members can also sign up to attend the webinar HERE. Replay will be available for those who sign up but cannot attend live.
Member Benefits
Unlimited consultation with attorneys after your first six months of membership on matters within the mission statement. Up to two hours of consultation with an attorney immediately upon joining.
Use of toll-free 24/7 hotline to speak with an attorney if there is a surprise visit or inspection.
Consultation with our farm and dairy consultants on farm matters.
Possible legal representation if there is a court case on matters that are within FTCLDF's mission statement.
Participation in Member Photo Monday, where every Monday a member is highlighted on our social media pages and included on monthly website posts.
Advocacy on your behalf in changing policy to help FTCLDF members.
NEW! Access to quarterly webinars.
Won't you consider joining our food freedom community and taking advantage of these new members-only webinars?
Not a member? Join HERE.
YOUR FUND AT WORK
Services provided by FTCLDF go beyond legal representation for members in court cases.
Educational and policy work also provide an avenue for FTCLDF to build grassroots activism to create the most favorable regulatory climate possible. In addition to advising on bill language, FTCLDF supports favorable legislation via action alerts and social media outreach.
You can protect access to real foods from small farms by becoming a member or donating today.