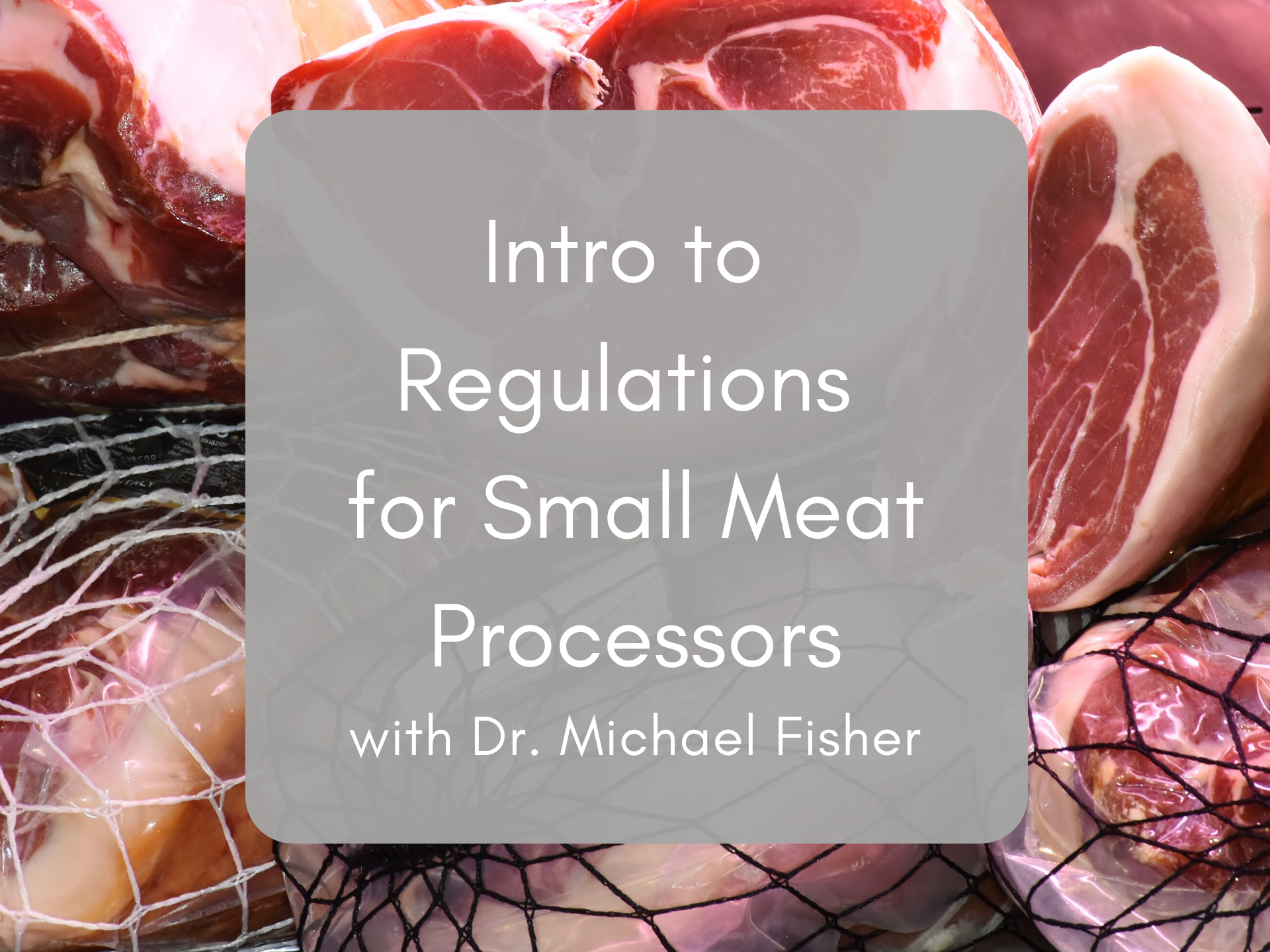 We are pleased that Dr. Michael Fisher has joined the FTCLDF website as a regular contributor. Dr. Fisher is a retired United States Department of Agriculture (USDA) Food Safety and Inspection Services (FSIS) veterinarian, bringing decades of experience enforcing FSIS regulations during the slaughter and processing of animals for which the USDA provides inspection services. Dr. Fisher is thrilled to bring you his expertise and guidance to help you navigate regulatory compliance. His goal is for small, USDA-inspected meat processors to succeed and to understand how to best maintain compliance and reduce regulatory issues.
This article is the first in a series about how the regulatory process fits small and very small meat processing establishments.
There's the Rub
Hamlet, Act III, Scene I: the "To be or not to be" soliloquy in which Hamlet speaks the line, "To sleep—perchance to dream: ay, there's the rub." The rub refers to the English game of bowls, where a rub is a flaw in the playing surface that interferes with the ball's trajectory. For our purposes, a rub is the difference between what regulations require and what FSIS wants but cannot require. FSIS Consumer Safety Inspectors (CSI) are taught FSIS policy; what FSIS wants. Establishments mistakenly think that what the CSI tells them is what regulations require. There's the rub.
In the pre-Hazard Analysis and Critical Control Point (HACCP) era, FSIS exercised command and control over establishment operations by enforcing prescriptive requirements, approving industry procedures, and controlling how industry fixed problems. This provided FSIS with a comfortable level of certainty about the outcome of the production process. All that changed in January 1993, when an outbreak of foodborne illness caused by E. coli O157:H7 was linked to undercooked, federally inspected, ground beef served by Jack in the Box restaurants in Washington State. FSIS had controlled the production process. FSIS got the blame.
Testifying before Congress, then Secretary of Agriculture Mike Espy described the FSIS inspection system as "no longer adequate;…no longer good enough." He promised reform and new meat and poultry safety programs for the future. In 1996, FSIS published the Pathogen Reduction; HACCP Systems Final Rule and introduced "regulatory HACCP."
Regulatory HACCP
Regulatory HACCP is built on principles taken from scientific HACCP; but regulatory HACCP is not scientific HACCP. There's the rub. Scientific HACCP seeks to ensure the outcome by controlling the process. Regulatory HACCP seeks to ensure the outcome by defining the outcome. Scientific HACCP encompasses to the entire food chain, from the farm through food preparation in the restaurant and home. Regulatory HACCP applies only where product is prepared, packaged, and held within an official establishment.
Regulatory HACCP eliminated prescriptive requirements, FSIS approval of industry procedures, and FSIS control over how industry fixed problems. In their place, regulatory HACCP established performance standards that define required outcomes. Under regulatory HACCP, the establishment, not FSIS, is responsible for the process; meaning that the establishment alone is responsible for the outcome. FSIS simply verifies compliance with the regulatory performance standards that define the outcome. This is the key strategic change ushered in by the Pathogen Reduction; Hazard Analysis and Critical Control Point (HACCP) Systems Final Rule. FSIS is no longer in control of the process; therefore, FSIS is no longer to blame for the outcome.
FSIS created a new work group, the Technical Services Center, to implement regulatory HACCP. I was part of that work group. On the day regulatory HACCP went live the phones lit up. Industry had one basic question. What does regulatory HACCP compliance look like in my production process? FSIS could not, and would not, answer the question because that made FSIS responsible for the outcome. Establishments had to figure out what regulatory HACCP compliance looked like in their production process for themselves. In an attempt to address the question, FSIS created guidance documents.
FSIS Avoids Responsibility
FSIS could not tell an individual establishment what actions it must implement to achieve compliance in its production process because FSIS must avoid responsibility for the outcome. FSIS could provide guidance that, if voluntarily adopted, FSIS would recognize as achieving compliance. FSIS is not responsible for the outcome if industry voluntarily adopts FSIS guidance. FSIS guidance is not generic. It favors the large, technologically advanced establishments. It does not work well for many small, traditional, craft-oriented establishments. It is not an answer to industry's one basic question. There's the rub.
Some FSIS industry guidance is useful; some simply describes what FSIS wants but cannot require. If adopting FSIS industry guidance improves your process, then doing so is in your best interest. If adopting FSIS industry guidance overly complicates your process, costs you time and money, then doing so is not in your best interest.
For regulatory HACCP to work as designed, FSIS must let the establishment's process work. This creates an uncomfortable level of uncertainty for FSIS because FSIS must wait on the establishment outcome to verify compliance with the performance standard. FSIS desires certainty and control, which regulatory HACCP, if implemented as designed, does not provide to FSIS. There's the rub.
Regulatory HACCP is the center of the FSIS inspection universe. My goal is to teach you how to navigate that universe. Knowing the difference between what regulations require and what FSIS wants but cannot require identifies your destination. Arriving at your destination requires doing what the regulations require and maintaining records to prove it. That is only half the journey. The other half is confronting FSIS over the difference and standing your ground. There's the rub.
Next month we start the journey. Please join us.
More
As always, if you have a question, please use the Contact Us link and ask.
Did you miss Dr. Fisher's previous posts?
YOUR FUND AT WORK
Services provided by FTCLDF go beyond legal representation for members in court cases.
Educational and policy work also provide an avenue for FTCLDF to build grassroots activism to create the most favorable regulatory climate possible. In addition to advising on bill language, FTCLDF supports favorable legislation via action alerts and social media outreach.
You can protect access to real foods from small farms by becoming a member or donating today.