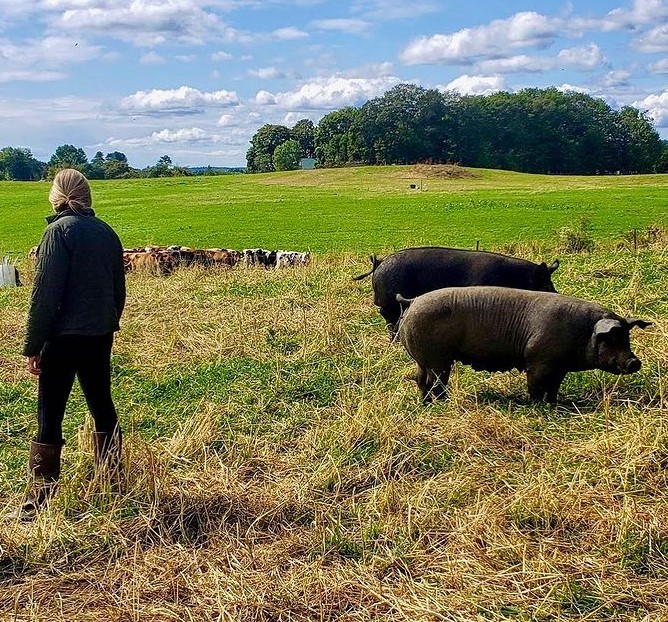 John and Holly Arbuckle run Singing Pastures family farm in coastal Maine with a strong focus on regenerative agriculture and pigs. They produce the naturally fermented and smoked snacking Roam Sticks and Artisanal Charcuterie Salami, both products that raise the bar for healthy, ethical, pasture-raised pork products. John and Holly raise animals like their ancestors, on green grass without growth stimulants, antibiotics, or GMOs. John is a 9th generation farmer. The Arbuckles mimic nature by moving their livestock every few days, similar to what the bison did on the prairie. Long-time FTCLDF farmer members John and Holly Arbuckle share here the third and last part of a series about raising pigs regeneratively. This article first appeared in Graze Magazine, an in-print publication, published again here with permission. 
Grazing multiple species provides many benefits, not the least of which is enterprise stacking that allows each acre to create more than one saleable product in the same growing season.
Our topic here is how to make multi-species grazing regenerative in the biological sense.
We custom graze replacement heifers in front of our pigs, with 37 heifers and slightly more than 100 finisher pigs moving in a leader-follow pattern.
The question we keep asking ourselves: How do we balance out the needs of both the animals and the land?
As with most farms, our land was in a somewhat degraded state upon our arrival in July 2018. So we look to create an evolving landscape that regenerates the soil to produce significantly better forage quantity and quality, allows for the efficient infiltration of water, and rarely (if ever) experiences surface disruption.
Armoring the soil
Right now we are raising replacement heifers to remove some of the pressure to provide milk cow-quality nutrition from our mediocre pastures. This year we started grazing in late May with about 37 heifers, most just under 850 lbs.
The pastures are comprised of timothy and meadow fescue mixed with sparse populations of red and white clovers. Some fields are near monocultures of reed canary grass.
The cattle move through at a rather low stocking density, estimated at just 25,000-50,000 lbs./acre depending on paddock size. While much heavier stocking densities can generate desired effects on pasture and animal performance, they don't fit our context.
We want the cows to leave a lot of armor on the surface. We want them to take the top 30-45% of the sward, leaving the bottom half of the dry matter, or more. The goal is for the heifers to graze the best the grass has to offer, while leaving a tremendous amount of armor on the surface. Thankfully we have enough acres to allow for this strategy.
While this armor protects the soil from drought and flooding while feeding soil biology, it is also meant to protect the soil from the next species to graze through each paddock.
What Pigs Do…and Don't
For us, that species is pigs. Currently we are moving the stock twice a week. The cattle move on to fresh pasture, and the pigs move into the newly vacated area.
We had hoped this system would function to sanitize the pasture and reduce fly pressure, much in the same way that laying hens remove fly larvae from the cow pats. To this point we are not seeing that happen, as fly pressure has not declined as a result of this management system.
The pigs remain in each paddock for the same number of days as the cows. Their grain is fed on the ground, and we strategically feed in different blocks twice a day to spread positive animal impact as evenly as possible.
The end result of this pattern is cows leaving large amounts of litter on the surface, followed by pigs heavily manuring the run without often impacting the surface too greatly.
Soils Are Getting Better
While we may not be utilizing our grass to its fullest extent, we are regenerating soil health very quickly. Our pastures are gaining diversity and ecosystem function faster than we anticipated.
After only three grazing cycles over the past 14 months, we have seen noxious weeds dissipating from "out of control" to manageable levels, cool season grasses increasing in density, and clover growing where we did not see it when we arrived last July. The ground really likes this system.
One of our other challenges is poor water infiltration. The wet spring that most of us experienced this year left several areas of standing water—I don't know if they should be described as large puddles, or small ponds! With time I hope our water infiltration rates improve.
It is worth noting that with large groups of pigs—even pigs with nose rings—"over-impact" occasionally happens, most often around water troughs and other heavy-use areas following a storm. We use old, rotten hay to help repair these spots.
For really wet stretches of several days, we stop rotating the water and shade structures within the paddock and bring in large amounts of rotten hay to blanket the areas where the surface vegetation was removed. These muddy spots are usually concentrated and few in number, so we really pile it on thick.
This material provides an incentive for the pigs to bed down there and not make more wallows. Without that surface armor, those muddy spots would become true deserts when the sun bakes them dry. With it, the pigs can get out of the mud during the wet weather, and life will grow again in those spots when the sun returns.
It is worth noting that only a small dusting of hay is required when we restore muddy spots after the pigs have left the area. We apply it thickly only when it will double as bedding. If it is meant to serve solely as armor for the soil, a thinner coat meets that goal.
In terms of animal performance, we don't see a big disadvantage for the heifers. Not many seedheads returned after the first grazing cycle, with thick, vegetative regrowth the norm.
With our northern climate and relatively even rainfall this year, we did not experience the summer slump seen at our previous place in Missouri. Forage stayed green and growing throughout the season, and after the first grazing cycle the cattle were back on what looked like spring grass.
However, the pigs' grass consumption suffered. It may sound funny, but few things give me as much satisfaction as watching a big herd of pigs grazing luscious green grass.
Yet because the cows were leaving mostly fiber, the following pigs didn't graze as much as I wanted on the first cycle. On the second grazing cycle, the grass seemed to have more nutrition, but less body (quantity).
The cows consumed a higher percentage of the total forage on the second cycle, leaving the pigs with very little to graze. And because our rotation is so fast, one might say we are more interested in impact, and less in utilization. We've been a little more focused on soil performance than pig performance.
If you have a context that allows for this, I feel this is a good focus for a farm's first couple of years.
Expecting Changes
This is an evolving system. We have just begun our second year on this property, so we are focusing on giving the soil more than is normal. Think of this as an investment.
I expect this system to change in the coming years, particularly if we move to grass-finishing our cattle.
Right now the swards would not allow for that in an efficient way. But from the results we are seeing, it won't take very many years to change a degraded land base to one able to sequester carbon, provide good water infiltration, and grow a strong diversity of forages in a profitable way.
More
Did you miss John's previous posts?:
How We've Used Pigs to Restore the Land
How We Regenerate Soils with Pigs
YOUR FUND AT WORK
Services provided by FTCLDF go beyond legal representation for members in court cases.
Educational and policy work also provide an avenue for FTCLDF to build grassroots activism to create the most favorable regulatory climate possible. In addition to advising on bill language, FTCLDF supports favorable legislation via action alerts and social media outreach.
You can protect access to real foods from small farms by becoming a member or donating today.