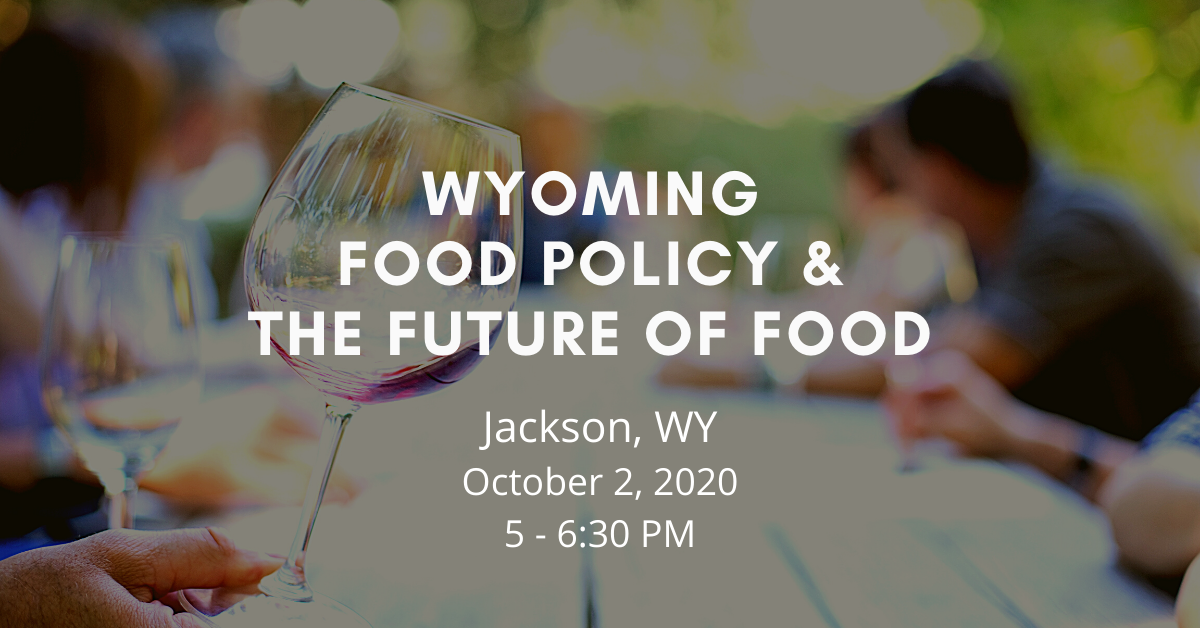 We at Farm-to-Consumer Legal Defense Fund (FTCLDF) teamed up with Slow Food in the Tetons for the Farm to Fork Festival in Jackson Hole, Wyoming on Friday and Saturday, October 2 and 3!
On Friday night October 2 we are hosting "Wyoming Food Policy and the Future of Food." From 5 – 6:30 p.m., we will hear from Wyoming Representative Tyler Lindholm, Representative Mike Yin, Senator Mike Gierau and others regarding the Wyoming Food Freedom Act. Please join us over beer, wine, and snacks to honor these food freedom fighters and discuss next steps towards greater food sovereignty. Funds raised will support FTCLDF and Slow Food in the Tetons. This event is particularly important to FTCLDF and we hope you can join us for spirited remarks and conversation. For tickets to this exciting event, please visit www.jhfarmtofork.com
On Saturday, October 3, speakers will address how the local food movement can rescue the U.S. food system, particularly in times of COVID–19. The event includes a number of fascinating workshops, a farmers' market, and a locally sourced lunch from Trio and Local Restaurants. Proceeds from these events will help ensure that FTCLDF continues to fight for a food system that supports farmers, ranchers, artisan producers, and consumers, and ensure our right to decide what we eat.
We are thrilled that these outdoor events are happening. There have been roadblocks to planning due to COVID-19 and most of our other fundraising events for the year have been cancelled. Our own Executive Director Alexia Kulwiec will even road trip from Wisconsin to Wyoming to be with you!
For updated details about events see below or buy tickets and see details HERE.
Wyoming Food Policy and the Future of Food Cocktail Hour
WHERE: Teton County Fairgrounds Grassy Area, Jackson, WY
WHEN: Friday, October 2, 2020 from 5 – 6:30 pm
TICKETS: $50/person
LIMITED SPACE AVAILABLE 
Join Tyler Lindholm and Mike Yin from Wyoming House of Representatives, Senator Mike Gierau, and others for a discussion of the Food Freedom Act and future policies that can help shape and strengthen our local and regional food system.
To purchase tickets for this event visit HERE.
Farm to Fork Festival
WHERE: Teton County Fairgrounds in Jackson, WY
WHEN: Saturday, October 3, 2020 from 10:30 am – 5 pm
TICKETS: $5-15
To learn more about Saturday's events, visit HERE.
We can't wait to see you there!
YOUR FUND AT WORK
Services provided by FTCLDF go beyond legal representation for members in court cases.
Educational and policy work also provide an avenue for FTCLDF to build grassroots activism to create the most favorable regulatory climate possible. In addition to advising on bill language, FTCLDF supports favorable legislation via action alerts and social media outreach.
You can protect access to real foods from small farms by becoming a member or donating today.