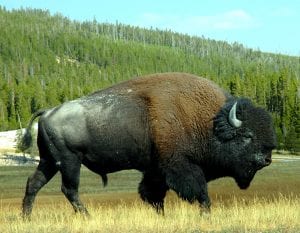 A bison, classified as an exotic animal according to USDA regulations. 
FreeImages.com/LeoCumings

The Wholesome Meat Act of 1967, legislation passed by Congress giving the United States Department of Agriculture (USDA) the jurisdiction over intrastate meat slaughter and processing, ranks as one of the worst pieces of food legislation ever passed in this country. The act led to the monopolization of the meat packing industry, reduced consumer choice, as well as a deterioration in food safety and made it more difficult for small livestock farmers to have access to slaughterhouses. There are moves states can take, however, to make the best of the situation, and one of them is to adopt exemptions the federal law provides from the requirement in the Federal Meat Inspection Act (FMIA) that an inspector has to be present when slaughter takes place.
Tennessee is the latest state to take advantage of these exemptions; Senate Bill 343 (SB 343), which adopts the federal regulations on the exemptions, sponsored by Frank Niceley, became law on May 19. If states just adopt the federal laws governing exemptions and do not add requirements of their own, they are increasing the chances of small farmers effectively taking advantage of the exemptions to boost their farms' bottom line.
There are several federal regulations providing exemption from inspections. The first exemption, 9 CFR 303.1, governs among other things, on-farm and custom slaughter as well as the retail sale of value-added meat products. The way USDA's Food Safety Inspection Service (FSIS) interprets the regulation of on-farm slaughter, there can be an unlimited number of owners per animal as long as the individual doing the slaughtering has a bona fide ownership interest in the animal. That interest can be minimal; there's no federal requirement on how much the ownership interest should be. Likewise, FSIS allows an unlimited number of owners for a custom-slaughtered animal; again there is no requirement about what a minimum ownership interest should be. FSIS's interpretation allows the farmer to expand his customer base for the custom-slaughtered meat well beyond what it would be in states that require a minimum one-quarter ownership interest in an animal that is slaughtered at a custom facility. Federal law requires that anyone obtaining meat from a custom-slaughtered animal must be an owner of that animal at the time slaughter takes place.
There are sanitation, labeling, and recordkeeping requirements for custom operations, but they are not as onerous as the mandates for inspected facilities. Custom slaughter can take place at either a state-inspected or USDA facility. If the custom slaughter takes place at either venue, the sanitation requirements are the same as they are for the slaughter and processing of inspected meat.
The section on retail stores in the regulation allows for the direct sale of value-added products such as jerky, bone broth, and pot pies without processing having to take place in a USDA plant as long as the animal whose meat was used to make the products was slaughtered and initially processed at a USDA or state-inspected facility. If the animal was slaughtered in a USDA facility, the value-added products can be sold direct to a consumer in interstate commerce; if it was slaughtered in a state-inspected facility, sales can only occur in intrastate commerce. FSIS claims that value-added products must be processed in a state-licensed facility, but the regulation does not actually require that.
A second section of USDA regulations providing an exemption from the inspection requirement is 9 CFR 352, regulations governing the slaughtering and processing of exotic animals. Exotic animal, "means any reindeer, elk, deer, antelope, water buffalo or bison."1 Laws in all 50 states require that these animals be domestically raised. Exotic animals are classified as non-amenable species, meaning no inspector is required to be present when slaughtering and processing is taking place (cattle, hogs, goats, sheep and equines are all classified as amenable species, requiring an inspector to be present for slaughter). Under federal law, these animals can be slaughtered at a custom, USDA, or state-inspected facility as well as on the farm; the meat from exotic animals slaughtered at a custom facility or on the farm can be sold by the cut. Meat can be sold to any venue (restaurants, hotels, retail stores, etc.) in interstate or intrastate commerce.
A third regulation providing an exemption from the inspection requirement is 9 CFR 354, governing the slaughter and processing of another non-amenable species, rabbit. Under federal law, rabbits, like exotic animals, can be slaughtered at a custom USDA or state-inspected facility as well as on the farm. Meat from rabbits slaughtered at a custom facility or on the farm can be sold by the cut. Demand for rabbits by restaurants is increasing, and it is probably the easiest animal in terms of food safety to slaughter and process on the farm. USDA inspection requirements don't apply to non-amenable species, but the U.S. Food and Drug Administration (FDA) does have jurisdiction over meat processed from these animals. FDA to this point has had jurisdiction over only interstate commerce but is now claiming to have jurisdiction over processors only in intrastate commerce under powers granted by the Food Safety Modernization Act (FSMA). FDA claims it can impose Current Good Manufacturing Practices (CGMPs) requirements (21 CFR 110, 21 CFR 117) on processors in either interstate or intrastate commerce. CGMPs are burdensome regulations governing a business' physical facility, equipment, and sanitation requirements.
We at FTCLDF have not heard of FDA imposing CGMP requirements on any food processor operating only in intrastate commerce; in fact, attorneys working for FTCLDF have never heard of an instance where FDA has imposed CGMP requirements on a meat processor operating only in interstate commerce. What people have to watch out for are states adopting CGMPs and applying them to meat processors of non-amenable species. North Carolina has adopted CGMPs for rabbit slaughter and processing, hurting small-scale rabbit producers in that state. With the non-applicability of USDA inspection requirements and the apparent non-application of FDA CGMP requirements to non-amenable species meat processors, there is an opportunity to make sales without having to undergo the usual level of regulation for meat processing, a step in the right direction for small farm prosperity.
Producers with questions about these exemptions are encouraged to join FTCLDF by applying online, emailing or calling our office, and then consulting with us on these questions. Once you're a member, you can consult FTCLDF attorneys for answers to your inquiries.
FTCLDF worked on Tennessee's SB 343. We are a true grassroots nonprofit organization, receiving no government funding and no corporate money other than from small like-minded businesses. Please help continue our work protecting the rights to acquire the foods of your choice by either attending our annual fundraiser on September 2 with special guest Joel Salatin or making a donation.
Footnotes:
1 United States Department of Agriculture, Food Safety Inspection Service. 9 CFR 352.1: Exotic Animals And Horses; Voluntary Inspection. Posted online at https://www.gpo.gov/fdsys/pkg/CFR-2012-title9-vol2/pdf/CFR-2012-title9-vol2-part352.pdf
YOUR FUND AT WORK

Services provided by FTCLDF go beyond legal representation for members in court cases.
Educational and policy work also provide an avenue for FTCLDF to build grassroots activism to create the most favorable regulatory climate possible. In addition to advising on bill language, FTCLDF supports favorable legislation via action alerts, social media outreach, and the online petition service.
You can help FTCLDF by becoming a member or donating today.


Anyone wanting to make a contribution to support the work of FTCLDF can make a
donation online
or send a check to:
FTCLDF
8116 Arlington Blvd, # 263
Falls Church, VA 22042
Prefer to make a tax-deductible donation? Donate online here.
You may also contact us by email at [email protected] or call 703-208-FARM (3276). Thanks for your support.