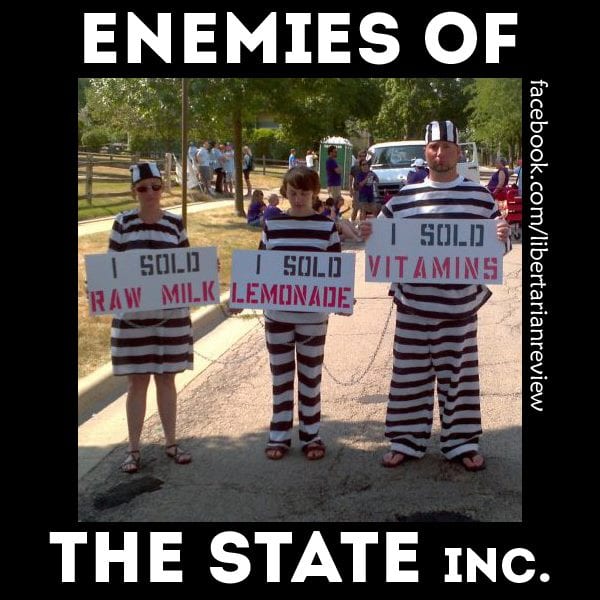 It's important to know before you go to any event involving acts of civil disobedience. We applaud the courage of those who stand up for their rights and the rights of others. Courage comes from knowing the risks and going forward in spite of them.
Although attorneys of the Farm-to-Consumer Legal Defense Fund cannot condone acts of civil disobedience, members are welcome to inquire about their rights and potential consequences of whatever path of action they choose. Have questions? Call 703-208-3276.
Lemonade & Raw Milk Day
Saturday, August 18 – D.C. Event at Noon
Folks across the nation are planning to participate in Lemonade & Raw Milk Freedom Day this coming Saturday, August 18. A capstone event will be orchestrated on the mall of the U.S. Capitol in Washington, D.C. at noon.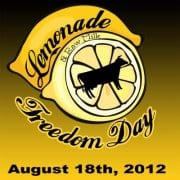 Depending on the state, the sale or distribution of raw milk may be legal on the farm, at farmers markets and even in retail stores. Some states and situations may require a license while other may not; others may prohibit accepting donations or even giving it away. Enforcement officers, however, may or may not know the particulars of the law. Even the Raw Milk Nation Map provides only a general survey laws state-by-state.
The actual pretext for an enforcement action could be based on not having a permit for an event rather than the actual activity of engaging in food distribution. Fund attorney and Vice President, Elizabeth Gamsky Rich, has the following advice to offer:
10 Things to Know Before You Go
Bring an umbrella, it might rain.
#1: Be safe! People my age are old enough to remember what happened at Kent State in 1970. Civil disobedience can be dangerous. When you are being approached or questioned by a law enforcement officer,
Do not reach for anything or attempt to put your hands in pockets or purses.
Do not physically resist the officers.
Never touch the officers in any way–that is battery and will likely be charged as a felony.
#2: Communicate respectfully and peacefully. The goal is to make your point without language that could be perceived as threatening or dangerous.
#3: Leave potential weapons at home. Make sure you do not inadvertently bring to the demonstration objects that might be considered weapons (jack knives, corkscrews, utility knives, etc.); or if you choose to do so, know the risks–which include potentially serious felony charges not only for you, but possibly for your fellow demonstrators as well. Pre-cut your lemons at home in your clean kitchen.
#4: Those with medical needs should purchase and wear bracelets identifying their condition: asthma, diabetes, epilepsy, heart conditions, etc. They should also bring several copies of a letter from their doctor with instructions as to what treatment and medications they require.
Family, friends or supporters should have copies to produce if necessary; keep one copy on your person to present at the jail if you are arrested.
Make sure you have someone on the "outside" who will check on your medical condition and treatment, and who will advocate for you until you receive what you need. This is a persistent problem in jails across the country.
#5: If you plan to bring minor children with you to the demonstration (I don't recommend it), have a game plan.
You will not be allowed to bring your minor child to jail with you.
If you do not have an adult with custodial rights to the child present, the child might be placed in temporary foster care.
The question is not likely to be raised if the child is in the care and custody of other adults when you are arrested; but engaging in civil disobedience with your baby strapped to your chest is asking for trouble.
#6: Activists who are not U.S. citizens face a higher risk and a different set of consequences than U.S. citizens–deportation is a very real risk.
#7: If you are arrested, you will likely be questioned. You do not have to answer any questions–you have the right to remain silent.
Most officers are trained to try to get you to talk. Remember: they can lie to you; you cannot lie to them. But you don't have to talk!
Just say, as many times as you need to, "I do not want to answer any questions; I have the right to remain silent and I want a lawyer." Keep saying that–nothing else.
#8: If you hold a professional license, check into your state's laws regarding implications of criminal charges on keeping your license. Certainly, many doctors, lawyers, teachers and others have engaged in civil disobedience without being barred from continuing their professions–but make sure you go into this with your eyes open.
#9: If you have a warrant out for your arrest; if you are on probation; or if you are out on bond from a pending action, engaging in civil disobedience is really not a good idea. You will be treated differently from the other activists, and you risk much greater consequences.
#10: Policies regarding bail vary widely across the country. I am not certain, but I believe that in D.C. if you are arrested on a Saturday, you will sit in jail until your bond is set on Monday.
It might be worth contacting a bail bondsman in the D.C. area to determine whether bond can be posted right away, particularly for nursing mothers and others for whom two days in jail could prove exceptionally difficult.
Once again, it is helpful to have someone on the "outside" who can be prepared to make bail arrangements for you as soon as possible.
As you watch the following video of activist Max Kane inviting FDA's John Sheehan to the D.C. event, notice the videos playing in the background. You'll see arrests taking place; but as in point #1, it is best not to physically resist. If you've done your homework, you won't be taken by surprise. [Apologies, the video is no longer available.]
Top graphic courtesy of Libertarian Review on Facebook
Last Updated: January 31, 2016