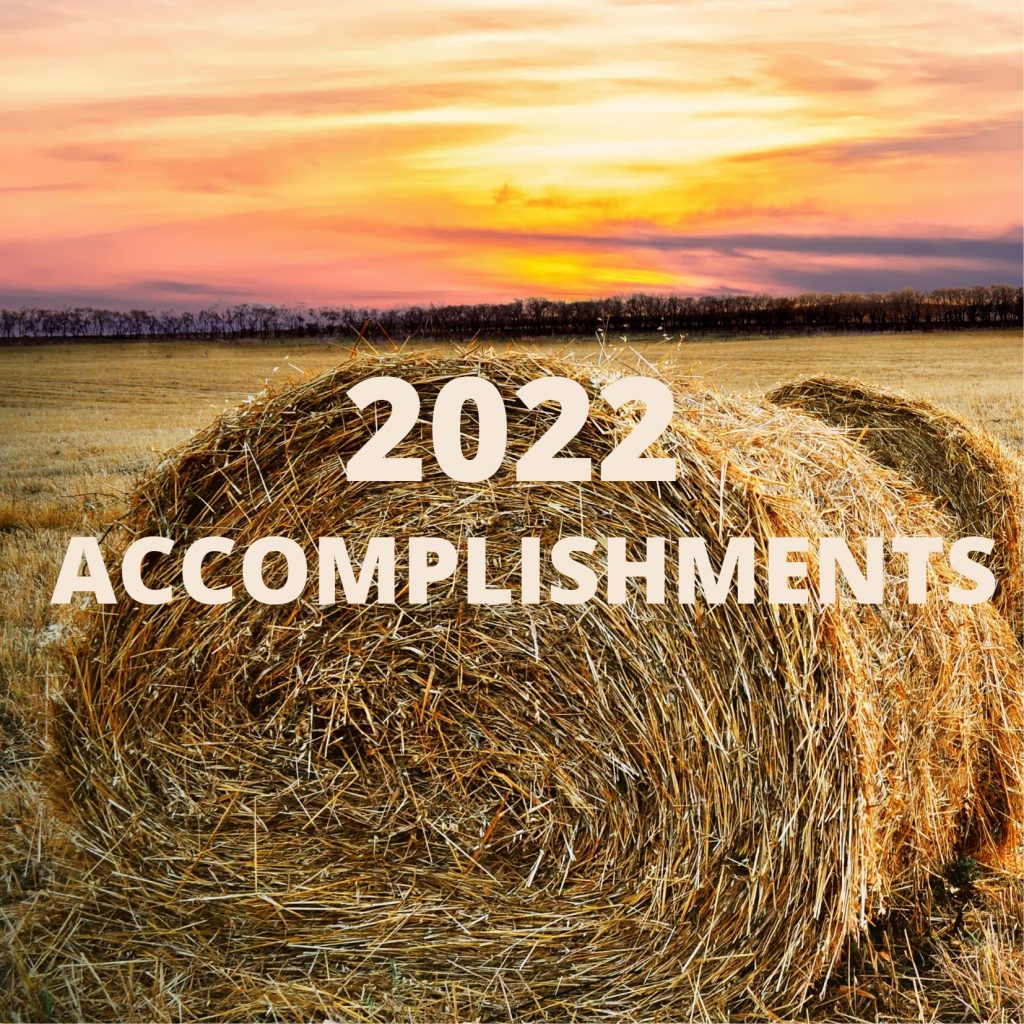 As we prepare to welcome a new year, we would like to celebrate with you the many achievements we have made in the food freedom movement this past year. We love that we get to fight for farmers, artisanal producers, homesteaders, and consumers to increase food freedom across the country.
Back in 2007, Farm-to-Consumer Legal Defense Fund (FTCLDF) was founded on the simple principle that all Americans should be able to eat the food of their choice from the producers of their choice. We continue to address the many barriers and struggles facing our members.
Here are some highlights of the past year.
MEMBER NEEDS
As of this writing, our team:
Provided legal and member services through 2,400 interactions with members, donors, and stakeholders;
Drafted nearly 100 legal documents and consulted with 200 members regarding dairy herdshare, live animal sales, and flock share agreements;
Gave individual and emergency legal consultations to nearly 300 members.
According to our annual member survey, our members' top three favorite member benefits still are:
Unlimited consultation with attorneys after the first six months of membership on matters within the mission statement. Up to two hours of consultation with an attorney immediately upon joining.
Possible legal representation if there is a court case on matters that are within FTCLDF's mission statement.
Use of toll-free 24/7 emergency hotline to speak with an attorney if there is a surprise visit or inspection.
INCREASED ACCESS
We recently surveyed our members so that we can continue to improve upon services and resources. We also welcomed two new Board members, April Jones and Peter Ruddock, both local food and regenerative farming advocates.
BAN ON RAW BUTTER
Earlier this year, the D.C. District Court of Appeals rejected our appeal challenge, which means that raw butter still cannot legally be sold across state lines. FTCLDF along with California dairyman and FTCLDF member Mark McAfee filed the appeal and have been working together for more than five years to overturn FDA's raw-butter ban. Our Executive Director Alexia Kulwiec says, "The decision incorrectly allows the FDA to regulate butter by requiring the use of pasteurized milk or cream when Congress has reserved to itself sole authority to say what ingredients may be used to make butter sold in interstate commerce." Because this case potentially affects so much more than unpasteurized butter, we will continue to fight and created our Campaign for Raw Food.
ACTION ALERTS
We alerted our readers, members, nonmembers, and followers of 16 action alerts on timely state and federal legislative matters with easy steps for taking action.
COLLABORATION
We love it when we can gather with our food freedom community. This year, we exhibited at nearly one dozen conferences across the country, sharing the important work we do and reaching more folks who benefit from our services, one at a time. Our Executive Director and Legal Services Specialist also spoke at nearly one dozen events.
MEMBER EMERGENCY HOTLINE
Helping members is at the core of our mission. So far this year, we provided individual and emergency legal consultations to nearly 300 members, many of whom alerted us of their issues by calling our Member Emergency Hotline.
Our Member Emergency Hotline is available 24 hours a day, 7 days a week, in the event of a surprise visit, inspection, or notice regarding a member's farm or related farm business. We always have an attorney on-call who can be on the phone during such a stressful event. Every year, our member survey shows that our members rate our Member Emergency Hotline as one of our top services they value most. While we focus on preventing issues for our members, when emergencies do arise, we have the hotline.
This year, we fielded calls from all over the country regarding a number of farm and food business related issues for your fellow farmers, homesteaders, and cottage food producers.
Some of the emergency calls we received this year were about:
Assistance due to flock destruction because of avian flu
Numerous surprise visits from regulators
Multiple accusations from local health departments
Below is a taste of this year's member requests for our legal expertise:
New or revised dairy herdshare agreements as well as meatshare agreements
Liability waivers for slaughter and agritourism
On-farm poultry processing questions
Selling various foods direct-to-consumer
Neighbor complaints regarding noise or zoning
Ordinances outlawing backyard poultry
Insurance leads for various farming-related businesses
For our latest Emergency Hotline Blotter, visit HERE.
MEMBER TESTIMONIALS
Hi, I'm Blaine Hitzfield with Seven Sons Farms and we joined Farm-to-Consumer about 10 years ago because we wanted the peace of mind that someone would have our back in the event our business was threatened by regulatory overreach. Just this year Farm-to-Consumer came through in a big way as we navigated a serious threat to our business from local regulators. The attorneys and advisors at Farm-to-Consumer gave us the clarity, confidence and backing we needed. We encourage you to join or donate to protect and support small independent farms like ours that help strengthen our food system, and help us provide you with healthy food choices for your family.
– Blaine Hitzfield, Seven Sons Farm
Hi. I'm Jacy Vaughn with Like Wild Flowers Homestead. I joined Farm-to-Consumer Legal Defense Fund last year when I needed help navigating raw milk laws in Texas. Not only did they help me understand the laws, they even helped me come up with contracts for my herdshares. They're so quick and easy to work with, and it really is such a relief knowing someone has my back who knows these laws inside and out. If you'd like to help improve our food system, please consider joining or donating today.
– Jacy Vaughn, Like Wild Flowers Homestead
I would like to take this time to tell you why I joined Farm-to-Consumer. I currently live in Texas, and the legal statutes are just ridiculous, and the state prevents a farmer from making a living by placing all these constraints on the farmer. Because we are not the big conglomerates, which I believe are afraid that us little guys will put a major dent in their profits.
Long story short, I wanted to raise cows for milk production, and [my previous raw dairy farmer] told me about Farm-to-Consumer. I was brand new at this endeavor. However, I wanted to provide a quality product to the people who wanted it, and there you have it, I contacted Farm-to-Consumer and have gotten to know Christine Dzujna. This woman has helped me so much with my Texas herd share documents and now with my Tennessee herd share documents. I could not have done this without the support and guidance from you guys.
Farm-to-Consumer truly understands what us little farmers need. You guys give so much advice and guidance. I thank YOU all for all you have done for me and my farm! I hope more people will use the excellent service.
– Rick Tantlinger, Lee-Lynns Farm & Ranch
See what else members say about how our work helps them.
THANK YOU
FTCLDF is a true grassroots organization with most funding coming from membership fees and individual donations.
Throughout our first decade and a half, we have defended the rights and freedoms of farmers, homesteaders, artisans, and consumers to grow, obtain, share, exchange, and sell nutrient-dense, local, sustainable, and artisanal food.
We would not have made it this far if it weren't for those of you who: join and renew your memberships; donate funds, food, or time; read and share our posts; like us on Facebook; follow us on Instagram; and host events for us. We thank you for supporting our work and hope you will continue to do so in 2023 and throughout our second decade of protecting food choice.
Consumers and governments alike have seen how consolidation and corporate control of our food system made it vulnerable. Now is the time to ensure that FTCLDF members receive the legal representation they need and also support efforts to pivot to a more sustainable food system that helps small farmers, ranchers, artisan producers, and their consumers.