The board and staff at Farm-to-Consumer Legal Defense Fund (FTCLDF) are very pleased to announce our two newest board members, April Jones and Peter Ruddock.
"Please join me in welcoming Peter and April to our board. Both are strong advocates for regenerative farming and locally produced food and are passionate about healthy food. They will both add great perspectives and wisdom to FTCLDF," says Alexia Kulwiec, FTCLDF Executive Director.
April Jones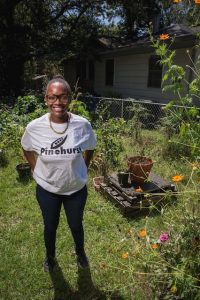 April Jones is the founder of the Pinehurst Farmers Market located in downtown Columbia, South Carolina, in the Pinehurst neighborhood. April advocates for her community as part of the food justice and food sovereignty movement.
She is passionate about community, gardens, and farmers markets. She is a homesteader, writer, public speaker, blogger, recipe developer, book reviewer and more. April contributes content to her blog "Frolicking Americana," Columbia Living Magazine, Mother Earth News, Country Lore, The Natural Farmer, Grit, the Farmers Market Coalition, and Ark Republic. April is an Ecoparent Magazine Emerging Leader in food and agriculture nominee. Connect with April at Pinehurst Community Action and at Pinehurst Farmers Market.
"I am honored to be a part of the long tradition of farmer sovereignty," says April. "As a board member I hope to add to the dialogue on how we can reconcile our communities through food action."
Peter Ruddock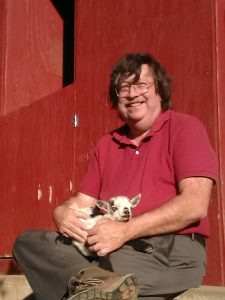 Peter Ruddock is an advocate for sustainable food and all things that strengthen local food economies. He believes that when we make food choices, we must employ a triple bottom line: choosing food that is good for the Earth, good for all of those who work to bring it to us, and good for our health when we eat it.
Over the years, Peter has honed his advocacy by volunteering and working for numerous organizations whose missions complement his own, including Slow Food and Slow Money, the Ecological Farming Association and the California Food Policy Council. Most recently, he worked as the Policy Director of the COOK Alliance, advocating for policy change which would support homemade food businesses and make them more widely legal.
Early in 2022, Peter created Resilient Foodsheds, an organization which acts as a clearinghouse for food policy for small food and farm businesses. With it, he creates programs which educate entrepreneurs on how to work within the law while being sustainable, and which advocate for policy change to create a more resilient, equitable and inclusive food system.
Peter says, "I am very happy to be joining a group of like-minded people on the FTCLDF board, to forward the important work of re-localizing local food economies, while making them more resilient, and championing the small producers who bring us good food. These producers need help as regulations too often work against them and competition from industrial food tends to drive their incomes down. I see many synergies between what I have been doing and what FTCLDF does in strengthening these small producers and I am excited to see what we can do together going forward."
YOUR FUND AT WORK
Services provided by FTCLDF go beyond legal representation for members in court cases.
Educational and policy work also provide an avenue for FTCLDF to build grassroots activism to create the most favorable regulatory climate possible. In addition to advising on bill language, FTCLDF supports favorable legislation via action alerts and social media outreach.
You can protect access to real foods from small farms by becoming a member or donating today.