Long Shadow Farm lies in the foothills of the Colorado Rockies in Berthoud, Colorado, an idyllic setting for owners Larry and Kristin Ramey to practice their passion: animal husbandry. Long Shadow Farm raises lambs, chickens for meat and eggs, ducks and turkeys. The Rameys are dedicated to providing a happy life for their animals and sharing what they have learned through their years of farming with others. The owners frequently host chicken processing workshops welcoming interested foodies, farmers, and people looking to raise birds for meat and eggs to participate and volunteer.
On September 17, 2017 the Rameys were preparing for their Sunday workshop. People were trickling onto the farm, watching the animals, and getting ready to learn about chicken processing. Unbeknownst to the Rameys, among their eager students was a group of animal rights activists known as Denver Baby Animal Save and Direct Action Everywhere (DxE). In reflecting back on that particular September morning, Kristin felt that "something just seemed off." At first, the Rameys believed the group of 30 that showed up together were there to help. People interested in raising chickens will often volunteer during the workshops to get a closer view of the process. Soon the farm owners realized that this group was not the volunteering kind, as they began to sing and play music, creating quite a stir. Kristin Ramey describes the events of that day below:
"They [Denver Baby Animal Save] sent in 4 people in plain clothes pretending to be volunteers to help on a processing day. After they arrived, 26 more people showed up with matching shirts, guitars and video cameras. While we were busy telling volunteers not to engage with the protesters and calling the police to report it, one of the protesters opened a crate of roosters. This caused confusion. The group locked arms to block us from acting. As soon as they heard Larry on the phone with the police they all left."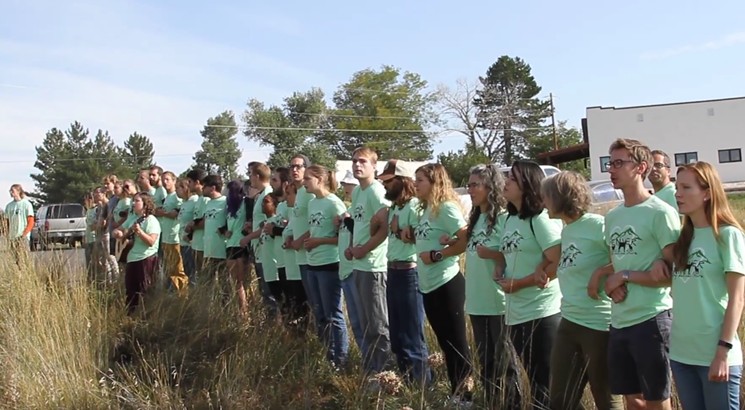 During the confusion, a group of the protesters had asked Larry if they could pet a chicken. He said yes, they could go to the barn with his daughter and she could show them a chicken that they could pet. Shielded by the chaos ensuing at the farm, the group was able to slip under their friends' barricade with three chickens in what is commonly referred to among activists as an "open rescue."
Most people are familiar with animal rights activists going undercover and secretly recording animal farming practices. Oftentimes, the videos shown are taken at factory farming establishments, showing the atrocity that is factory farming. In recent years, animal rights activists have left their hidden cameras behind and have leaned on transparency in their disruptive behavior, utilizing a tactic known as open rescue. Open Rescue International describes open rescue as a "form of nonviolent direct action in which activists enter animal farms and other facilities, document the conditions, and rescue animals. The rescues are open as activists do not hide their identities from the public." Open rescues are an international phenomenon. Every March, groups across the world participate in Open Rescue Day; in 2018, four organizations rescued 15 animals on this day and in 2017 twenty activists across the globe rescued 37 animals collectively according to Open Rescue International. In response to criticism that open rescues are actually theft, Denver Baby Animal Save welcomes the discussion and controversy caused by open rescues and uses the momentum to attempt to change public opinion and update laws to reflect what they see as the rights of all sentient beings.
The Rameys requested that the district attorney take legal action and press every charge possible. Of the 30 protesters who participated that September day, five have been charged. Unfortunately, through chance or intensive research, Denver Baby Animal Save was able to avoid any felony charges. Under Colorado's State Department of Agriculture Act of 1949, the theft of cattle, horses, mules, sheep, goats or swine is considered a felonious charge. Chickens are not covered under agricultural law, and therefore the thefts were considered misdemeanors. The protesters were also able to avoid trespassing charges because the Rameys had open hours published on their website. Furthermore, burglary and interfering with a minor charges were dropped because Larry Ramey had given the protesters "permission" to pet a chicken and go into the barn with his 8-year-old daughter.
In reminiscing about their ordeal, the Rameys realize that they were on the radar of animal rights activists for some time. Several months prior, in May 2017, the Rameys were alerted to a tweet on Twitter by Denver Baby Animal Save about their farm that stated, "This group teaches how to kill birds in front of a live audience. Anyone up for a disruption?" The Rameys were on high alert for a few months, but had since let their guard down since no disruption had occurred after the tweet. The Rameys also now realize that the ringleader of Denver Baby Animal Save had visited the farm a month prior during another chicken processing workshop. The man had stated he wanted to volunteer, but he never touched a chicken. The Rameys believe he was scouting the place, evaluating the layout and any security measures protesters might encounter when stealing from a farm.
The disruption that occurred at Long Shadow Farm has been a huge wake-up call to the Rameys. Naturally trustworthy people, who in the past have welcomed everyone on to their farm, now have to enforce strict security measures. The Rameys have instituted new rules including: posting of "No Trespassing" signs, requesting the help of extra volunteers, requiring volunteers to wear matching shirts, removing open hours from their website, requiring all participants of workshops to sign a waiver, and documenting via photo every farm visitor's driver's license. In response to their experience with animal rights activists, Kristin is also looking to create a group of small farmers for protection from this kind of disruptive behavior: "We need to keep an eye out for each other. To be an extra volunteer, an extra body, and an extra set of eyes. We have to work together to protect one another from activist activity."
In addition to a new distrust of visitors, Kristin also wonders where her stolen chickens are now. They were not returned, and she is not confident that the people who stole her chickens know how to provide a happy life for them. When reaching out to Denver Baby Animal Save, they confirmed that the chickens will be spending their remaining days at sanctuaries but did not specify what sanctuaries. 
Open rescues are becoming increasingly common among animal rights activists. See below for tips on how to protect yourself and your farm from being the victim of theft and other disruptions.
Tips for Protecting Your Farm from Open Rescues and Activist Disruptions
Place "No Trespassing" signs on your property

.

Download a copy from FTCLDF

HERE

.

Recruit extra volunteers during farm events.

Remove open hours from websites and social pages.

If conducting workshops or processing days, require participants to sign a waiver.

Waivers should be prepared by an attorney; FTCLDF can help members with this.

Videotape events, particularly disruptions. Openly take close-up photographs of offenders.

Anyone who enters the farm must provide a photo ID. Write down or photograph drivers' licenses or passport numbers.

Photograph or record all vehicle license plates of visitors or event participants.

Call the FTCLDF! One of the benefits of being a member of FTCLDF is access to legal advice and a 24-hour toll-free hotline for emergencies.  
Additional Resources:
"Chicken 'Rescue' Involved Awful Music, Lying to 8-Year-Old, Farm Owner Says" by Michael Roberts published in WestWorld
The article that put Long Shadow Farm on Denver Baby Animal Save's radar
Denver Baby Animal Save's account of the Long Shadow Farm open rescue
YOUR FUND AT WORK
Services provided by FTCLDF go beyond legal representation for members in court cases.
Educational and policy work also provide an avenue for FTCLDF to build grassroots activism to create the most favorable regulatory climate possible. In addition to advising on bill language, FTCLDF supports favorable legislation via action alerts and social media outreach.
You can help FTCLDF by becoming a member or donating today.


Anyone wanting to make a contribution to support the work of FTCLDF can make a donation or find out more info HERE.