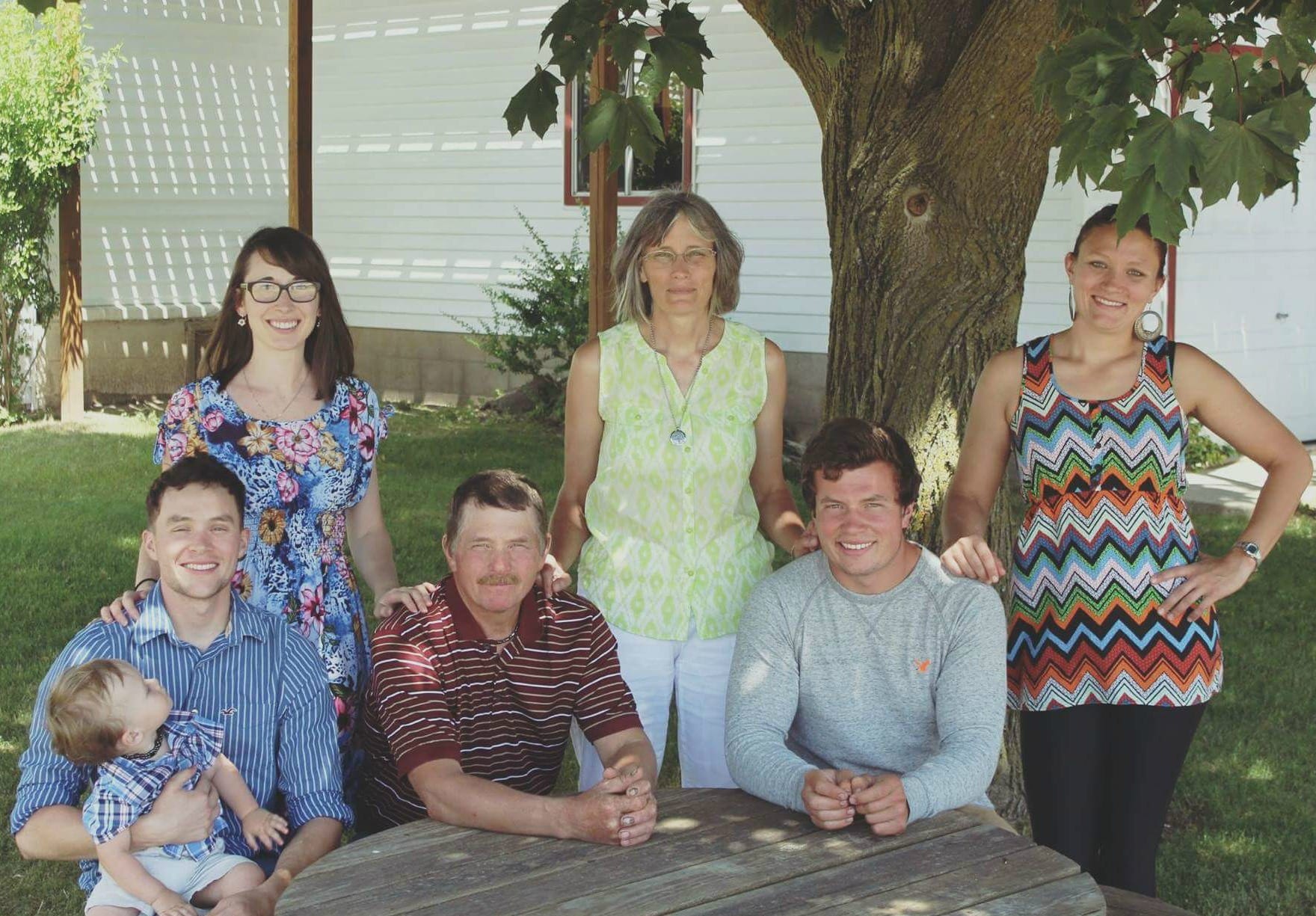 The Golimbieski family
FTCLDF member Joe Golimbieski got some good news Monday morning when his attorney Michelle Halley called to report that Judge James Jamo denied the request of the Michigan Department of Agriculture and Rural Development (MDARD) to hold Golimbieski and the Grade A dairy he owns, Hill High Dairy, in civil contempt for violating a court order enjoining them from breaking Michigan's food and dairy laws. Unfortunately, at the time Golimbieski took Halley's call about his court victory, he was being raided by MDARD inspector Amber Matulis and Food and Dairy Deputy Division Director Terrance Philibeck who seized and carted off raw butter, cream, skim milk, and cheese among other products. Golimbieski presented a copy of the judge's decision to the MDARD officials, but after admitting that they hadn't been aware of the ruling, they left with the products anyway.
In addition to Joe Golimbieski and Hill High Dairy, the Ingham County Circuit Court Judge also found BJ's Cow Boarding, Joe's wife Brenda, and Mike Lobsinger not in contempt. Lobsinger had successfully intervened in the case as a third party and has also sued MDARD officials in Michigan's Court of Claims for violations of his constitutional rights due to their seizure of his cream during an earlier raid at the Golimbieski farm.
Joe Golimbieski is the sole operator of Hill High Dairy, LLC, which sells milk produced by the LLC's 70 cows to Horizon. Brenda Golimbieski is the manager of BJ's Cow Boarding, which leases its herd of 15 cows to those wanting to obtain raw milk. Lobsinger is one of the herd's leaseholders.
MDARD was seeking to have the defendants held in contempt primarily for the distribution of butter and cream to leaseholders. In 2013, MDARD adopted Policy 1.40 that legalized the unregulated distribution of raw milk through a written herd share or herd lease agreement (see "State Control Over Private Property in Michigan" and "Michigan Leaseholder Sues Over Seized Cream"). Policy 1.40 stated that herd share programs are considered to include only fresh, unprocessed whole milk and not other dairy products such as butter, yogurt, and cheese.
Starting in August 2013, MDARD became embroiled in a dispute with the Golimbieskis over, among other products, the distribution of raw butter and cream. Eventually MDARD, through the Attorney General, filed a court action seeking an injunction against Joe Golimbieski, Brenda Golimbieski, Hill High Dairy, and BJ's Cow Boarding to prevent them from violating state food and dairy laws. What MDARD didn't count on was Lobsinger, who has the milk he obtains separated into cream by another leaseholder, successfully intervening in the case. While Judge Jamo granted the injunction against the defendants, the stage had been set for Lobsinger's intervention in future court actions.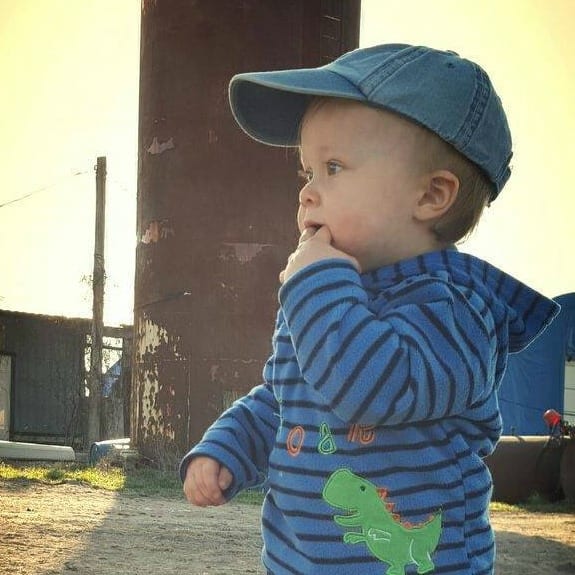 Joe and Brenda Golimbieski's
grandson on the farm
During a routine inspection on June 13 of this year, Matulis and Philibeck found among other foods, butter and cream in a refrigerator in a room leased by Joe Golimbieski to BJ's Cow Boarding. MDARD subsequently filed a petition with the judge to hold the four defendants in contempt of court for violating the injunction, and Lobsinger successfully intervened again. During the October 14 hearing on the contempt motion, MDARD's attorney tried to keep the focus of the court on whether Hill High Dairy violated Michigan's Grade A Milk Law, but Lobsinger's presence in the case turned the court's attention for a majority of the hearing to the issue of the leaseholders' property rights to have their milk separated or processed into other dairy products.
In his ruling, the judge denied MDARD's request to hold defendants guilty of contempt without prejudice, meaning that MDARD is free to bring contempt charges for future violations of the injunction. In his short opinion, Judge Jamo stated that, "Plaintiff did not meet its burden sufficient for this court to make a finding of contempt." The best evidence MDARD had in the case were ledgers found in the leased room that had dollar figures listed to individual raw dairy products; the judge ultimately decided that the ledgers didn't provide sufficient proof to show that there had been sales of illicit products. Lobsinger's attorney, John Siers, had argued that the ledgers were just a method of apportioning cost among the herd lease members.
As for the raid, Joe Golimbieski said that the MDARD inspectors usually do raid the refrigerator and the freezer in the room leased to BJ's Cow Boarding whenever they conduct their semi-annual inspection of Hill High Dairy required by the Michigan Grade A Milk Law. Policy 1.40 specifically states that MDARD doesn't regulate the herd share portion of a dairy farm, but inspectors like Matulis ignore its own policy. With all the raids over the past few years, it should back off from future enforcement actions from the Golimbieskis and the leaseholders. MDARD should accept the judge's ruling and acknowledge that what the leaseholders do with their own property—the milk—is none of its business. The Golimbieski case shows what can happen when consumers join producers as parties to a court action and make their legal rights an issue before the court.
Congratulations to the Golimbieskis, Mike Lobsinger, Hill High Dairy's attorney Michelle Halley, BJ's Cow Boarding's attorney Mike Ross, and Lobsinger's attorneys Mike Sier and Elise Arsenault for their success. FTCLDF paid for the representation of Hill High Dairy in the case.
Those interested in supporting the FTCLDF's work can make a donation here.
YOUR FUND AT WORK

Services provided by FTCLDF go beyond legal representation for members in court cases.
Educational and policy work also provide an avenue for FTCLDF to build grassroots activism to create the most favorable regulatory climate possible. In addition to advising on bill language, FTCLDF supports favorable legislation via action alerts, social media outreach, and the online petition service.
You can help FTCLDF by becoming a member or donating today.


Anyone wanting to make a contribution to support the work of FTCLDF can make a
donation online
or send a check to:
FTCLDF
8116 Arlington Blvd, # 263
Falls Church, VA 22042
Prefer to make a tax-deductible donation? Donate online at bit.ly/NFG4FTC.
You may also contact us by email at [email protected] or call 703-208-FARM (3276). Thanks for your support.