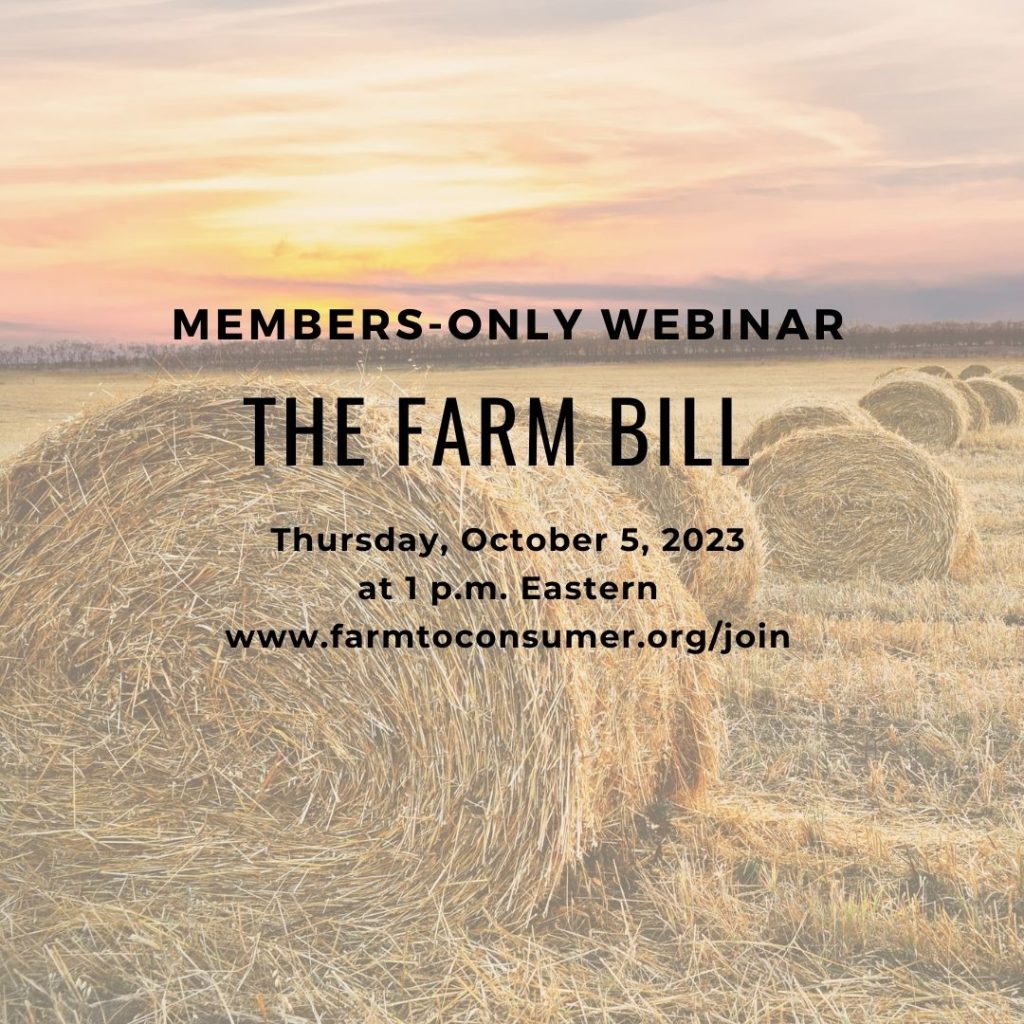 PLEASE NOTE: We had to move the original day for this webinar from September 28 to October 5.
Live on Zoom at 1 p.m. EST, Thursday, October 5
MEMBERS: Register to attend this LIVE virtual webinar HERE
NON-MEMBERS: Join us by October 3, 2023 to be able to register for this live webinar.
Once you register, check your email and your email spam folder for your confirmation email. Problems? Email Amelia at farmtoconsumer.org
The webinar features our legal advisor Judith McGeary. She is an attorney, activist, and sustainable farmer in Texas. After seeing how government regulations benefit industrial agriculture at the expense of family farms, she founded a food freedom ally of ours, the Farm and Ranch Freedom Alliance, to promote common-sense policies for local, diversified agricultural systems. Find out more about Judith HERE
During the webinar, we will discuss:
What is the Farm Bill? We will give an overview and high-level introduction of the Farm Bill, the multiple bills that comprise the legislation, and the process that goes into pulling it all together
Policy efforts related to the Farm Bill and the priorities we believe are of most importance
How you can get involved with advocacy efforts
Answers to related questions you may have
Current Member Benefits
Unlimited consultation with attorneys after your first six months of membership on matters within the mission statement. Up to two hours of consultation with an attorney immediately upon joining.
Use of toll-free 24/7 hotline to speak with an attorney if there is a surprise visit or inspection.
Consultation with our farm and dairy consultants on farm matters.
Possible legal representation if there is a court case on matters that are within FTCLDF's mission statement.
Advocacy on your behalf in changing policy to help FTCLDF members.
NEW! Access to quarterly webinars.
To participate in the new webinar, make sure you're a current member by Tuesday, October 3. Current members will receive an automated invitation to sign up for the webinar via email shortly after signing up. If your annual membership has expired, Renew here. Replay is available for those current members who sign up but cannot attend the event live.
Not a member? Join FTCLDF by Tuesday, October 3, 2023 to be able to attend live.
Members, please write in with your questions prior to the webinar, to see that we can cover as many questions as possible. Questions can be sent to Christine at farmtoconsumer.org
Members who sign up will be sent a special link to the webinar so that you can join us live. If you can't join us live, we will be sure to send those who sign up a special link to the recorded webinar once it is posted to our members-only resources page.

We look forward to hosting you on Thursday, October 5 at 1 p.m. EST, 12 p.m. CST, 10 a.m. PST for this third members only webinar of the year!
MEMBERS: click HERE to register for this Members-Only Webinar. If you're a current member, look for an invite email from us to sign up for the webinar that includes your username, which is often your email address.