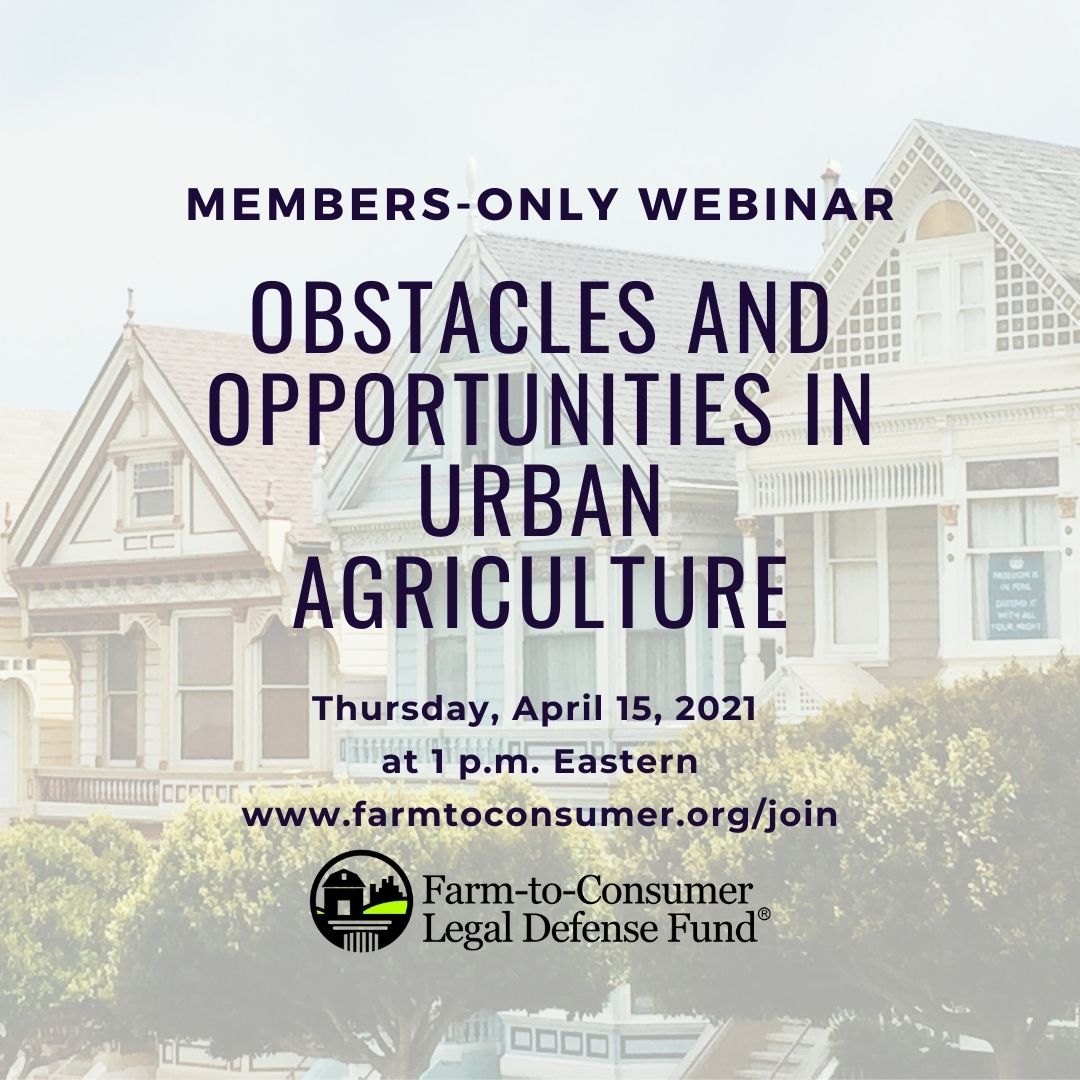 MEMBERS: Sign up to attend this LIVE virtual webinar HERE. Check your spam folder for confirmation email. Problems? Email Amelia at farmtoconsumer.org
We will host our second live members-only webinar of the year on Thursday, April 15 at 10 a.m. Pacific, 12 p.m. Central, 1 p.m. Eastern. The topic is "Obstacles and Opportunities in Urban Agriculture," and the webinar features FTCLDF homesteader member Aja Yasir, FTCLDF attorney Suzy Israel, and FTCLDF Executive Director Alexia Kulwiec. In 2019, the City of Gary, Indiana accused Aja of local ordinance violations regarding her regenerative agriculture methods.
We will discuss:
the legal issues with Aja's case and how she and our attorney eventually prevailed,
the variety of codes that limit or encourage urban agriculture,
how to research the laws in your area, and
answers to related questions you may have.
Our intention is for this webinar to help our urban food producer members better understand and navigate local laws related to food production.
To participate in the new webinar, make sure you're a current member by Friday, April 9. Current members will receive an invitation to sign up for the webinar via email by Monday, April 12. If your annual membership has expired, Renew here. Replay is available for those current members who sign up but cannot attend the event live.
Current Member Benefits
Unlimited consultation with attorneys after your first six months of membership on matters within the mission statement. Up to two hours of consultation with an attorney immediately upon joining.
Use of toll-free 24/7 hotline to speak with an attorney if there is a surprise visit or inspection.
Consultation with our farm and dairy consultants on farm matters.
Possible legal representation if there is a court case on matters that are within FTCLDF's mission statement.
Participation in Member Photo Monday, where every Monday a member is highlighted on our social media pages and included on monthly website posts.
Advocacy on your behalf in changing policy to help FTCLDF members.
NEW! Access to quarterly webinars.
Won't you consider joining our food freedom community and taking advantage of these NEW members-only webinars?
YOUR FUND AT WORK
Services provided by FTCLDF go beyond legal representation for members in court cases.
Educational and policy work also provide an avenue for FTCLDF to build grassroots activism to create the most favorable regulatory climate possible. In addition to advising on bill language, FTCLDF supports favorable legislation via action alerts and social media outreach.
You can protect access to real foods from small farms by becoming a member or donating today.