The 2018 Profitable Farm Workshop season has officially come to an end. This year we held two workshops: the first in St. Paul, Oregon at Champoeg Creamery and the second at Marksbury Farm Market in Lancaster, Kentucky. Both workshops featured informative sessions led by Charlotte Smith of 3 Cow Marketing, FTCLDF Executive Director Elizabeth Rich, and Joel Salatin of Polyface Farms. The day also included networking, lunch, and ample time for questions and interactions with our great speakers. The feedback from the two events has been terrific, and we would like to share with you what a few of our 2018 attendees had to say. We are already beginning the process of planning for the 2019 Profitable Farm Workshops. Please SIGN UP to join our mailing list and be the first to know when 2019 dates and locations are announced and to learn about the latest food freedom news!
A huge thank you goes out to our workshop hosts, speakers, and AMAZING volunteers who made the events possible. We are so grateful for your support!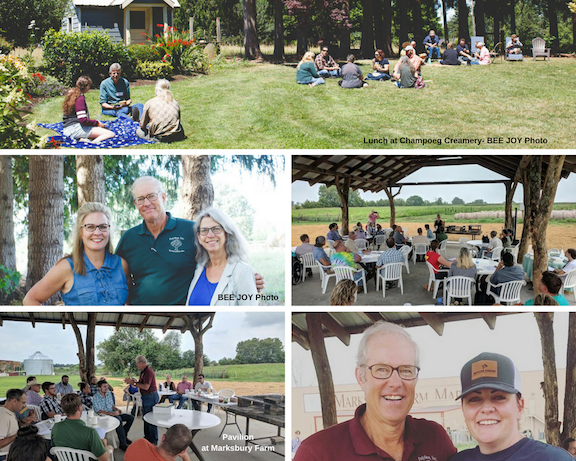 Read below for several testimonials from Profitable Farm Workshop participants.
My favorite portion of the workshop I attended in Oregon was when Joel Salatin spoke about how we as farmers and entrepreneurs take incredible risks. Jumping off a cliff and building an airplane on the way down, hoping a safety net catches us…I live this way every day running a business. I don't have the comforts and security that I used to have working for a company that assumes the risks and responsibilities. I can relate when he says that society and instant everything has made us, as a people, take less risks. Taking risks is incredibly scary, especially because I have 4 children and over 1,000 animals to feed. It was comforting to hear Joel speak about understanding that responsibility. To have that same understanding together, to not trip up on the challenges in front of me, but to continue to remember my purpose and why I am doing this. It was very healing to have those moments with him. 
– Wendy K., Harvest Gathering Farm, 2018 Oregon workshop attendee (edited for clarity)
I liked the workshop because I obtained reassurance on many things, but certainly learning matters of legality. The marketing aspect was beneficial, but mainly reassuring. Joel's talk was excellent and inspiring, which is what I needed…a little kick in the pants.
– Adam Ferris, Kickin' Grass Farm, 2018 Kentucky workshop attendee
Three pages of notes frantically scribbled during Joel Salatin's talk a couple of weeks ago…and the point that most affected me, squeezed in the margin at the end: "Don't quit. Persevere long enough to figure it out. Anything worth doing is worth doing poorly first. Mastery comes with repetition."
– Amanda, 2018 Oregon workshop attendee
The workshops provided great practical information about marketing, solid informative information about the legal side of farming, and what I call "actionable intelligence" on farming practices and business building.
– Chris Logan, Palisades Pork, 2018 Kentucky workshop attendee
I enjoyed networking with like minded farmers, and having the opportunity to meet and learn from some of the most inspiring mentors, Joel and Charlotte.
– 2018 workshop attendee
Until next year folks! Make sure to SIGN UP for our mailing list to be the first to know when the 2019 dates and locations of the Profitable Farm Workshop are announced. We have so much more to share with you!
YOUR FUND AT WORK
Services provided by FTCLDF go beyond legal representation for members in court cases.
Educational and policy work also provide an avenue for FTCLDF to build grassroots activism to create the most favorable regulatory climate possible. In addition to advising on bill language, FTCLDF supports favorable legislation via action alerts and social media outreach.
You can help FTCLDF by becoming a member or donating today.
Anyone wanting to make a contribution to support the work of FTCLDF can donate/find out more or join us today!