We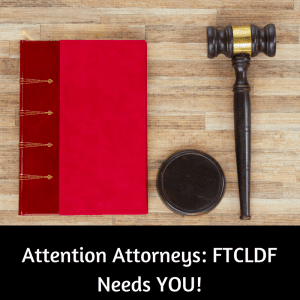 are seeking pro bono legal assistance in helping to secure food freedom for members and consumers across the country. This is an exciting opportunity to join a dynamic nonprofit organization, making real and lasting change in how small farmers are able to conduct their operations.
Attorneys working with the FTCLDF help members protect their rights to sell nutrient-dense foods from small family farms, keep backyard chickens, market homemade ferments, and more. The need is varied, across several FTCLDF membership types, and needed now more than ever.
FTCLDF is a member-based organization, and member benefits include: unlimited consultation with attorneys on matters within the FTCLDF mission statement, help with contractual documents like herdshare contracts and buyers club agreements, consultation with attorneys on matters related to food buyers club setup and operations, toll-free emergency hotline to speak with an attorney if there is a surprise visit or inspection from a government agency, and the possibility of legal representation on matters that are within FTCLDF's mission statement at no additional cost.
FTCLDF legal counsel opportunities include:
research on food law issues
contract review (herdshare agreements, leases, bills of sale, land contracts, purchase agreements)
local counsel in civil and criminal cases involving government actions against small sustainable farmers and artisan food producers
client counseling on regulatory compliance
negotiations with regulators in administrative enforcement cases
To learn more about this exciting opportunity with the Farm-to-Consumer Legal Defense Fund, please email Katherine Ghantous at [email protected]

About the Farm-to-Consumer Legal Defense Fund
The FTCLDF protects the rights of farmers and consumers to engage in direct commerce; it protects the rights of farmers to sell the products of the farm and the rights of consumers to access the foods of their choice from the source of their choice. FTCLDF is a true grassroots organization and receives no government funding and little or no corporate funding. Its main sources of revenue are membership fees, individual donations, and grants for public interest litigation from various organizations.
YOUR FUND AT WORK

Services provided by FTCLDF go beyond legal representation for members in court cases.
Educational and policy work also provide an avenue for FTCLDF to build grassroots activism to create the most favorable regulatory climate possible. In addition to advising on bill language, FTCLDF supports favorable legislation via action alerts and social media outreach.
You can help FTCLDF by becoming a member or donating today.


Anyone wanting to make a contribution to support the work of FTCLDF can make a donation or find out more info HERE.