PRESS RELEASE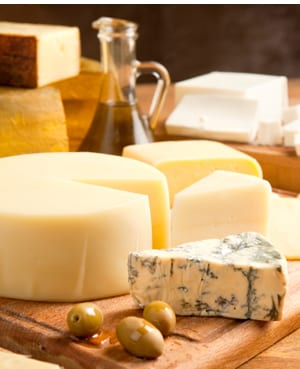 The U.S. Food and Drug Administration (FDA) has temporarily suspended its requirement that raw cheese producers test for non-toxigenic E. coli. In 2010 FDA lowered the limit from 10,000 down to 10 MPN per gram, a move that had little to do with food safety and everything to do with making it more difficult for raw cheese producers to make a living. Producers and consumers need to remain vigilant over FDA's continued attempts to reduce/restrict access to raw cheese. Below is the FDA press release on the suspension of the non-toxigenic E. coli testing.
FDA Is Taking a New Look at Criteria for Raw Milk Cheese
February 8, 2016
Recently, cheesemakers have raised concerns suggesting that the FDA is applying safety criteria that may, in effect, limit the production of raw milk cheese without demonstrably benefiting public health.
In response, we want to first acknowledge our respect for the work of the artisan cheesemakers who produce a wide variety of flavorful, high-quality cheeses using raw milk and our appreciation for the great care that many take to produce raw milk cheeses safely. We understand the concerns expressed by some cheesemakers, as well as lawmakers, and intend to engage in a scientific dialogue on these issues.
The agency's role in this area, and with respect to food safety generally, is to work with the industry, consumers, government partners, and experts to be sure the right science-based, prevention-oriented standards and safety criteria are in place and that there is widespread compliance in the interest of food safety and consumer confidence. Some question testing raw milk cheese for the presence of non-toxigenic E. coli, which has long been used by FDA and other public health agencies in the U.S. and other countries to indicate fecal contamination. Specifically, the concerns include the application of the test results and scientific foundation of these criteria.
The FDA's reason for testing cheese samples for non-toxigenic E. coli is that bacteria above a certain level could indicate unsanitary conditions in a processing plant. Our surveillance sampling shows that the vast majority of domestic and imported raw milk cheeses are meeting the established criteria.
The agency will re-evaluate its criteria in the context of the overarching framework for the oversight of food production provided by the 2011 FDA Food Safety Modernization Act (FSMA). The Preventive Controls for Human Food rule mandated by FSMA, which became final in September, requires that food producers identify hazards in their product and operations and put controls in place to prevent or minimize those hazards.
Looking ahead, with the FSMA preventive controls rule now final, we will be taking another look at what role non-toxigenic E. coli should have in identifying and preventing insanitary conditions and food safety hazards for both domestic and foreign cheese producers.
The FDA will also consider and update, as appropriate, the 2010 Compliance Policy Guide, which outlines safety criteria. Any changes will be informed by our engagement with stakeholders and experts on such issues as the use of a single bacterial criterion for both pasteurized and raw milk cheese, and the use of non-toxigenic E. coli as an indicator organism.
The agency will continue to inspect cheese-making facilities and test for pathogens in domestic and imported cheese but, in the meantime, FDA is in the process of pausing its testing program for non-toxigenic E. coli in cheese. We will also continue working with all stakeholders to benefit from their expertise about safe cheese-making practices and achieve the mutual goal of food safety.
YOUR FUND AT WORK

Services provided by FTCLDF go beyond providing legal representation for members in court cases. The Fund is not an insurance company and cannot guarantee representation on all legal matters; possible representation is just one of the benefits of membership.
Educational and Political Action Services also provide an avenue for FTCLDF to build grassroots activism to create the most favorable regulatory climate possible. In addition to advising on bill language, FTCLDF supports favorable legislation via action alerts, social media outreach, and the online petition service.
You can help FTCLDF by becoming a member or donating today.


Anyone wanting to make a contribution to support the work of FTCLDF can make a
donation online
or send a check to:
FTCLDF
8116 Arlington Blvd, # 263
Falls Church, VA 22042
Prefer to make a tax-deductible donation? Donate online at bit.ly/NFG4FTC.
You may also contact us by email at [email protected] or call 703-208-FARM (3276). Thanks for your support.