FOR IMMEDIATE RELEASE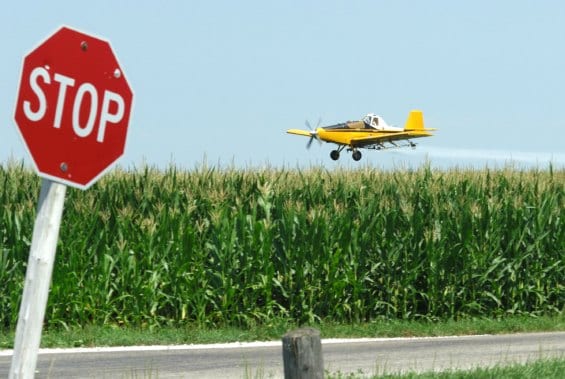 Crop duster plane

Story At-A-Glance
>> Pesticide overspray drift destroys over 4000 pounds of crops intended for sale direct to consumers.

>> The chemical applicator's insurance company originally refused to pay a settlement to the farmer.

>> Gary Cox successfully settled the case and Glen Philbrick was fairly compensated for his loss.
NORTH DAKOTA—July 2, 2015—The Farm-to-Consumer Legal Defense Fund (FTCLDF) has settled another case, this time on behalf of North Dakota farmer member Glen Philbrick, who was the victim of spray drift. Due to the drift of chemicals over his crops, he lost more than 4,000 pounds of tomatoes, 200 pounds of peppers, 4 pounds of amaranth and 42 pounds of quinoa, all of which he had intended to sell directly to consumers.
The chemical applicator who damaged Philbrick's crops was working for the Garrison Diversion Conservancy District on property bordering the farm. Mr. Philbrick tried to settle the matter with Garrison Diversion's insurance company, but he was not successful. Mr. Philbrick then sought representation from Farm-to-Consumer to settle his claims and, once FTCLDF General Counsel Gary Cox got involved, the insurance company agreed to a settlement. Mr. Philbrick has now been compensated for his damages and has returned to growing crops and vegetables for direct sale to consumers.
The Philbrick case marks the third time Cox has settled an overspray/drift claim for a member produce grower. Farm-to-Consumer is currently representing members Becky Siebold of Texas and George Vergote of Michigan in their efforts to recover their damages due to drift. Cox's work in the overspray cases was featured in Modern Farmer Magazine earlier this year.
CONTACT –
Pete Kennedy, Esq., President
Farm-to-Consumer Legal Defense Fund
703-208-3276, [email protected]

MODERN FARMER MAGAZINE 1/15/2015
Excerpt from "The Fog of Farming" from Modern Farmer by Marsha Johnston
Since its founding in 2007, FTCLDF has been known primarily for defending raw milk producers and advocates, but general counsel Gary Cox says "drift" cases like Hoovey's are one of its fastest-growing types of legal case. So far, FTCLDF has won substantial settlements from pesticide applicators' insurance companies in three of five cases without having to go to trial. Two other cases, involving a Texas winery and a 50-year-old Michigan flower business, are likely to go to court, and could be the biggest settlements so far, he adds, noting that they have the same incontrovertible evidence of overspray and resultant business losses. "The lady in Texas took a video of the airplane and had pictures pre- and post- of her vineyards, which are now all dead," Cox says. "In our cases, the clients were out in the field and saw the spray, the mist coming right onto their property."
FTCLDF General Counsel, Gary Cox
Cox says all three settled cases claimed negligence, arguing that the sprayer breached a duty not to cause harm, trespass, or make an unwanted intrusion and cause damage; or committed negligence per se, which means the chemical applicator violated the state's pesticide laws. "Each state we have been in has a pesticide program that regulates the chemical applicators. One of the requirements under the pesticide program is `don't spray when it's windy.' They were trying to claim that it wasn't windy, so I got meteorological data to prove they were lying," Cox says.
Most importantly, he says, "In the three cases we resolved, the client was smart enough on the day of the overspray to contact the State Department of Ag to log a complaint, and they came out and collected tissue samples they sent to the lab and detected the presence of glyphosate. In Illinois, the Department of Ag sent a letter to the applicator saying they had violated the law. There are lots of ways to do this, you just have to have the evidence."
YOUR FUND AT WORK

Services provided by the Farm-to-Consumer Legal Defense Fund (FTCLDF) go beyond providing legal representation for members in court cases.
Educational and Political Action Services also provide an avenue for FTCLDF to build grassroots activism to create the most favorable regulatory climate possible. In addition to advising on bill language, FTCLDF supports favorable legislation via action alerts, social media outreach, and the online petition service.
You can help FTCLDF by becoming a member or donating today.


Anyone wanting to make a contribution to support the work of FTCLDF can make a
donation online
or send a check to:
FTCLDF
8116 Arlington Blvd, # 263
Falls Church, VA 22042
Prefer to make a tax-deductible donation? Contact us by email at [email protected] or call 703-208-FARM (3276). Thanks for your support.