Podcast with Kristina Carmichael & Jojo Milano by Kim Hartke
Episode 3 of the Food Rights Hour podcast is an interview with Kristina Carmichael, a consumer involved in defending the source of her food, and Jojo Milano, a West Palm Beach area farmer. The West Palm Beach community fought back against zoning changes that would have negatively impacted a rural area near West Palm Beach, Florida, and local farmers and homesteaders won this battle with the help of the Farm-to-Consumer Legal Defense Fund.
How can you protect yourself and your community from unjust zoning regulations? Listen to the podcast to find out!
The views and opinions expressed in this podcast are those of the speaker(s) and not those of the Farm-to-Consumer Legal Defense Fund.
Extras
Read Kimberly Hartke's related post on HartkeIsOnline.com, Farms Threatened by Palm Beach Florida Zoning Changes and New Rules.
Questions or comments about this episode of the Food Rights Hour? Please email [email protected]; we will be glad to respond to you via email or even on a future podcast.
Listen to other recordings of the Food Rights Hour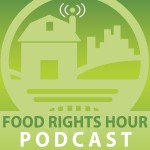 *Subscribe in iTunes: it's free! When you subscribe to our podcast in iTunes, your computer will automatically download new episodes of the Food Rights Hour Podcast to your Libraries folder on your computer so that you can listen at your leisure or upload them to your mp3 player by simply plugging in your mp3 player and opening iTunes.
Trouble downloading the podcast? If using Internet Explorer, right click the "Download Podcast" button once and select "Save Target As", or try using Mozilla Firefox as your web browser.