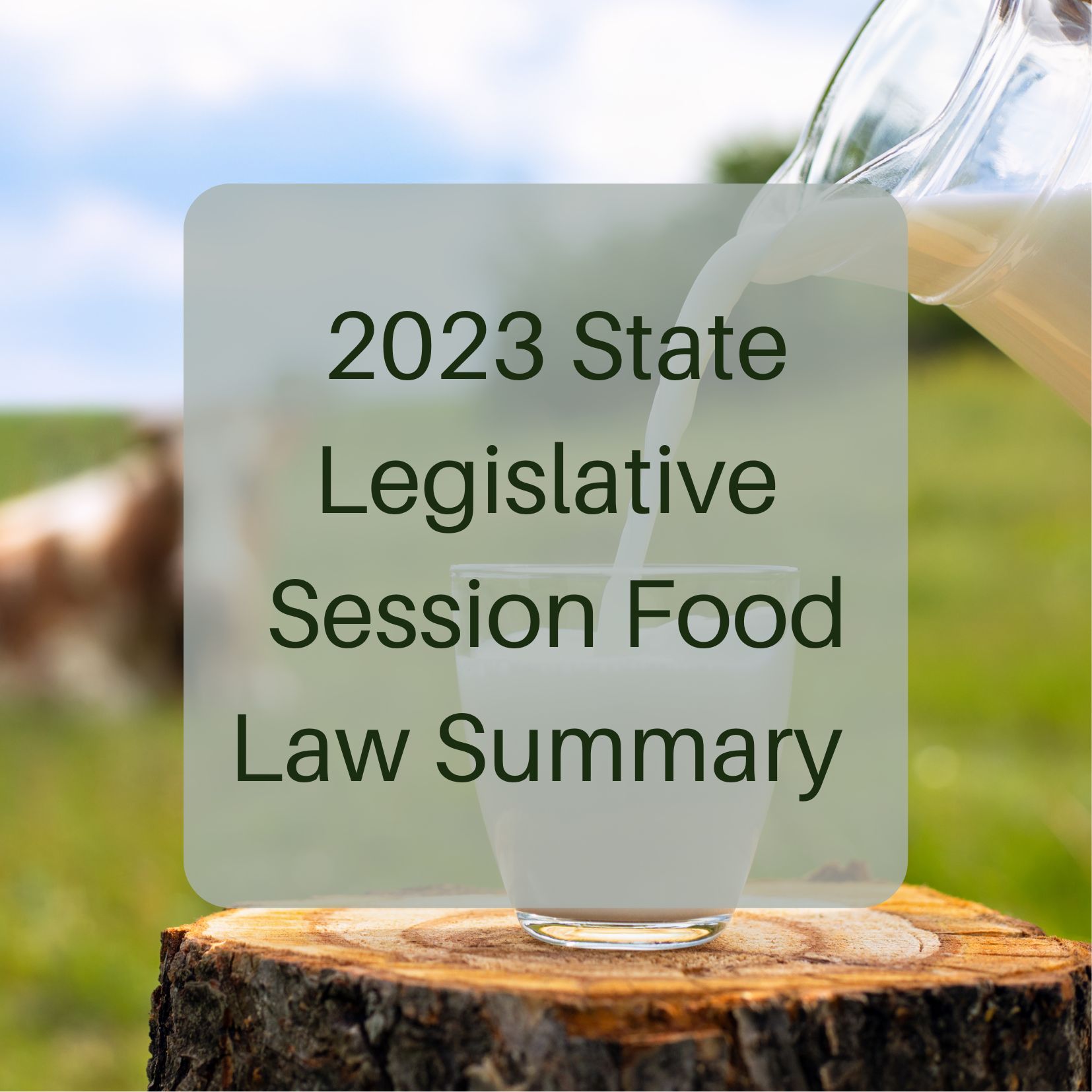 The 2023 state legislative session resulted in the passing of a number of laws relevant to the Farm-to-Consumer Legal Defense Fund's mission, and of impact to our members and their food production operations.
Some state sessions remain active, so there may yet be more laws to come, but we wanted to take this opportunity to give you a synopsis of bills signed into law so far this year, as well those that unfortunately did not make it.
BILLS THAT PASSED AND BECAME LAW

Idaho
Raw Milk Bill SB 1036 was signed into law Mar. 23, 2023, lifting restrictions on certain provisions in the state's raw milk law and makes herd shares legal. The bill's text can be viewed here.
Iowa

Raw Milk Bill SF 315 was signed into law May 11, 2023, increasing access to raw milk in the state by allowing the sale of raw milk and raw milk products at a dairy farm without licensing. Only 10 animals, actively producing milk, are allowed and there are certain testing, labelling, and vet examination requirements to be met. In addition, raw milk dairies are allowed to advertise, and deliver to customers. The bill appears to allow the distribution of raw milk and raw milk products to the final customer "with or without charge," suggesting that herdshare agreements are permitted. The bill can be viewed here.
North Dakota
HB 1515 was signed into law Apr. 24, 2023, and increases access to raw milk in the state by allowing raw dairy producers to sell raw milk to the end consumer for personal consumption. The sale could take place on the farm, at a farmer's market, delivered to a consumer's home – essentially, anywhere other than a retail setting. Producers are also exempt from permits, licenses, or labeling by the Department of Health or Department of Agriculture.  Click here for access to the bill. This bill did not change the right to enter into herdshare agreements.
Oklahoma
HB 1772 was signed into law Apr. 24, 2023, and provides an exemption from food establishment licensing for "vendors at farmers markets selling frozen meat that is either kept refrigerated or on ice…" The final version can be viewed here.
Tennessee
SB 123/HB 0394 companion bills were signed by the Governor on May 11, 2023, resulting in various changes to the Tennessee Meat and Poultry Inspection Act and establishing a state meat inspection program.
Utah
HB 169, the Urban Farming Assessment Act, was signed into law Mar. 16, 2023, and provides that a county may limit an authorization of urban farming to either cultivating crops or engaging in livestock production or may allow both. See text here.
SB 113 was signed into law Mar. 14, 2023, and modifies the authority of a political subdivision to enact regulations regarding animal enterprises and working animals. The terms "animal enterprise" and "working animal" are defined and, except for certain exceptions, prohibits a municipality or a county from adopting or enforcing an ordinance or other regulation that prohibits or effectively prohibits the operation of an animal enterprise or the use of a working animal. See text here.
Washington

SB 1500 was partially vetoed by the Governo on May 9, 2023. While the Governor did approve the increase in the annual cottage food sales cap from $25,000 to $35,000, he vetoed the section that sought to add staff to process permits and maintain services levels. See bill text here.
Wyoming
SF 102 was signed into law on Feb. 27, 2023, and provides that any person may sell eggs or dairy products intrastate pursuant to the Wyoming Food Freedom Act, and also prohibits a state standard for food and health inspection for homemade foods that is more stringent than any federal standard. See bill text here.
VETOED BILLS
Arizona
HB 2509 was passed by state lawmakers but vetoed by Governor Hobbs. HB 2509 sought to amend current law to expand the kinds of foods residents could make in their home kitchens and sell commercially within the state. While non-potentially hazardous baked goods and sweets are allowed, the bill sought to broaden the definition of cottage foods to include potentially hazardous products that require time or temperature control. This would have included hot foods such as tamales, empanadas and similar street foods, poultry products, if the animals were raised by the producer, and meat products, if the meat came from an inspected source.
Hobbs indicated her belief that the changes would "significantly increase the risk of food-borne illness" by allowing the sale of "high-risk foods" made in a home kitchen. Hobbs ignored the fact that most food-borne illnesses do not originate in home kitchens, and that consumers can and should take charge of their own food education and buying decisions.
Lawmakers did, however, indicate their readiness to come back to the issue and work on a bill that would result in "the best policy to protect consumers and sellers." Let us hope they follow through and remain true to their commitment to find a path towards greater food freedom by offering meaningful support for future bills that seek to expand the rights of cottage food makers and consumers in the state.
Oklahoma
SB 889 sought an expansion of the scope and amount of fees related to milk production. Click here for bill's text. The bill was a political casualty, vetoed as the result of a battle between the Governor and the Senate over certain of his policies the Senate had rejected.
Additional bills we had been monitoring died in committee, but we hope that those supportive of local food producers and food freedom expansion will live again to be reintroduced in future sessions!
HELP US TO HELP YOU
The Farm-to-Consumer Legal Defense Fund has been and will continue to work to update the state-by-state laws maps on our website to reflect the changes brought about by the above laws. We will also continue to monitor other bills that are still winding their way through their state's legislative process and hope to have good news to share on those efforts soon.
We ask that you continue to keep an eye out for policy communications from us, including Action Alerts letting you know when input from the public is needed to support a bill, or to oppose one that would further restrict food freedom. Your voices matter and can be invaluable in impacting a bill's outcome!
With your help, FTCLDF will continue to fight for farmers, artisanal producers, homesteaders, and consumers and support policy efforts that seek to increase food freedom across the country.