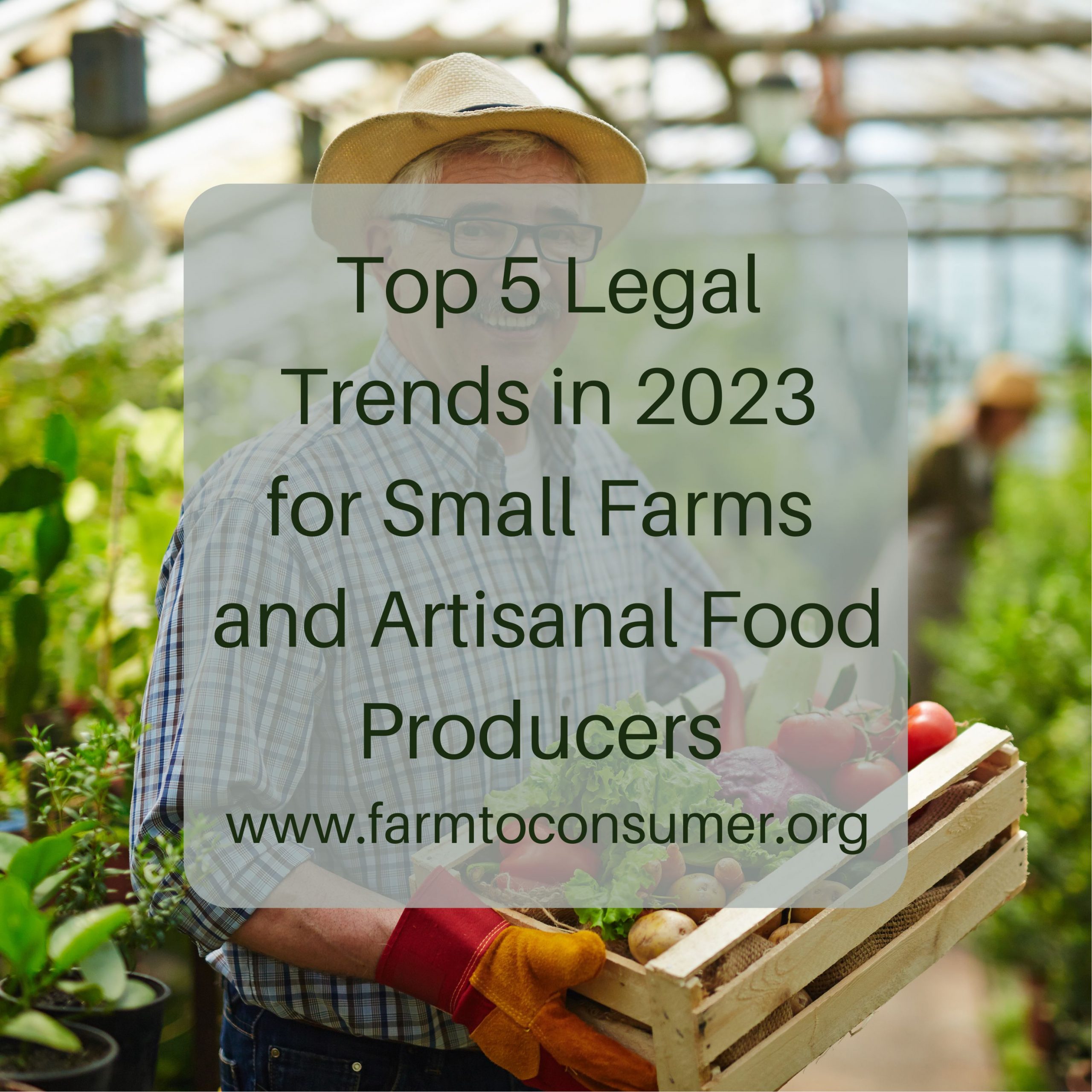 We can't believe 2022 is almost in the rearview mirror! FTCLDF accomplished a great deal last year on behalf of our members and we invite you to read more about our work in 2022.
We are ready to face 2023 with the same determination to address the barriers and struggles our members face. Looking ahead to the New Year, we wanted to share some thoughts with you on the legal and food policy trends we are likely to see.
1. Meat Processing Challenges

Post-pandemic meat processing challenges persist after the closure of some facilities and long delays at others. There will also be processing policy challenges to address. For example, in Vermont, the state's interpretation of federal law, that relates to the personal use exemption
for on-farm animal slaughter rules, has called into question the viability of on-farm slaughter without state or federal meat inspection. FTCLDF is partnering with Rural Vermont, the Farm and Ranch Freedom Alliance, and the National Family Farm Coalition to benefit meat producers
around the country, and we will continue to seek out and support other efforts that seek policy improvements or clarifications.
2. Poultry Processing

Federal exemptions to the Poultry Products Inspection Act permit on farm slaughter and processing of less than 20,000 birds a year. While states can place additional restrictions, FTCLDF is seeing state agency interpretations that exceed federal guidance issued by FSIS (USDA Food Safety Inspection Service). FTCLDF expects to work on this issue in 2023 to ensure that on-farm poultry processors can operate without burdensome and potentially costly restrictions.
3. Climate Change Farming Impacts

The scope of the climate problems that will be faced by farmers across the country and the world, and the impact on our nation's food makers, will continue to grow. The challenges are many, and the effects of chronic droughts, frequent floods, extreme temperatures, and intense storms on crops, livestock and fisheries will threaten the food supply and the livelihoods of farmers.
4. 2023 Farm Bill

The Farm Bill, a series of substantive and spending bills related to agricultural and food-related programs, including nutrition, forestry management, and crop insurance for farmers, is up for renewal this year. We expect climate change to be a key focus, along with policies related to the scope and structure of nutrition program, supports for beginning, veteran and underserved farmers and ranchers, and programs to address supply chain, price inflation, trade and other impacts of COVID on the agricultural sector.
FTCLDF members continue to experience state and local agency challenges to local food production and sales of cottage foods. Where limitations exceed government authority, FTCLDF plans to support its members and push back, including potential litigation.
Farm-to-Consumer Legal Defense Fund is ready, as always, to continue fighting for farmers, artisanal producers, homesteaders, and consumers to increase food freedom across the country. We will be watching these trends and doing what we can to make an impact in 2023. We could not do this important work without our members, so thank you for your support and Happy New Year to you and your loved ones!