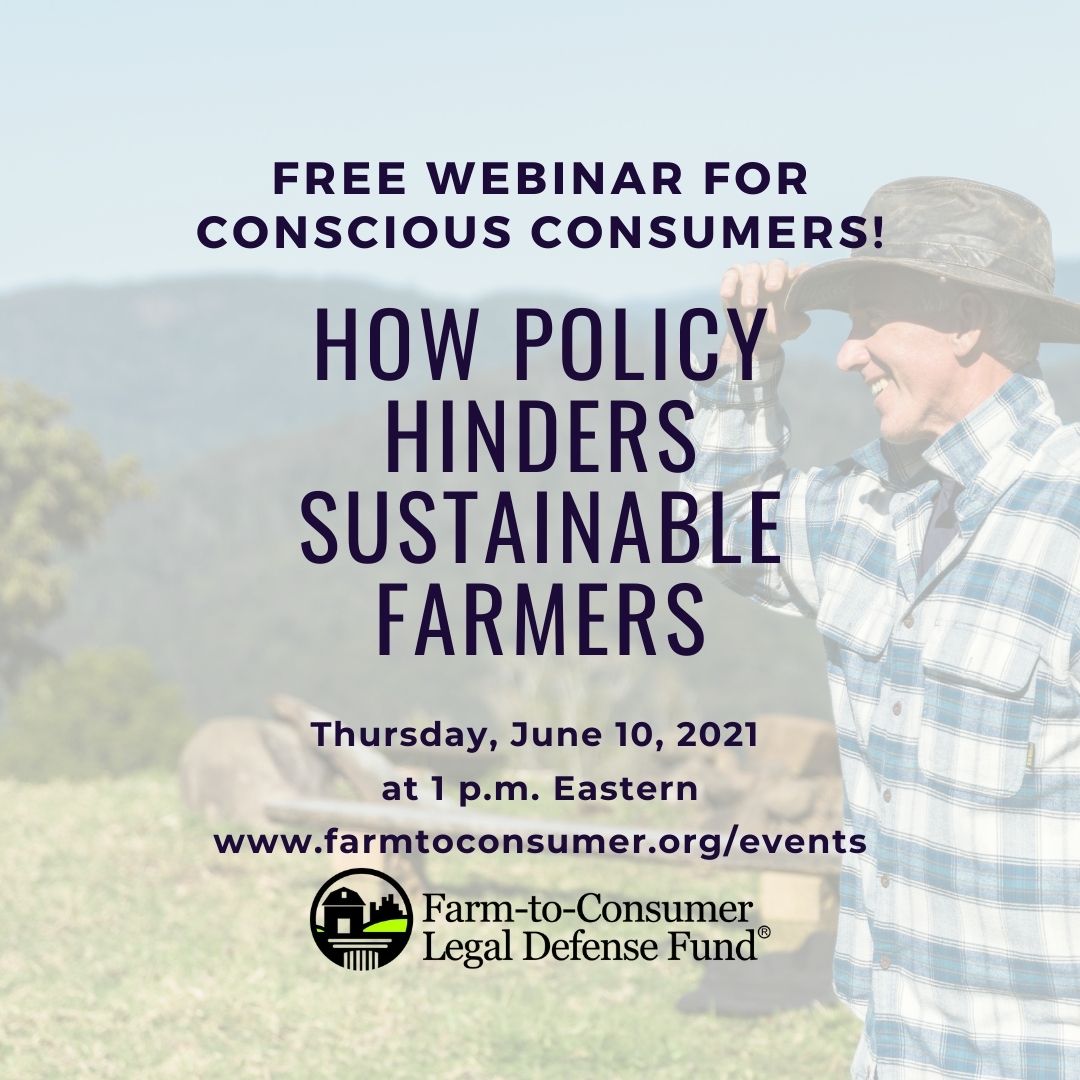 Sign up to attend this LIVE, free virtual webinar HERE. Check your spam folder for confirmation email. Problems? Email [email protected]
We hear more and more each day—"consumer interest in locally produced food has increased." The solution to the vulnerable food system in the United States is to "buy local." These concepts have been promoted as the solution to the broken, centralized, industrialized food system in this country. In its place, purchasing food from the local farmer ensures access to healthier food, serves local economies, and is better for the environment.
At Farm-to-Consumer Legal Defense Fund (FTCLDF), we are hopeful and grateful for this increased interest and support for the local small farmer. Yet there is a serious disconnect between increased consumer demand for local food and the regulatory system that makes this so difficult. FTCLDF wants consumers to understand just how difficult federal, state, and local policies make independent local farming. 
On June 10, FTCLDF is hosting a free webinar open to the public to explain these challenges. FTCLDF Board President Joe Ramagli and Board Secretary and author Baylen J. Linnekin, along with Executive Director Alexia Kulwiec, will explain and provide examples of how federal, state, and local policies make supporting that local farm much more challenging than it should be. Baylen Linnekin regularly writes on this issue, including in his book, Biting the Hands that Feed Us: How Fewer, Smarter Laws Would Make Our Food System More Sustainable (Island Press, 2016). Learn more about Joe and Baylen HERE.
Small farmers struggle with limiting zoning requirements, local ordinances governing noise and odors, and restrictions on locally produced meat and dairy. Small farmers struggle to obtain the licenses needed to sell a few eggs, open a farm store, or sell from their home. They struggle with local authorities to build necessary agricultural buildings, sell at farmers markets or retail, and when preparing food on-farm for sale. Local ordinances may prohibit practices that could improve the economies of local farms such as extending the growing season by allowing the use of hoop houses or prohibiting on-farm sales.
Meat processing is particularly challenging: farmers and ranchers are having a hard time making appointments with United States Department of Agriculture (USDA) or state inspection facilities. If they are lucky enough to get appointments, they often are forced to stress their animals raised with the utmost care to travel long distances and endure harrowing slaughter and processing environments. Small producers can utilize local (yet still regulated) custom slaughter facilities but are then prohibited from selling the meat processed by these facilities.
FTCLDF seeks to explain these challenges and more. Please join us for a free webinar on Thursday, June 10 at 10 a.m. Pacific, 12 p.m. Central, 1 p.m. Eastern to explain how policies limit small independent farms. To register for the webinar, please sign up HERE.
I look forward to June 10, and sincerely hope to see you there. Please share with others you think may be interested. To financially support the work of FTCLDF in providing legal representation to small independent farms and food producers, please donate HERE.
Thank you for your interest and support in a better food system.
YOUR FUND AT WORK
Services provided by FTCLDF go beyond legal representation for members in court cases.
Educational and policy work also provide an avenue for FTCLDF to build grassroots activism to create the most favorable regulatory climate possible. In addition to advising on bill language, FTCLDF supports favorable legislation via action alerts and social media outreach.
You can protect access to real foods from small farms by becoming a member or donating today.