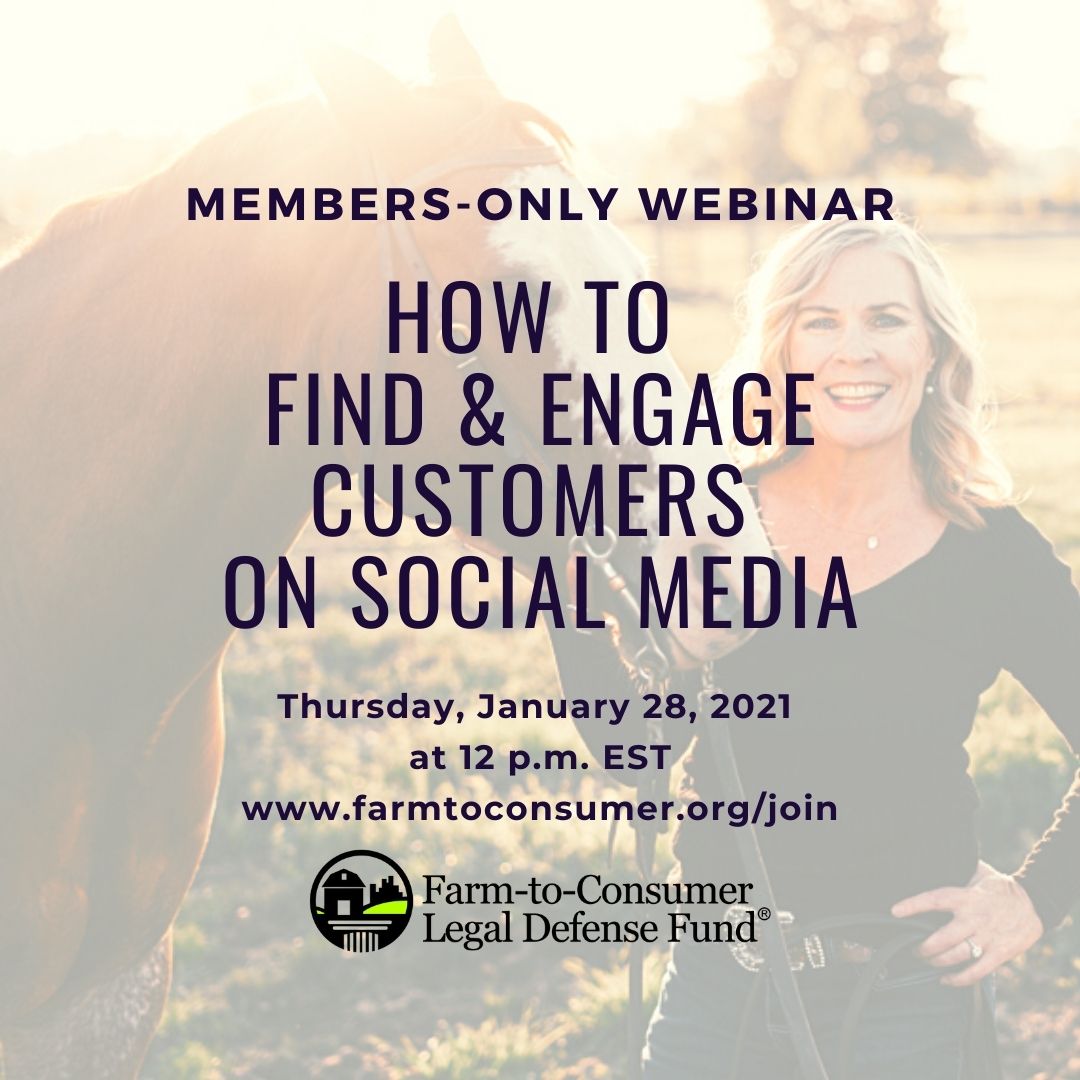 This is the first members-only webinar of the year! Farm marketing expert and owner of 3 Cow Marketing Charlotte Smith will present on "How to Find and Engage With Customers on Social Media," live on Thursday, January 28 at 9 a.m. Pacific, 11 a.m. Central, 12 p.m. Eastern.
Our intention is for this webinar to help our farmer, homesteader, affiliate, consumer, and artisan food producer members find and engage new customers using social media. The webinar will help you if you are looking to build your customer base for an existing or new food business.
In this presentation, you'll learn:
The very best way to connect with and build a loyal customer base,
The difference between a marketing channel and a marketing strategy and where to focus your efforts, and
How best to show up on social media platforms and then convert those followers to paying customers.
Charlotte Smith will lead this live virtual webinar. Charlotte is the founder of 3CowMarketing.com and The Profitable Mindset Podcast, helping farmers in the U.S. and around the world learn to build profitable farms and lives through mindset coaching. As a Certified Life & Business Coach, she also works with farmers and teaches them how to create the life and business they've dreamed of, using cutting edge neuroscience. Due to her dedication to improving the soil, animals and the people who eat their products, in 2016 Charlotte was named one of the Top 25 Most Influential Women in the World in Food and Agriculture by the non-profit, Food Tank. Charlotte is a sought-after presenter and served on the FTCLDF Board. You can visit Charlotte at 3CowMarketing.com, listen to the Profitable Mindset podcast, or meet her on Instagram @Charlotte.M.Smith
To participate in the new webinar, make sure you're a current member by Friday, January 22. Current members will receive an invitation to sign up for the webinar via email on January 25. Make sure your membership is current by Friday, January 22 to attend this business-changing webinar. If your annual membership has expired, Renew here. Replay is available for those current members who sign up but can't attend the event live.
Current Member Benefits
Unlimited consultation with attorneys after your first six months of membership on matters within the mission statement. Up to two hours of consultation with an attorney immediately upon joining.
Use of toll-free 24/7 hotline to speak with an attorney if there is a surprise visit or inspection.
Consultation with our farm and dairy consultants on farm matters.
Possible legal representation if there is a court case on matters that are within FTCLDF's mission statement.
Participation in Member Photo Monday, where every Monday a member is highlighted on our social media pages and included on monthly website posts.
Advocacy on your behalf in changing policy to help FTCLDF members.
NEW! Access to quarterly webinars.
Won't you consider joining our food freedom community and taking advantage of these NEW members-only webinars?
YOUR FUND AT WORK
Services provided by FTCLDF go beyond legal representation for members in court cases.
Educational and policy work also provide an avenue for FTCLDF to build grassroots activism to create the most favorable regulatory climate possible. In addition to advising on bill language, FTCLDF supports favorable legislation via action alerts and social media outreach.
You can protect access to real foods from small farms by becoming a member or donating today.