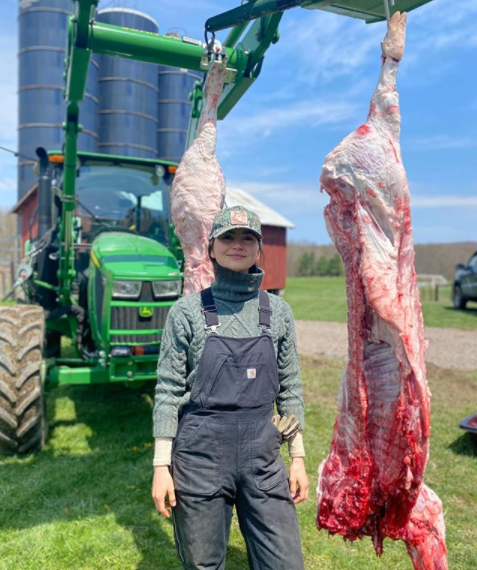 Finding Regenerative Farming
This past spring a young farmer named Julie Friend decided to avoid food waste and save some pigs from euthanasia to feed to local families in need. What was especially remarkable is that Julie had just started farming weeks prior.
Let's back up. Growing up and through her early 20s, Friend had depression, sinus infections, and digestive issues. She started eating a whole foods diet to troubleshoot her symptoms and the problems melted away. She also noticed a big difference in the summer when she was able to source much of her food locally from the farmers market versus the winter when she was limited to grocery store fare. This change in her diet and symptoms piqued her interest in farming. She started to read Joel Salatin, Michael Pollan, and The Savory Institute.
Then the idea dawned on her: "how deeply health is connected to the food system and the health of the soil." Around the same time, her parents moved onto a family property that they recently obtained located in rural McHenry, Maryland. For many years, the land was fallow or leased to a conventional farmer who grew corn and soy. Friend had already caught the regenerative farming bug and given it to her parents. After Friend and her parents attended the annual Midwest Organic and Sustainable Education Service (MOSES) Conference in the winter of 2019, they stopped leasing the land and planted perennial pasture instead.
In early March Friend, along with her Chicago-born boyfriend, left the city and her successful vintage and local products shop and moved to the rural property to farm. That's right: she began farming just days before COVID-19 shut down businesses and our broken food system became glaringly obvious. To begin her pasturing adventure, Friend populated her farm with 12 pigs, 35 turkeys, 117 laying hens, 500 meat chickens, and a couple of dogs. Her dad had little farming experience since he spent a few summers on the farm as a child and her mom along with Friend had zero farming experience before this venture. Friend says, "Everything I know about agriculture is self-taught through reading, podcasts, social media, conferences, asking other regenerative farmers, etc."
Saving the Pigs
Then someone told her that a factory farm in Ohio was going to euthanize thousands of pigs because the processing plants were closing. Immediately, she felt inspired to act. She wanted to rescue some of the pigs, process them on her farm, and donate the meat to local families in need so that their porcine lives would not be in vain. A local friend lent a stock trailer so that she and her dad could pick up as many as would fit, which ended up being 16. After the 5-hour drive to the facility, Friend could not resist looking in since she had never seen a factory farm in person. "Oh my God," she said. "It's worse than you could ever even imagine: seeing it in person and the conditions and lack of anything natural."
The 16 factory farmed pigs lived on her farm for just a couple of days. Friend says it was strange to see the difference between these pigs and her pastured pigs. For instance the factory farmed pigs did not enter the barn to which they had access even though they were shivering from the cold. They had never had an option to change their environment before. Over the phone, Friend said it was "very sad to see what humans have done to completely denature this species" and to have "treated them like a product and not an actual living thing."
Over the weekend, 16 families in need of meat arrived to participate in the processing and to take home their free pork butchered into manageable quarter pieces. According to Maryland law, the people taking the animal that is being processed on a farm must be involved in the processing of the animal. A farmer friend led the butchering, and the families participated however they felt comfortable. The pigs were humanely and swiftly killed while they were eating outside with no apparent fear or reaction, a stark contrast to how they would have been euthanized. Then their necks were slit and their bodies hung to bleed out. Finally, they were skinned and eviscerated before the carcasses were quartered. Most of the families had never broken down an animal before so this experience fostered a deeper connection to their food.
Working Together
Friend spearheaded the butchering effort that took place on her farm, and her community of farmers and families made it possible and worthwhile. Friend was able to do this legally through her own research and with the help of our Farm-to-Consumer Legal Defense Fund (FTCLDF) attorney Suzy Israel. Luckily for Friend, she had heard about FTCLDF while attending last year's Polyface Farm's Intensive Discovery Seminar and is a member.
Israel worked with Friend's Garrett County Extension Office, reviewing what Friend did and how she complied with the regulations to avoid any legal concerns. This "is an important part of my work; being an intermediary between the government and the farmer," Suzy stated in an email. "Sometimes, stories have a happy ending when each side listens to the other and can work together."
"Suzy was so helpful," Friend said. "Without her I would've ended up digging myself into some sort of hole." While Friend's regenerative farm is different from the other farms in the area, she feels supported by her local community, including her local Extension Office.
In the future, Friend would love to host butchering classes and teach people about healthy food, and will be sure to use her FTCLDF membership and consult with our attorneys before doing so. She just put her Wildom Farm on Hipcamp, which is similar to Airbnb but for camping, and is likely to be a popular spot since the farm is just 1 mile from Wisp Ski Resort and 2 miles from Deep Creek Lake. Friend is grateful for the whole eye-opening experience and is even more passionate about doing her part to provide healthy food to benefit her human, animal, and microbe communities.
YOUR FUND AT WORK
Services provided by FTCLDF go beyond legal representation for members in court cases.
Educational and policy work also provide an avenue for FTCLDF to build grassroots activism to create the most favorable regulatory climate possible. In addition to advising on bill language, FTCLDF supports favorable legislation via action alerts and social media outreach.
You can protect access to real foods from small farms by becoming a member or donating today.