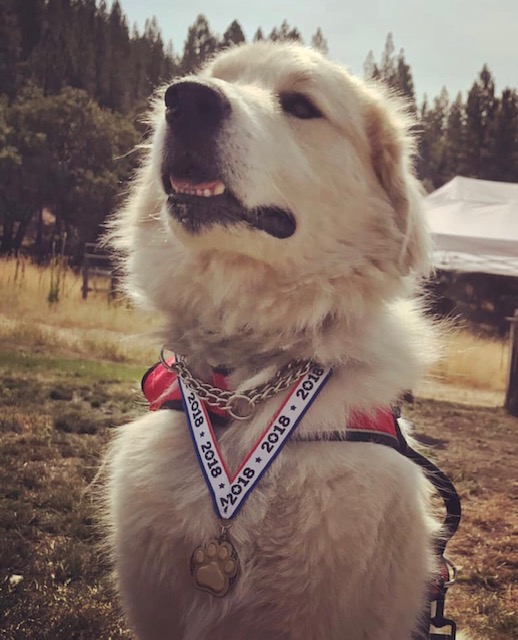 Predators in California
Nichoel and Paul Farris started out in Yuba County, California as homesteaders and sold their extra food and livestock animals. Nichoel bred and sold milk goats, mini Jersey cows, and mini pigs. The predator pressure got so bad that eventually they were losing 1-3 animals a day on their 7-acre homestead. Paul would have to clean up the carnage left by the foxes and coyotes every morning because Nichoel couldn't handle the heartache anymore.
Nichoel was of course upset for the loss of lives but also the financial hit. Her mini Jersey calves fetched $3,000-4,000 each. Mini Jerseys are sought after because of their smaller size, the manageable amounts of forage they need and milk they produce (1-1.5 gallons of milk per day), and their more digestible A2 milk.
Sheriff to the Rescue
Then the Farrises got a livestock guardian puppy, a Great Pyrenees. These dogs are large, double-coated, and originally bred to help shepherds protect livestock in the Pyrenees Mountains. Nichoel paid $1,500 to have the Great Pyrenees professionally trained with flags which promoted his bonding to the land and its perimeter instead of to just one type of livestock. She aptly named him Sheriff, and he grew into a 120-pound protector.
The Farrises never lost another animal to predators again. Nichoel witnessed Sheriff even jump a 6-foot fence to prevent a hawk from snatching a chicken. He was also incredibly gentle since he'd move escaped baby chicks with his mouth. Sheriff's job was to protect livestock from predators but not to attack them.
A New Neighbor
Then they bought and moved to a 23-acre apple orchard called Hideaway Farms in Greenville, California in Plumas County. On this farm, Sheriff protected the apple trees and livestock from bears and mountain lions. After a few years, he became known as a local hero in the community!
Two years went by and a new neighbor moved in. She complained about Sheriff specifically, so the local County sheriff visited twice. Then, when the neighbor continued to complain, Nichoel was issued a citation for violating an animal noise ordinance and had to attend arraignment.
For one month before the trial, Nichoel prevented Sheriff from patrolling to eliminate any further ammunition against him. During that time, Nichoel lost four apple trees, worth $2,800 each, to bears eating unripe fruit.
The Trial
That's when FTCLDF came in. Nichoel found out about FTCLDF from another farmer and became a member straight away. While there are some limits to representation of new members and farmers should join before having a problem, FTCLDF helped Nichoel through the process. FTCLDF attorney Suzy Israel assisted by reviewing points of law with Nichoel and articulating her argument.
Last month, Nichoel presented the case herself to a packed court room. Nichoel successfully argued that the Plumas County right-to-farm law, previously unknown to the local judge, protected her from alleged violations of the noise ordinance. The noise ordinance, which says no animal can utter a noise that disturbs anyone, will likely be adjusted because of this case.
"Guardian dogs are an essential tool for non-lethal control of a growing predator population. We now have wolves, lions and bears in Plumas County, CA," said Nichoel. "Through the support of our community and the legal advice from Farm-to-Consumer, we were able to clearly demonstrate in Superior court that Sheriff's job as a guardian dog, including his barking, is protected under the Right to Farm Act. The court agreed with a NOT GUILTY verdict and Sheriff can go back to his job, to serve and protect."
Nichoel's story simply emphasizes some of the illogical regulations that impeded a sustainable farmer. Accordingly, the annual FTCLDF farmer membership fee is money very well spent. Consider giving your favorite farmer/food producer a membership as a holiday gift, ensuring that the operation is protected and maintains its sustainability.
YOUR FUND AT WORK
Services provided by FTCLDF go beyond legal representation for members in court cases.
Educational and policy work also provide an avenue for FTCLDF to build grassroots activism to create the most favorable regulatory climate possible. In addition to advising on bill language, FTCLDF supports favorable legislation via action alerts and social media outreach.
You can protect access to real foods from small farms by becoming a member or donating today.