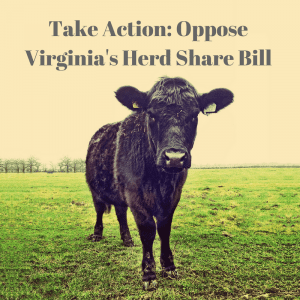 UPDATE ON 2/3/2018:
The herd share bills, House Bill 825 and its companion Senate Bill 962, would have granted government regulators increased power to interfere with private herd share agreements of Virginia residents. SB 962 was defeated by a slim margin: 8-No 7-Yes, thanks in part to the packed house of opposition at the hearing on Thursday. HB 825 was pulled yesterday by Knight, the patron of the bill. Victories! Read more about these bills below.
While the sale of raw milk is illegal in Virginia, raw milk advocates have used the concept of herd sharing to obtain the revered, nutrient-dense food for decades. In a herd share agreement, consumers pay a farmer a fee for boarding their animal (or share of the animal), caring for the animal, and milking the animal. The herd share owners then collect the milk from their own animal. No sales occur, the animals are taken care of, and everyone gets to enjoy the magical elixir that is raw milk.
Herd share agreements have been in use in Virginia since the mid 1970s when pioneer Christine Solem began her "Rent-a-Goat" program, which operated as the first herd share model. Solem has a long history of battling the Virginia Department of Agriculture and Consumer Services (VDACS) to ensure she can continue obtaining raw milk. Even with many triumphs, Solem warned residents of Virginia that their battles with obtaining raw milk were not over.
Solem's prediction was correct. A new bill, House Bill 825 (HB 825), introduced by Delegate Barry Knight, "would require herd share dairies to register with the Virginia Department of Agriculture and Consumer Services, be open to unwarranted premises and paperwork inspections, and adhere to yet-to-be-written stipulations put forward by VDACS," according to a press release by Virginia Independent Consumers & Farmers Association (VICFA).
If passed, HB 825 would grant government regulators increased power in interfering with private herd share agreements of Virginia residents. Threatening herd share participants with piles of paperwork, regulation and unannounced inspections, HB 825 would be an invasion of Virginians' food freedom and right to consume raw milk.
Voicing her opinion on the new legislation, as quoted in VICFA's press release, Solem contends, "This bill will take away my milk. In the 1980s and 1990s I had my own goats for milk, but now that I'm older I need someone else to do the work of milking and caring for the animals. Fresh milk is important to my health, and now I am dependent on milk from my herd share. The herd share agreement is a private contract and the government has no business intruding."
According to the press release, Joel Salatin, a Virginia farmer and former president of VICFA, also weighed in on the issue, "Herd share participants engage in this relationship specifically to exercise their choice to opt out of orthodox pharmaceutical, sterilization and other procedural protocols that they believe compromises the integrity and safety of milk."
HB 825 would be an infringement of the food freedom of Virginia residents engaging in private herd share agreements. The bill's implications are vast and potentially unknown as the bill's language allows for "yet-to-be-written stipulations created by the VDACS."
There's also a companion bill with very similar language in the Senate, Senate Bill 962 (SB 962), introduced by Mark Obenshain.
TAKE ACTION
Virginians: please take action as soon as possible because these bills could move quickly. Remember, calls are far more effective than emails, and they can take just a couple of minutes! Keep your calls short, polite, and clear. If you send an email, be sure to add a couple of sentences about your situation at the beginning to personalize it.
If you don't know who represents you, go to whosmy.virginiageneralassembly.gov
ACTION #1
Please contact your State Delegate and urge him or her to vote NO on HB 825.
ACTION #2
Please also contact your State Senator and urge him or her to vote NO on SB 962.
ACTION #3
UPDATE on 1/31/2018: 
SB 962 is on the docket for a vote by the Senate Agriculture, Conservation and Natural Resources Committee this Thursday, February 1, 2018. Attend the meeting if you are able and show that you OPPOSE this bill.
The meeting will take place 1/2 hour after adjournment of the full Senate Session, sometime after 2 p.m. at:
Senate Room A, Ground Floor
Pocahontas Building
900 East Main Street
Richmond, Virginia 23219
If you're free, please help to pack the meeting room. Those who oppose the bill will be meeting in the lobby between 1:30 and 2:00 p.m. Allow time for parking.
TALKING POINTS
The right to privacy is at stake: with this bill herdshare members' names and addresses would be turned over to the government. Because herd shares are a closed loop arrangement, registration with the state should not be required since the direct relationship between farmers and shareholders makes traceability a non-issue. No other food is targeted in this way.
If passed, the bill would require that the consumers assume joint liability for all milk produced by the herd, which is completely inappropriate and unprecedented.
With HB 825, herd shares would be open to unwarranted premises and paperwork inspections and would have to adhere to yet-to-be-written stipulations put forward by the Virginia Department of Agriculture and Consumer Services (VDACS).
This bill would negatively affect peoples' rights to acquire the foods of their choice because some herd share sellers would likely be forced out of business.
YOUR FUND AT WORK
Services provided by FTCLDF go beyond legal representation for members in court cases.
Educational and policy work also provide an avenue for FTCLDF to build grassroots activism to create the most favorable regulatory climate possible. In addition to advising on bill language, FTCLDF supports favorable legislation via action alerts and social media outreach.
You can help FTCLDF by becoming a member or donating today.


Anyone wanting to make a contribution to support the work of FTCLDF can make a donation or find out more info HERE.