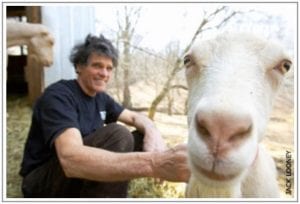 John Cole with Satyrfield goats
Herd shares are thriving in a number of states including Virginia, where the sale of raw milk is illegal. Christine Solem was a trailblazer in starting up herd shares in Virginia. Here is her account of herd shares in that state from the beginning up to the present.
Originally published by the Virginia Independent Consumers and Farmers Association (VICFA); edited and republished here by permission.
In 1975 when I first started milking goats on my small ten-acre farm near Charlottesville, I was besieged by persons allergic to pasteurized cow milk and/or just wanting to consume raw milk. Not knowing the law but having heard rumors you couldn't sell "it", I called the Health Department. The Health man said, "All I know is that you can't sell raw milk in Virginia for human consumption." So I then sold about eight gallons of raw goat milk per week labeled "Not for Human Consumption" on the farm and at a health food store in Charlottesville for four years.
In November of 1979, an inspector from the Virginia Department of Agriculture and Consumer Services (VDACS) waltzed onto my farm, minus a warrant, and informed me that I could no longer sell the milk. I told him that I would think of something else to do by spring, as I was about to dry up the goats for winter anyway. I had about ten customers very attached to the raw goat milk.
The following spring the warrantless VDACS inspector again waltzed (he didn't seem to know any other dance steps) onto my property to ask what I was doing. I told him that I had decided to rent my goats out at the farm on a day-to-day basis so that persons could come to the farm and receive their milk on the day that they had rented the goats. Rental papers were signed, etc. ("Rent-a-Goat" is born). Not knowing my rights and spoiling for a fight, I showed the inspector my papers. VDACS didn't like this at all and filed for Injunctive Relief to stop me. In July of 1980 the Albemarle Circuit Court judge refused to sign the injunction and ruled in my favor, stating essentially that I had not placed my goods in commerce and that he was unwilling to say that the customer was to be protected from himself by a regulation when he knew what he was getting and was asking for it. The judge did not rule on whether or not the renting of goats so that people could have the milk was a sale of milk.
The State appealed to the Virginia Supreme Court and in 1983 the Court overturned the Albemarle Court ruling in Carbaugh v. Solem, 225 Va. 310 (1983). "It is immaterial that title to the goat never passed; title to the milk passed when respondent completed the act of delivery."1 I understood and agreed.
However, I still had milk and people wanted it; therefore, I sold an interest in each of my goats and charged a maintenance fee. ("Share-a-Goat" was born.) I was starting to get interested in this legal stuff. This time I was the one who went after the State. A Declaratory Action was filed in the Albemarle Circuit Court in 1986 to determine the legality of selling an interest in a goat so that persons might have the milk. The Court held that my new arrangement did not violate the regulations because I had "sold undivided interests in the goats" (emphasis mine) and the maintenance fee I charged was for the transfer of milk to the goat owners which was "a mere delivery of the milk and did not constitute its sale."
The State appealed again to the Virginia Supreme Court and in 1989 the higher Court again reversed the lower court's decision in Kenley v. Solem, 237 Va. 202 (1989). The Court essentially called the selling of interests in goats a sham in stating, "Given the manner in which Solem handles the milk and deals with her consumers we hold that her distribution of the milk is essentially a sale of milk" in violation of the law.2 The Court pointed out everything I did wrong; for instance, the owner of the interest in the goat did not receive only his own goat's milk. I retained a 52% interest in each goat and gave my milk from other goats to the other owners when their goat was dry, etc. The implications of course being that if these "defects" were rectified then the arrangement could be legal.
I was really into this legal stuff now, and still had people wanting the milk. I drew up new papers, took my name off the ownership of the goats, kept the milk separate, etc. ("Own-a-Goat" was born.) I took the new papers to my lawyer, and he sent them to VDACS for approval. The lawyer for VDACS fussed around in a vague manner but didn't threaten or come after me.
I'll never forget: I said to my lawyer, "I want to take this back to Court for a Declaratory Action so that other people can do it." He said, "No, no, no; I don't think they are going to come after you, and slowly more and more people will start doing It."
GRATIFICATION
I did "Own-a-Goat" for several years and the State left me alone. Ultimately, I got tired of all the paperwork and just gave the milk away and accepted donations for legal and legislative efforts to change the law prohibiting the sale of raw milk in Virginia. Also, my partner in crime (John Cole) and I sold raw goat milk cheese at the Charlottesville farmers market until the State clamped down on that. We then, for five years, gave the cheese away and accepted donations for the same cause as with the milk.
In the meantime, I was aware that the buying of shares was slowly becoming more popular and more sophisticated. People now sold shares in the whole herd which eliminated the milk separation burden as well as other picky legal hurdles. I now own only three old goats as pets and, after milking for 38 years, I don't want to do it anymore. BUT, I want my milk raw! THUS, BEHOLD! I have been a proud owner of a share in a cow herd for three years now. It was with horror that I watched the supposedly friendly milk bill, HB 2030, through amendment, become a vehicle for the regulation of herd shares. Any regulation of herd shares would only eventually stamp out herd shares in Virginia. But, the share people rose up and pounded the Ag Committee with emails and phone calls. The bill was killed!
It was with astonishment that I realized how widespread the Share Program had become in Virginia. My lawyer was right when he said, "Slowly more and more people will start doing it." So after 25 years, we now really have legal raw milk in Virginia, and it is none of the State's business.
But a word of caution: my lawyer also said, "Income tax evasion is a crime, but income tax avoidance is perfectly legal as long as you do it right."
Keep your papers in order or you may be accused of selling raw milk. Check them with an attorney if you are unsure. Don't make the same mistakes I made in Kenley v. Solem, and don't show anyone your private Share agreements, certainly not the State unless they have a warrant. Most of all, be suspicious of any future legislation that promises so much, but becomes instead the vehicle to deliver the demise of the Share Program.
This battle has been long fought, but don't kid yourself; it probably isn't over. At least at this point in time, the people who choose to drink raw milk have banded together with their farmers in a contract that allows them the right to acquire the food they wish to consume. To me, this is a constitutional right. After all, only you know how a certain food feels going in, going through, and coming out. I always thought the above sentence would be good on a T-shirt. Hey, I don't like getting too serious—time for a laugh—it's a survival mechanism!
Footnotes
1 Virginia Supreme Court. S. Mason CARBAUGH, Commissioner of Agriculture and Consumer Services, et al. v. Christine SOLEM, 225 Va. 310, 314 (Va. 1983); accessed 15 March 2017 at https://casetext.com/case/carbaugh-v-solem. Corresponding citation, Carbaugh v. Solem, 302 S.E.2d 33 (1983); accessed 15 March 2017 at http://www.ecases.us/case/va/c1341168/carbaugh-v-solem [PDF]
2 Virginia Supreme Court. James B. KENLEY, M.D., etc., et al. v. Christine SOLEM, 237 Va. 202, 204 (Va. 1989); accessed 15 March 2017 at https://casetext.com/case/kenley-v-solem. Corresponding citation, Kenley v. Solem, 375 S.E.2d 532 (1989); accessed 15 March 2017 at http://www.ecases.us/case/va/1259292/kenley-v-solem [PDF]

YOUR FUND AT WORK

Services provided by FTCLDF go beyond legal representation for members in court cases.
Educational and policy work also provide an avenue for FTCLDF to build grassroots activism to create the most favorable regulatory climate possible. In addition to advising on bill language, FTCLDF supports favorable legislation via action alerts, social media outreach, and the online petition service.
You can help FTCLDF by becoming a member or donating today.


Anyone wanting to make a contribution to support the work of FTCLDF can make a
donation online
or send a check to:
FTCLDF
8116 Arlington Blvd, # 263
Falls Church, VA 22042
Prefer to make a tax-deductible donation? Donate online here.
You may also contact us by email at [email protected] or call 703-208-FARM (3276). Thanks for your support.