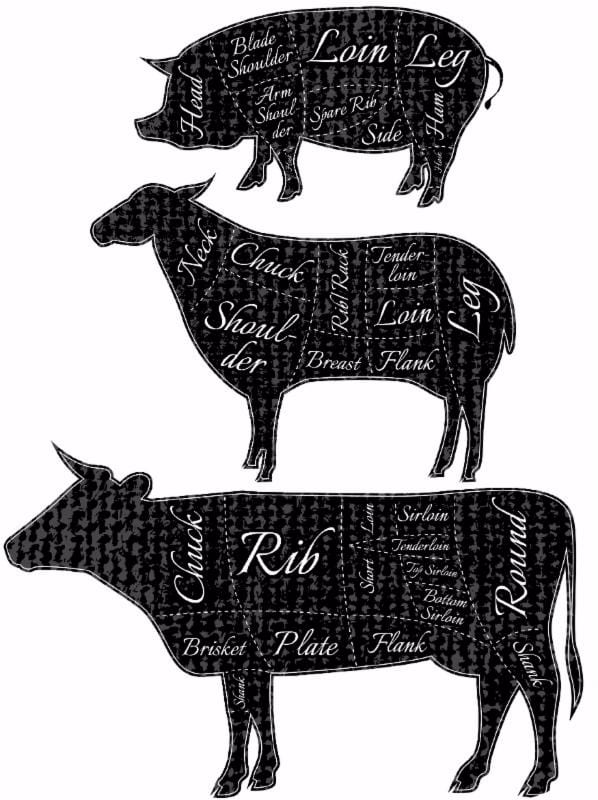 High-quality local meat can be hard to find, and one of the main reasons is the shortage of inspected slaughterhouses that are accessible to small farmers in many parts of the country. Farmers often have to haul their animals several hours, increasing expenses for the farmer, driving prices up for consumers, and creating stress on the animals.
Why is there this shortage? Because federal regulations take a one-size-fits-all approach that impose unnecessary burdens and expenses on small-scale processors, driving them out of business. And whether the inspectors are from USDA or the state agency, they have to apply the same standards under the current law.
There are "custom" slaughterhouses, for which states can set their own standards. But under current law, meat from a custom facility cannot be sold. Instead, it can only go to the individual(s) who own the animal at the time the slaughter took place. This means that the customer(s) must buy the whole animal while it is still alive, effectively purchasing hundreds of pounds of meat without knowing the final weight or the price per pound. This is not feasible for most farmers or consumers!
H.R. 2657, the Processing Revival and Intrastate Meat Exemption (PRIME) Act, would empower states to set their own standards for the sale of custom-processed meat within the state. Many farmers already have a custom slaughterhouse much closer than a federal or state-inspected facility. The PRIME Act enables states to set their own health and safety standards for the sale of meat from these custom slaughterhouses.
The PRIME Act allows individual states to permit intra-state distribution of custom-slaughtered beef, pork, lamb, and goat to individual consumers, restaurants, hotels, and grocery stores. Passage of the PRIME Act would support small farmers, their animals, and improve consumer access to locally raised meats.
The PRIME Act allows each state to set the requirements and limitations on the custom slaughterhouses that it considers appropriate. It does NOT dictate the actions that each state should take.
Please help us build support for locally produced meat!
TAKE ACTION
Call or email your U.S. Representative and urge him or her to co-sponsor H.R. 2657, the PRIME Act.
You can find out who represents you by going to www.house.gov or by calling the Capitol Switchboard at 202-224-3121. Remember, calls are far more effective, and they can take just a couple of minutes! If you send an email, be sure to add a couple of sentences at the beginning to personalize it.
SAMPLE MESSAGE FOR CALLS/EMAILS:
As a constituent, I urge Representative ____ to co-sponsor H.R. 2657, the PRIME Act.
This important bill will make it easier for small farms and ranches to succeed financially and provide consumers with greater access to locally raised meats. The bill simply removes the federal ban on the sale of meat from custom slaughterhouses directly to consumers and venues serving consumers within a state, subject to state law. This returns power to the states to establish a regulatory scheme that makes sense for their citizens.
The PRIME Act is the first step to rebuilding local processing infrastructure, which can revive rural economies and enable communities to become more self-sufficient in meat production.
Please support our local farmers and consumer choice by co-sponsoring H.R. 2657.
[Name]
[City, State]
If you are a livestock producer, take a few extra minutes and ask to speak to the staffer who handles agricultural issues. Briefly explain to the staffer any problems you have faced with lack of access to inspected slaughterhouses, and how the PRIME Act would help your business and benefit your customers.
NOTE: If your Representative is already a co-sponsor, be sure to say "Thank you!" when you call.
The original co-sponsors are Representatives Chellie Pingree (D-ME), Justin Amash (R-MI), Kevin Cramer (R-ND), John Garamendi (D-CA), Glenn Grothman (R-WI), Jared Huffman (D-CA), Walter Jones (R-NC), Raul Labrador (R-ID), Zoe Lofgren (D-CA), Tom McClintock (R-CA), Mark Meadows (R-NC), Jared Polis (D-CO), Dana Rohrabacher (R-CA), Mark Sanford (R-SC), Robert Wittman (R-VA).  They have been joined by Representatives Dave Brat (R-VA), Jason Lewis (R-MN), Bruce Poliquin (R-ME), Andy Biggs (R-AZ), and Steve King (R-IA).

MORE INFORMATION
See FTCLDF's white paper here. You can download a copy to email to your Representative's staff as a follow-up to your call; it's a great way to reinforce the message that this is an important issue to you.
Read our previous posts on the PRIME Act here.
YOUR FUND AT WORK

Services provided by FTCLDF go beyond legal representation for members in court cases.
Educational and policy work also provide an avenue for FTCLDF to build grassroots activism to create the most favorable regulatory climate possible. In addition to advising on bill language, FTCLDF supports favorable legislation via action alerts, social media outreach, and the online petition service.
You can help FTCLDF by becoming a member or donating today.


Anyone wanting to make a contribution to support the work of FTCLDF can make a
donation online
or send a check to:
FTCLDF
8116 Arlington Blvd, # 263
Falls Church, VA 22042
Prefer to make a tax-deductible donation? Donate online here.
You may also contact us by email at [email protected] or call 703-208-FARM (3276). Thanks for your support.