FOR IMMEDIATE RELEASE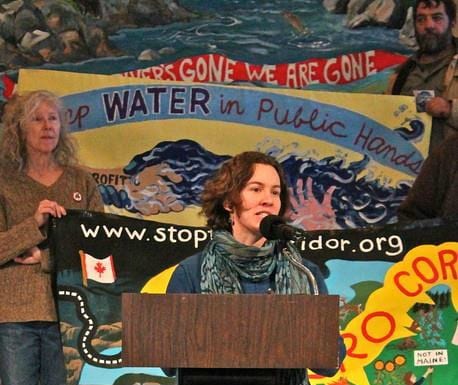 Heather Retberg giving her address at the Rally for Unity
Falls Church, VA—February 2, 2017—The Farm-to-Consumer Legal Defense Fund (FTCLDF) is proud to announce that Maine farmer Heather Retberg is the winner of the second annual Gravel Road Gang Activism Award, an honor recognizing FTCLDF members for success in working on food freedom legislation and initiatives. Heather is a farming mother, the lead organizer and advocate for Local Food RULES, a board member for Food for Maine's Future, and is working with her local grange, the Halcyon Grange #345 in North Blue Hill to rebuild food and farming infrastructure while maintaining legal space for traditional food exchanges. Retberg and her husband Phil own and operate Quill's End Farm in Penobscot, producing raw milk, meat, and eggs. Utah farmers Symbria and Sara Patterson were the winners of the inaugural Gravel Road Gang Award in 2016.
The award is named in honor of Donna Betts, a longtime farmer and activist in southeastern Ohio. Betts has been a walking history of farming and farm politics in Ohio since World War II. A longtime advocate of measures favoring small farmers and local food production, Betts has not been afraid to take on the government. She was a successful litigant in an eight-year court battle with the Ohio Department of Agriculture over her right to sell raw pet milk, a case in which she recovered attorneys' fees from the Department. The Gravel Road Gang is Betts' name for a group of women that have been meeting in her area the past 16 years to discuss farming, activism, and other matters of the day.
Retberg has been instrumental in the passage of the Local Food and Community Self-Governance Ordinance (LFCSGO) in 18 Maine towns. Under the LFCSGO, farmers and other local food producers can sell their products direct-to-consumers within the ordinance town's borders without licensing or inspection. Along with her husband Phil, farmer Deborah Evans, farmer Bob St Peter, and Larissa Curlik, Retberg drafted the ordinance in 2010, and in 2011 five towns including Penobscot became the first to adopt the ordinance. The Maine Department of Agriculture, Conservation and Forestry (DACF) subsequently challenged the ordinance by filing suit against dairy farmer Dan Brown, claiming he was violating state law by selling raw milk and canned goods from his farmstand in the ordinance town of Blue Hill without a state license. The case went all the way to the Maine Supreme Court, which did not strike down the ordinance but did rule against Brown. The Court avoided preempting the LFCSGO, choosing to interpret the language "narrowly" to exempt farmers and food producers only from municipal licensing and inspection. While the case was making its way through the courts, the Maine legislature passed a bill requiring DACF to support policies that through local control preserve the ability of communities to produce, process, sell, purchase, and consume locally produced foods. The 2014 state Supreme Court decision has not slowed the LFCSGO's momentum; since the court's ruling, seven towns have adopted the ordinance.
Retberg is the lead organizer advocate of Local Food Rules, a non-profit organization whose mission is to encourage the passage of local food ordinances in Maine. She has traveled around the state since 2011 supporting and assisting the efforts of local leaders as their own towns consider its passage. She is currently working with local organizers toward passage of the ordinance in Rockland, which would mark the first time a city has adopted the LFCSGO. FTCLDF has provided financial support for her travel expenses and many hours spent the past three years working to increase the number of ordinance-protected towns.
On the state level, Retberg has worked successfully on scale-appropriate regulation for on-farm poultry processing and has been part of several attempts to adopt the LFCSGO statewide. In 2016, a constitutional right to food amendment that would have enshrined a right to food of our choosing and food freedom in Maine's constitution, passed in the Maine House of Representatives but died in the Senate. Retberg helped draft the amendment. In addition, she worked closely with legislator allies on four other bills that same session approaching food sovereignty, food self-sufficiency, and food freedom from different tacks.
In the 2017 legislative session, Retberg will be working to support more people in rural communities who aim to help their town adopt the LFCSGO on the local level. At the state level, she is working primarily on two bills: another effort to adopt the ordinance on a statewide basis as well as a measure toward state recognition of food sovereignty, effectively addressing the threat of state preemption to local control of community food and water systems. Towns and counties in other states have passed food sovereignty ordinances, but when it comes to the number of towns and the strength of the ordinance language, Maine is still ahead of the curve. Retberg has been a leader from the beginning.
FTCLDF works with its members at the federal, state, and local levels on legislation and other initiatives to promote food freedom of choice; we welcome those working on or wanting to work on food freedom bills or similar measures.
Media Contact:
Pete Kennedy, Esq.
Farm-to-Consumer Legal Defense Fund
703-208-3276, [email protected]
YOUR FUND AT WORK

Services provided by FTCLDF go beyond legal representation for members in court cases.
Educational and policy work also provide an avenue for FTCLDF to build grassroots activism to create the most favorable regulatory climate possible. In addition to advising on bill language, FTCLDF supports favorable legislation via action alerts, social media outreach, and the online petition service.
You can help FTCLDF by becoming a member or donating today.


Anyone wanting to make a contribution to support the work of FTCLDF can make a
donation online
or send a check to:
FTCLDF
8116 Arlington Blvd, # 263
Falls Church, VA 22042
Prefer to make a tax-deductible donation? Donate online here.
You may also contact us by email at [email protected] or call 703-208-FARM (3276). Thanks for your support.