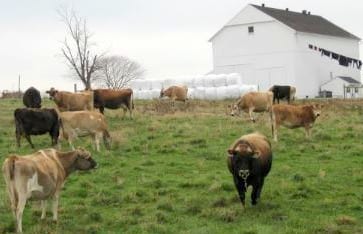 On June 28 an American court will once again address the question of whether there is a legal distinction between the public and private distribution of food. To this point no judge in this country has held that there is a distinction.
The United States government is seeking a court ruling ordering Pennsylvania farmer Amos Miller, owner of Miller's Organic Farm, to allow USDA's Food Safety Inspection Service (FSIS) to execute an administrative subpoena and search Miller's farm and business records. FSIS's investigation stems from a CDC report published in March that falsely accused raw milk products from Miller's farm of being responsible for a death in Florida and an illness in California.
FSIS is claiming that it has jurisdiction to inspect a meat and poultry slaughtering operation on Miller's farm. Miller, who has decided to represent himself at the hearing, is claiming that, since he makes no sales to the general public but only to members of a private association, the agency has no authority to inspect his operation. FSIS's position is that it has jurisdiction and that it makes no difference whether Miller is making public or private sales and selling in interstate or intrastate commerce.
The members of the private association know that Miller's farm is not regulated and don't want the government's protection. Who should determine what meat and poultry products the members put into their bodies? The members or FSIS? If the answer is FSIS, the members could eventually be without what for them has been a valuable source of nutrient-dense food.
The hearing over the administrative subpoena takes place Tuesday at 1:30 p.m. in Easton, Pennsylvania at the United States District Court for the Eastern District of Pennsylvania.
YOUR FUND AT WORK

Services provided by FTCLDF go beyond legal representation for members in court cases.
Educational and policy work also provide an avenue for FTCLDF to build grassroots activism to create the most favorable regulatory climate possible. In addition to advising on bill language, FTCLDF supports favorable legislation via action alerts, social media outreach, and the online petition service.
You can help FTCLDF by becoming a member or donating today.


Anyone wanting to make a contribution to support the work of FTCLDF can make a
donation online
or send a check to:
FTCLDF
8116 Arlington Blvd, # 263
Falls Church, VA 22042
Prefer to make a tax-deductible donation? Donate online at bit.ly/NFG4FTC.
You may also contact us by email at [email protected] or call 703-208-FARM (3276). Thanks for your support.