FOR IMMEDIATE RELEASE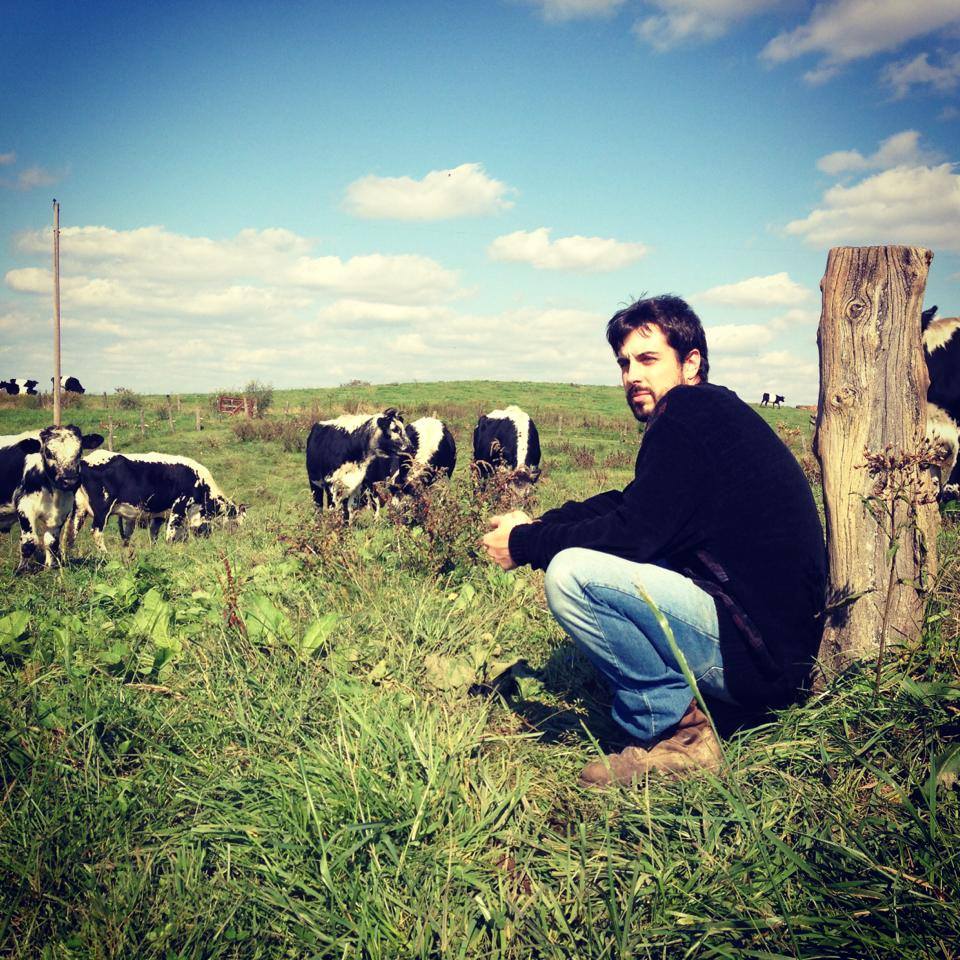 Neil Perin with his Randall heritage breed cows
Falls Church, VA—September 30, 2015—The Farm-to-Consumer Legal Defense Fund (FTCLDF) has settled another case on behalf of one of its members, Neil Perin, owner of Arcadian Acres, who raises pork and Randall veal calves near Athens, Ohio. In early 2014, Perin took three of his Randall heritage breed calves to a slaughterhouse located in Bidwell, Ohio and asked to have all of the bones, organs, all scraps and all fat returned to him after slaughter. The slaughterhouse did not comply with Perin's request and actually shorted him by about 80 pounds of meat.
Perin put a stop payment on the check he used to pay the slaughterhouse; eventually the slaughterhouse sued him for non-payment for services rendered. The slaughterhouse also slandered Perin's business by calling Perin's customers and claiming that he was raising calves that had pneumonia and that Perin was a felon because he received more than $500 in services without paying for them; the slaughterhouse also suggested that the customers no longer do any business with Perin.
Once FTCLDF agreed to represent Perin, FTCLDF filed two counter claims against the slaughterhouse, one claim for slander and the other claim for interference with Perin's business operations. FTCLDF General Counsel Gary Cox was about to conduct the deposition of the slaughterhouse owner when the owner agreed to compensate Perin for his damages and admit that he did not have any personal knowledge that Perin's animals had pneumonia.
The case involved an Ohio Department of Agriculture (ODA) inspector who would have been called to testify during trial. The ODA inspector allegedly told the slaughterhouse owner that Perin's calves had pneumonia, but when questioned by Gary Cox, admitted that no such pneumonia was present in any of Perin's calves. The slaughterhouse apparently did not want to have to put the ODA inspector on the witness stand, as the ODA inspector and the owner of the slaughterhouse are close friends and used to work together.
The case represents the tension that exists between a small livestock producer and a local slaughterhouse, whereby the livestock producer is hamstrung by the availability of local processors who enjoy a monopoly on slaughtering and processing. In all too many cases, small producers are held hostage by local processors who invariably take advantage of their monopoly by imposing unreasonable standards and business practices on the small producer. In this case, however, the small producer won and was made whole.
Cases like Neil Perin's are another reason to support the PRIME Act, which can help create the competition needed to end the local slaughterhouse monopolies that exist throughout the country. For more information on the PRIME Act, go to www.farmtoconsumer.org/tag/prime-act
YOUR FUND AT WORK

Services provided by FTCLDF go beyond providing legal representation for members in court cases. The Fund is not an insurance company and cannot guarantee representation on all legal matters; possible representation is just one of the benefits of membership.
Educational and Political Action Services also provide an avenue for FTCLDF to build grassroots activism to create the most favorable regulatory climate possible. In addition to advising on bill language, FTCLDF supports favorable legislation via action alerts, social media outreach, and the online petition service.
You can help FTCLDF by becoming a member or donating today.


Anyone wanting to make a contribution to support the work of FTCLDF can make a
donation online
or send a check to:
FTCLDF
8116 Arlington Blvd, # 263
Falls Church, VA 22042
Prefer to make a tax-deductible donation? Contact us by email at [email protected] or call 703-208-FARM (3276). Thanks for your support.