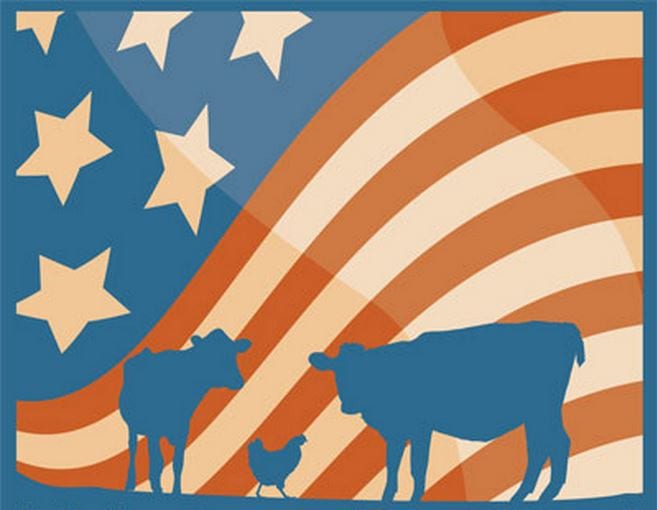 Story At-A-Glance
>> Connecticut now allows the distribution of raw milk via herdshares whether the dairy is licensed or not.
>> Heather Retburg's efforts are paying off; now 15 Maine towns have a food sovereignty ordinance.
>> Texas institutes a process to rein in cooperative agreements between FDA and the state health department.
Connecticut Herdshare Bill Now Law
Connecticut became the sixth state to pass legislation increasing access to raw milk in 2015 when Governor Dannel Malloy signed Senate Bill 360 (SB 360) into law on June 23rd. The bill legalizes the "transfer or exchange of raw milk between persons who are parties to the same shared animal ownership agreement." SB 360 takes effect immediately. In Connecticut, licensed dairies can sell raw milk on the farm, at farmers markets and at retail stores; the new herdshare law mainly benefits micro-dairies that can't afford the cost of complying with the requirements of obtaining a license.
SB 360 lifts a ban on herdshares that the Connecticut Department of Agriculture engineered toward the end of the 2009 legislative session when an amendment prohibiting unlicensed dairies from even giving milk to anyone outside the producer's family was tacked on to a bill titled the "Connecticut Fertilizer Law of 2008." SB 360 passed unanimously through both chambers in the legislature.
Congratulations to FTCLDF member Mary Tracy, one of the principals in the passage of the bill.

15th Maine Town Passes Food Sovereignty Ordinance
On June 24th, the people of Solon, Maine, voted at a town meeting to adopt the "Local Food and Community Self Governance Ordinance" (LFCSGO)—becoming the 15th town in that state to do so. The LFCSGO allows food producers to sell their products direct to consumers without any licensing or inspection requirements.
Congratulations to FTCLDF member Heather Retberg on another success. FTCLDF is providing funds for efforts in Maine to pass the local food sovereignty ordinances.

Texas Bill on FDA Cooperative Agreements
On June 17th, Texas Governor Greg Abbott signed House Bill 1846 (HB 1846) into law. HB 1846 calls for the Texas State Department of Health (TSDH) to "annually solicit comments from interested persons regarding the grants and contracts the department has requested from or entered into with the United States Food and Drug Administration and its amendments, including the Food Safety Modernization Act." TSDH, under the bill, is responsible for providing on its website detailed descriptions of each grant and contract with FDA, and also for giving notice to "interested persons of each grant and contract." HB 1846 contains a clause stating that "if an interested person requests that the department declines to receive future federal funding from the grant or contract, the department shall consider the request and determine whether the benefits of the grant or contract outweigh the person's concerns."
Cooperative agreements and other contracts between federal and state governments can often be an end around on representative government; the agreements can, in effect, create new law without any input from the public. FDA will be counting heavily on the states to enforce the FDA Food Safety Modernization Act (FSMA) through contracts with state departments of health and agriculture. HB 1846 is a step in the right direction towards reversing the federal government's control over state food regulation.
FTCLDF Board Member Judith McGeary, who also serves as the Executive Director of the advocacy nonprofit Farm and Ranch Freedom Alliance, was the individual most responsible for the passage of the bill. HB 1846 takes effect September 1, 2015.
YOUR FUND AT WORK

Services provided by the Farm-to-Consumer Legal Defense Fund (FTCLDF) go beyond providing legal representation for members in court cases.
Educational and Political Action Services also provide an avenue for FTCLDF to build grassroots activism to create the most favorable regulatory climate possible. In addition to advising on bill language, FTCLDF supports favorable legislation via action alerts, social media outreach, and the online petition service.
You can help FTCLDF by becoming a member or donating today.


Anyone wanting to make a contribution to support the work of FTCLDF can make a
donation online
or send a check to:
FTCLDF
8116 Arlington Blvd, # 263
Falls Church, VA 22042
Prefer to make a tax-deductible donation? Contact us by email at [email protected] or call 703-208-FARM (3276). Thanks for your support.