Every Monday is Member Monday where we feature a member photo or video on our Instagram and Facebook pages. Farm-to-Consumer Legal Defense Fund (FTCLDF) is proud of our members, and we take great pleasure in highlighting their operations and the awesome work they are conducting in sustainable farming, animal husbandry, artisanal production, and homesteading. See below for a roundup of November's member photos!
Pleasant Pastures
Pleasant Pastures is nestled in rural Lancaster County, Pennsylvania and is currently operated by Daniel and Linda Stoltzfus and their three sons. Years ago, Ben, the founding farmer and father, misjudged on some herbicide needs and didn't have enough. He cultivated that part of the field, and it did better than the treated area! After this experience they went completely organic. Their mission statement is, "To help you achieve vibrant health by producing and providing high quality nutritious organically grown food while providing a pleasant Christian work environment for our family and staff, and maintain biological and financial sustainability on our farm." All of their beef is 100% grass-fed and finished, dry aged at least 10 days. Their pigs are pasture-raised in season; fed soy-free, GMO-free and organically grown feed; and winter in a 3-sided shed with access to outdoors. Pleasant Pastures also offers pastured duck eggs, chicken; 100% grassfed and finished sheep and lamb; organic grain berries and flour including einkorn, spelt, wheats, oats, and corn; organic gluten free pies, muffins, sourdough bread and more; organically grown fruits and veggies; and Swarmbustin raw honey with an emphasis on genetics to ensure a healthy hive.

Jorasz Family Ranch
Jorasz Family Ranch is located on 40 rolling acres in Michigan's beautiful Upper Peninsula. Andy and Teri Jorasz purchased the property in 2005 and have four children: Faith, Emily, Brianna and Nathan. Andy is a fifth generation dairy farmer and is still an active participant at his family's dairy just a few miles away. In winter 2020, Teri resigned from her sales job to focus full-time on the farm and her family. For their herd share program, she decided on the Brown Swiss breed for their docile nature, longevity, and beauty. All of their dairy cows tested A2A2 and live a life of leisure, rotationally grazed on six acres of lush pasture. At milking time they receive a ration of non-gmo grains, and have free-choice hay available 24×7. All the feed that the cattle receive has been grown by the Jorasz Family. The Joraszes are passionate about producing clean, safe raw milk to provide to their remote local community as evidenced by their listing with the Raw Milk Institute. In addition to raw milk, they also offer grass fed Angus beef, pastured pork and lamb, and eggs from their free-range flock of hens. They do not use any chemical pesticides, herbicides or hormones and they raise all of their animals from conception to market on feed they produce. The photo shows some of their Brown Swiss cows, Katahdin sheep, Duroc sow, and Andy and Teri.

Feiring's Grassfed Beef
Feiring's Grassfed Beef is made up of Donnie, Trisha, Harley and Taylor (pictured). The Feirings have raised forage-based cattle in Beach, North Dakota since 2012, the way Mother Nature intended: grazing native prairie in the summer and eating hay in the winter with no grain, antibiotics, hormones, or chemicals. Trisha and Donnie have been ranching ever since each of them was old enough to own a cow. They take pride in raising cattle in a regenerative and holistic manner and believe that if they take care of the soil, the soil will take care of the animals and them. In addition to beef, they also sell chicken eggs from hens raised on open pasture during the warmer months and then in a 50 x 50 hoop building in winter with the option to roam free. The hens eat a corn-based ground feed mixture with a mineral pack plus grass, bugs and insects. Because the grass they eat contains chlorophyll, the eggs have a dark yellow yolk. The Feirings became members of the Farm-to-Consumer Legal Defense Fund because a very good friend recommended the organization and they wanted to be sure that their ranch and business were protected.

Aaron Zober
Aaron Zober works in documentary and reality television along with running the podcast and blog The Appropriate Omnivore where he shares the best organic and sustainable products and restaurants. Through The Appropriate Omnivore, Aaron attends conferences, expos, and festivals where real food producers exhibit. He's met many real food movers and shakers, like Sally Fallon Morell (pictured here with Aaron). Aaron was raised in the Midwest, where people love their meat. After college, he moved to Los Angeles and became interested in the environmental cause. While learning how to live more sustainably, he was often told to be vegetarian or vegan. But he couldn't give up a good steak. Then he read The Omnivore's Dilemma and realized pastured animals are needed to save the planet and how the entire food industry needs to become more natural, local, and sustainable. Aaron is co-leader of the Weston A. Price Foundation Chapter of Pasadena where they hold monthly meetings with potluck dinners and speakers in food, farming, and the healing arts. He also loves growing vegetables and cooking nutrient-dense foods using pasture-raised meats, healthy fats, and organic ingredients. Aaron has been an FTCLDF consumer member since 2015.

Mentink Family Farms
Mentink Family Farms is a regenerative, beyond organic farm in Stromsburg, Nebraska run by Angie and Cory Mentink along with their eight children. They sell pastured pork, grass finished beef and lamb, pastured chickens/eggs, homemade skin care products, and more. Their journey with real food and homemade skin care began in 2006 after a Nourishing Traditions class. Some of them had been experiencing health problems, and until that class, they had never considered that what they were eating, putting on their skin, or environmental toxins could be to blame. This began a slow conversion to the lifestyle they enjoy today. They believe there is a lot of fraud in the organic industry and as part of their transparency, they encourage people to come out to their farm and see what they are doing. This photo is from a recent farm tour. They believe that the regulations that are in place at this time are not about food safety, but about big corporations controlling the market. They joined FTCLDF in 2018 in order to promote food freedom and are so thankful for what FTCLDF is doing!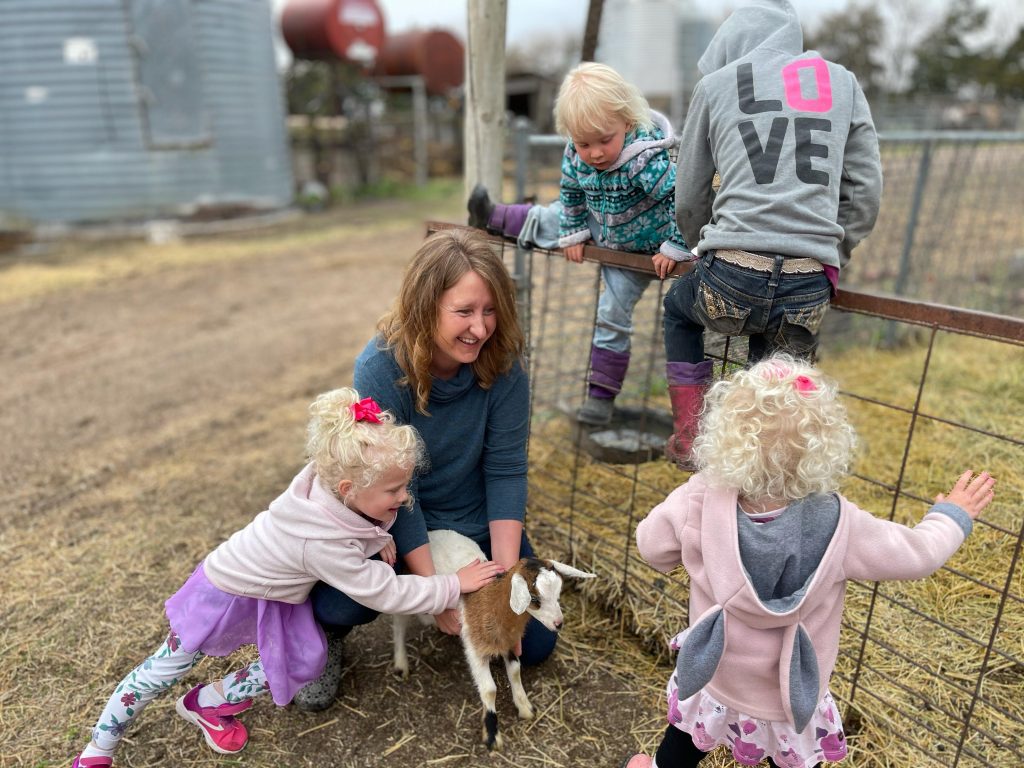 Membership
Thank you to all of our wonderful members! We are membership-based and couldn't do the work we do without you! Learn more about membership here.
If you're a member and would like to share your photos with us, email [email protected] for more details.
YOUR FUND AT WORK
Services provided by FTCLDF go beyond legal representation for members in court cases.
Educational and policy work also provide an avenue for FTCLDF to build grassroots activism to create the most favorable regulatory climate possible. In addition to advising on bill language, FTCLDF supports favorable legislation via action alerts and social media outreach.
You can protect access to real foods from small farms by becoming a member or donating today.