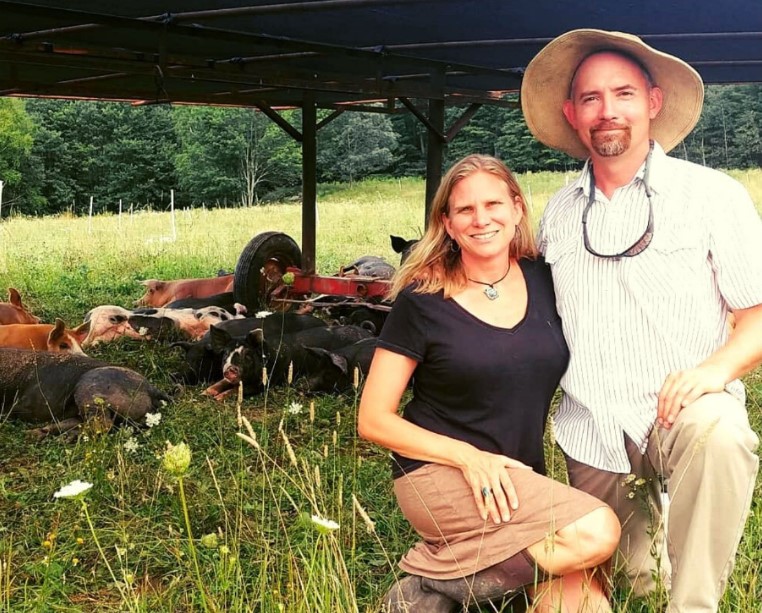 John and Holly Arbuckle run Singing Pastures family farm in coastal Maine with a strong focus on regenerative agriculture and pigs. They produce the naturally fermented and smoked snacking Roam Sticks and Artisanal Charcuterie Salami, both products that raise the bar for healthy, ethical, pasture-raised pork products. John and Holly raise animals like their ancestors, on green grass without growth stimulants, antibiotics, or GMOs. John is a 9th generation farmer. The Arbuckles mimic nature by moving their livestock every few days, similar to what the bison did on the prairie. Long-time FTCLDF farmer members John and Holly Arbuckle share here the first part of a series about raising pigs regeneratively. This article first appeared in Graze Magazine, an in-print publication, published again here with permission. 
I distinctly remember my college ecology teacher telling us that it takes a thousand years to build an inch of topsoil. A thousand years! The statement succeeded in its intended goal, which was to instill in us freshmen a tremendous sense of respect toward caring for the land.
It also had an unintended and dangerous consequence, as I'm certain every student left that class without a thought about building soil. If it takes a thousand years to build an inch, how could our relatively short human lives create any noticeable change? It was a statistic that left very little room for hope.
Thank goodness our teacher was wrong.
Using cattle, people are capable of healing the land more quickly than anyone thought possible just 20 years ago. Slowly but surely, the body of knowledge about how to integrate ruminants into restorative agriculture is growing.
One human generation of restorative management practices can take soil from extremely degraded to highly resilient.
We are starting our own regeneration project on our new farm in Maine, which for many years was continuously grazed by dairy cows, creating an assortment of problems for the environment. The soils here have suffered, with some fields very thin and weedy, and others near monocultures of reed canary grass.
Now that we are here implementing holistic grazing, we don't mean to duplicate that pattern.
But here's the kicker: In addition to custom grazing cows, we raise pigs. The question I'd like to address is how to work pigs into the regenerative equation.
Avoiding Destruction
That presents a potential problem because when it comes to grazing, pigs may be the most destructive species of farm animal. Feral swine in the U.S. are estimated to cause more than $1.5 billion in damages and control costs each year through their "grazing" activities.
Simply put, if you really want to ruin some land and you don't have much time to get it done, pigs can be a good option. So how can you possibly make pigs regenerative?
Experience on our previous farm in Missouri indicates that this can be done. When we arrived there the grass didn't grow more than 12 inches high and bare patches were visible everywhere. In most places we had just one grazing event in late spring (a poor one), as the grass did not regrow well enough for a second.
After several years of rotational grazing (we did not yet understand holistic grazing) alternating between pigs and cows, the grass was exploding out of the ground. I believe in the synergy of combining monogastrics and ruminants. Manure deposited by the pigs brought the grass back in a hurry, and the cows kept it vegetative.
While other people may have their own strategies, we'll share what we've learned about grazing pigs to improve pastures rather than damaging them.
Quick Rotations
1. Quick rotations are very important, as pigs can damage pasture pretty quickly. Portable electric fencing is the cornerstone of our operation. The longest we leave pigs on a temporary paddock is seven days. Generally speaking, the animals are rotated every Friday morning.
The object is to graze some, stamp down what they won't graze, and manure the rest. After a successful grazing event we want to see 100% vegetative ground cover and at least two or three manure piles in every square yard.
I will be the first to admit our 100% ground cover doesn't happen every time, as a four-inch rainstorm will make that a difficult goal to achieve. After any rain event that creates bare ground, we bring in some old, rotten hay to cover any bare spots.
Genetics and Epigenetics
2. Genetics and epigenetics are important. Just as it is possible to breed cows that perform better on grass, one can select for pigs that are willing and able to utilize high-forage diets. This is not a quick turnaround, though it is quicker than with cows. Our initial assessment is that a smaller frame size, short legs and a broad, thick body help.
While we are not true to one breed and select for the best grazers, in general we have found the Large Blacks to be a great start for a grazing herd. To see video of grazing pigs, check out our Facebook page, Singing Pastures.
Epigenetics, or how genes express themselves based on environment and other factors, is also important. We have watched one group of pigs stand in a luscious field of brassicas squealing for us to bring them corn, while on the other side of the fence a different herd is contentedly grazing vegetative cool season grasses and red clover.
The first group went their whole lives without figuring out that brassicas were edible; the second were the offspring of our 2017 experiment in grain-free pork. Their mothers taught them exactly what would be expected of them.
Piglets learn from their mothers how to get by in the world, and some pig herds will develop a shared culture of eager grazing. I believe this is also influenced by the farmer who provides good forages to incentivize this kind of behavior.
Moving Elements
3. Move all elements in the paddock frequently. To be regenerative with pigs, we have found it advantageous to move their feeders, waterers and sun/rain shelters.
The field the pigs are in is generally a rough rectangle. In one corner is the sun shelter that is like a giant beach umbrella on wheels. Beside it in two staggered rows are a bunch of food grade plastic barrels cut in half lengthwise. The feeders are parallel to the short side of the field rectangle and extend to the opposite side of the paddock where the water tank is on the edge of the pen.
Each day we move the shade structure and the waterer once, while the feeders are moved twice a day. Everything moves in the same direction, starting at the "clean" end of the field and moving along the long sides of the rectangle.
We move our pigs to completely clean ground every five to seven days and don't revisit the same spot more than twice a year with pigs. Depending on the pattern employed to graze our cows and 600 laying hens, it's possible that each spot may only be visited annually by each species.
Nose Rings
4. Nose rings are good. After weaning, we run the herd of pasture-raised feeder pigs into a portable corral. These are made of horse panels with wire hog panels attached to the bottom. The piglets have already been castrated and received their first round of vaccinations, and this opportunity to ring noses is also a good time to give the second round of vaccines.
We use the humane nose rings, which is one septum ring placed between the nostrils and clipped into place with a special pair of pliers. We never ring before weaning. It seems the piglet is scared more by being caught than by the ringing. We often set a newly rung pig on the ground and watch it walk straight back to the feeder and start eating again.
Our pigs with nose rings can still move grass and straw around, and sows gather grasses and build nests before having their babies. They just can't aggressively dig. For us, nose rings are a tool like electric fence.
While we respect the school of thought that says any practice restricting natural behavior is bad for the animal, sometimes we have a hard time understanding where the line should be drawn. For instance the [National Organic Program] (thankfully) allows castration, and if this doesn't prevent natural behavior, we don't know what does.
If left to their natural instincts, pigs would spend their summer days rooting up riparian areas and wallowing in ecologically sensitive wetlands. As stewards, we have to manage animals with a goal of achieving the highest good for all involved. For us, that means soil is viewed as a living being that must be calculated into the regenerative agriculture equation.
Mowing
5. Mowing is necessary. This is usually done with horse-drawn sickle bar mowers to knock down whatever thorny plant the pigs have not chosen to impact or consume. This leaves the fields well fertilized, well impacted, and ready to explode next year with life and quality forages.
The combination of ruminants and monogastrics creates a diversity of ways of depositing and cycling nutrients in a pasture, and can restore land faster than ruminants alone.
Cover Crops
6. Cover crops are essential. To get pigs to graze more, we grow a succession of no-till cover crops and rotate the pigs through them. When picking cover crops we go for high-octane plants with high digestibility, similar to crops used for dairy cows.
The covers are a major reason why we have been successful in our experiments with boosting grazing intakes while reducing grain consumption. More work is needed in this area, but that is part of farming.
Determining best practices for your farm is an ongoing puzzle that you alone can solve.
Thank goodness for that. Otherwise, we would all be stuck believing the world is already figured out, and that we learned all we need to know in school…back when they said that the best you can do is grow one inch of soil every thousand years.
YOUR FUND AT WORK
Services provided by FTCLDF go beyond legal representation for members in court cases.
Educational and policy work also provide an avenue for FTCLDF to build grassroots activism to create the most favorable regulatory climate possible. In addition to advising on bill language, FTCLDF supports favorable legislation via action alerts and social media outreach.
You can protect access to real foods from small farms by becoming a member or donating today.