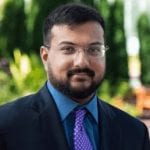 The board and staff at Farm-to-Consumer Legal Defense Fund (FTCLDF) are pleased to announce our newest board member, Mahesha Subbaraman.
Born and raised in Minnesota, Mahesha Subbaraman is a graduate of Amherst College and the University of Minnesota Law School. As an appellate attorney, he has represented clients in state and federal courts on a variety of ground-breaking legal matters. Before founding the law firm of Subbaraman PLLC, Mahesha served as an associate at the Minneapolis, Minnesota office of Robins Kaplan L.L.P. and as a staff attorney at the Arlington, Virginia headquarters of the non-profit Institute for Justice.
Mahesha is dedicated to providing clients from all walks of life with effective appellate representation. His law firm has litigated cutting-edge legal issues in the areas of constitutional law, civil forfeiture law, business law, and immigration law. Subbaraman PLLC also provides pro bono appellate services to nonprofit organizations and individuals who otherwise cannot afford appellate counsel. He is delighted to bring his experience to the FTCLDF Board and to help increase access to foods from small sustainable farmers.
FTCLDF Executive Director Alexia Kulwiec states, "Mahesha brings tremendous experience in litigation and work to enforce his clients' rights, and FTCLDF is thrilled to have him join the Board."
FTCLDF, founded in 2007, is the nation's leading 501(c)(4) nonprofit supporting people's right to raise, produce, and consume the foods of their choice. Our work includes research, education, advocacy, and legal services and is supported chiefly by its members and grants.
YOUR FUND AT WORK
Services provided by FTCLDF go beyond legal representation for members in court cases.
Educational and policy work also provide an avenue for FTCLDF to build grassroots activism to create the most favorable regulatory climate possible. In addition to advising on bill language, FTCLDF supports favorable legislation via action alerts and social media outreach.
You can protect access to real foods from small farms by becoming a member or donating today.