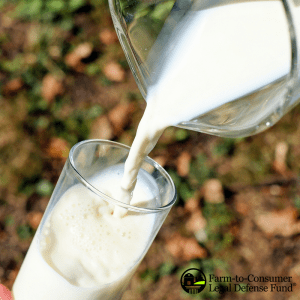 In some states, it is especially difficult for residents to legally obtain fresh raw milk. We at Farm-to-Consumer Legal Defense Fund (FTCLDF) understand that not every food, even the nutrient-dense, pastured, GMO-free variety, is for everyone, but we advocate for the right for everyone to choose their own food from small sustainable farms. If you're a consumer of raw milk or believe that you should have the right to access this and other nutrient-dense foods, please consider a consumer membership with us. If you're a producer of raw milk or other products from the sustainable farm, consider a farmer membership with us. Here is FTCLDF supporter Julia Strzeszkowski's story about obtaining raw milk in our nation's capital and why she went through the hassle.
Getting my hands on raw milk from pastured cows in Washington, D.C. was an adventure since raw milk sales are entirely illegal there. Last year, here's how I obtained it each Sunday: a $15 Lyft ride took me from my apartment in Northwest D.C. to a farmers' market near Dupont Circle at 6 AM (two hours before it opened) to pick up a gallon of milk, jar of kefir, and pound of butter from a farmer friend from Virginia. Raw milk sales are also illegal in Virginia, but herd shares are legal in Virginia so I paid him for my share in ice cream made from raw cream, raw egg yolks and raw honey. One of the market vendors drove me to a second farmers' market, where I worked, and I kept my treasures chilled in his refrigerated truck for the duration of the market. He left the market before I did, so as my co-market manager and I cleaned up after market, we always had to keep in mind that my dairy products were in danger of heating up too much in the sometimes 90-degree D.C. weather, since they're supposed to be kept at 40 degrees or lower.
When I first moved to D.C., I didn't consume any dairy at all. The previous year, I spent the better part of six months going to a chiropractor three times a week because terrible back pain affected my work, studying and exercise goals. One day, while drinking a latte made with grass-fed, pasteurized milk, I had an epiphany. After one sip, pain seized up my back and I knew the milk was the cause. I stopped drinking milk and consuming all dairy, and within a week, I no longer needed the chiropractor. However, other health issues (poor skin, digestive distress, fatigue, nutrient deficiencies, gut dysbiosis) continued. I knew the answer to what I should and shouldn't eat was going to be complicated.
In D.C. I was fortunate to have access to organic produce, meat, and organs from pastured animals, and international specialty markets that sold things like cod liver packed in its own oil. I even tried a real sourdough bread made from a wild starter and organic, freshly milled local flour! However, my nutrient-dense diet, though wonderful, did not restore me to full health. As I self-diagnosed and experimented (with the help of a holistic doctor and naturopathic nutritionist), my friend lent me The Untold Story of Milk by Ron Schmid.
As I learned about the history of pasteurization, I wondered how I had ever allowed milk from factory-farmed cows to enter my mouth. No wonder I had pain, acne, mood swings, trouble building muscle, brain fog, and bloating for so many years. In fact, I'm surprised I wasn't worse: my body was processing poison! Luckily I didn't have to worry about quitting conventional dairy—I had already done that. But if the cows were pastured, why would the fact that the milk was raw matter so much?
Unlike pasteurized milk, raw milk is alive. Pasteurization destroys enzymes, kills beneficial bacteria, degrades vitamins, and leaves difficult-to-digest sugars like lactose intact. Most pasteurized milk is also homogenized, which means naturally bigger fat molecules are forced through a tube to create smaller molecules (which humans never encountered in our evolutionary history). In contrast, raw milk is probiotic, enzymatic and full of easy-to-digest, fat-soluble nutrients and molecules. For someone whose gut had been destroyed by overprescription of antibiotics, stress, and the Standard American Diet, raw milk was a godsend.
Raw milk and raw kefir (fermented raw milk) were crucial to overcoming a leaky gut and restoring my health. They helped me restore my gut lining and microbiome and take in nutrients my body had trouble extracting from organ meats and vegetables. Raw milk gave me energy I had not experienced in years. At one point, I had to consciously drink less milk than I wanted because 24 ounces of milk kept me full for more than eight hours!
I was lucky to work in the farmers' market community and to know farmers who provided raw milk from pastured cows. However, that was not the case for everyone who wanted raw milk in D.C. I did my best to connect people with farmers without attracting the attention of the public health officials because I wanted other people to improve their health the way I had. I am in Indiana now, working for a farm at a farmers' market and studying to become a naturopath to help others with similar experiences. Sales in Indiana are legal as long as the milk is marked as "pet food," and I am thankful to continue to have access to raw milk each week through a drop point.
To view the access laws to fresh raw milk in your state, visit our Raw Milk Nation Map and Chart in the coming weeks, as it will be updated soon. If you'd like to obtain your own raw milk, a good starting point is www.realmilk.com/real-milk-finder  
Our latest campaign is our attempt to lift the U.S. Food and Drug Administration (FDA)'s ban on the interstate transportation of raw dairy products, which if lifted would increase access to raw milk and much more. If you'd like to learn more and contribute to this campaign, visit this page.
YOUR FUND AT WORK
Services provided by FTCLDF go beyond legal representation for members in court cases.
Educational and policy work also provide an avenue for FTCLDF to build grassroots activism to create the most favorable regulatory climate possible. In addition to advising on bill language, FTCLDF supports favorable legislation via action alerts and social media outreach.
You can help FTCLDF by becoming a member or donating today.
Anyone wanting to make a contribution to support the work of FTCLDF can donate/find out more or join us today!