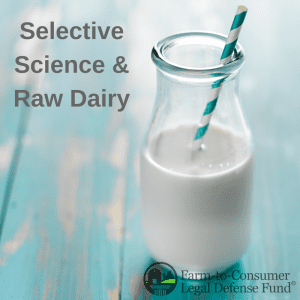 The attack on the safety and health benefits of raw milk has a deep and rich history. The Centers for Disease Control and Prevention (CDC) and the Food and Drug Administration (FDA) robotically use the same selective science that minimizes the dangers present in pasteurized dairy while highlighting the dangers in raw dairy. The alleged safety threats are routinely cited by opponents of raw milk, leading to legislative failures across the country. Maintaining raw milk's illegal status is a top priority of the national conventional (pasteurized) dairy industry. The conventional dairy industry is threatened because conventional milk consumption is at an all-time low. Studies indicate that Americans drink 37% less milk than they did in 1970, according to The Washington Post article, "The mysterious case of America's plummeting milk consumption."1 
The milk consumers are demanding nutrient-dense, local and raw. In an article from Food Safety News, the Washington Agriculture Department describes raw milk demand as explosive, citing an increase of raw milk dairies from 6 in 2006 to 39 in 2016 in Washington alone.2 The hesitation of the conventional dairy industry to meet consumer demand is leading to an increasingly dire situation for conventional dairy farmers across the country. The price of conventional milk continues to decrease leading to farms shutting down and even cases of suicide in the farming community. The government and the conventional dairy industry need to stop using selective science to support their message and meet the consumers' demands for raw milk and dairy products. Moving away from the conventional model of milk production in this country could be the very thing that saves the American dairy farmer.
Beginning in 2006, the agriculture departments of Michigan, California, New York, Ohio, and Pennsylvania, with backing by the FDA, launched a major crackdown on small dairies producing raw milk. The campaign outlined three goals in their strike against raw milk producers: to discover pathogens in raw milk, to use the discovered findings to warn Americans of raw milk consumption, and to discourage dairies from switching to raw milk production in response to the increased demand. The federal government and regulators claim that raw milk poses a public health threat, citing the dangers of salmonella, e. coli O157:H7, and listeria. Authors affiliated with the CDC claim, in a 2012 press release, that the rate of outbreaks caused by raw milk and raw milk products were 150 times greater than outbreaks linked to pasteurized milk.3 The CDC based this conclusion on an analysis of reports from 1993 to 2006. The CDC report has been heavily reviewed, the claims have been deconstructed, and the data has been shown to be cherry-picked.
The Weston A. Price Foundation (WAPF) completed a thorough investigation of the CDC study, deconstructing the data in a press release in 2012.4 WAPF found issue with almost every conclusion the researchers proposed. During the 14-year analysis, there was an average of 315 illnesses a year from all dairy products. Of the 315 illnesses, an average of 112 illnesses a year were attributed to raw dairy, while 203 illnesses were associated with pasteurized dairy products. When comparing the number of dairy related illnesses to that of other foodborne illnesses, which average 24,000 a year, the rate of illness is extremely low. Furthermore, the CDC study was abruptly ended in 2006 when the very next year 135 people became ill from pasteurized cheese contaminated with e. coli and three people died from pasteurized milk contaminated with listeria. This terrible year for foodborne illnesses attributed to pasteurized products was conveniently left out of the data set. Additionally, the CDC study focused on outbreaks rather than illnesses, lacked a distinction between outbreaks attributed to "suitcase style cheese" versus fluid raw milk, used outdated raw milk consumption rates, and ignored population data that resulted in skewed results. Judith McGeary of the Farm and Ranch Freedom Alliance sums up the study stating, "What the data really shows is that raw dairy products cause very few illnesses each year, even though the CDC indicates that over 9 million people consume it."
The research on raw milk is flawed and the biased results of the CDC study are referred to almost religiously in legislation. The battle over raw milk legal status was most recently tested in Tennessee. Senate Bill (SB) 1913 and House Bill (HB) 1963 would have removed regulations prohibiting the direct sale of raw butter, and SB 2104 and HB 2229 would have provided an exemption from licensure, inspection and regulation for raw milk and dairy products sold from kitchen homes. Both bills were meant to increase the availability of raw milk products and both bills failed. The failures of the two bills were backed by national pasteurized dairy groups, The National Milk Producers Federation (NMPF) and the International Dairy Foods Association (IDFA) citing the potential for an increase in illness.5 Jim Mulhern, president and CEO of NMPF, states:
"Consumption of raw milk is a demonstrated public health risk. The link between raw milk and foodborne illness has been well-documented in the scientific literature, with evidence spanning nearly 100 years. Raw milk is a key vehicle in the transmission of human pathogens, including E.coli O157:H7, Campylobacter, Listeria monocytogenes and Salmonella."
Mulhern is citing the same so-called scientific literature that has been cherry-picked, resulting in false assumptions about the safety of raw milk. The ignorant assumptions are actually creating a threat to the livelihoods of hundreds of farmers across the country. Farmers are often prohibited from producing raw milk, a product that could give them a huge economic boost, all the while being at the mercy of huge conglomerates and a failing industry. In early 2018 Dean Foods, a company that purchased conventional milk from many local farmers, sent a notice to 100 farmers across the country, including 10 in Tennessee, that they would no longer be purchasing milk from them.6 In a statement sent to Channel 3 newsroom in Tennessee, Dean Foods cited the following factors as reasons for terminating the contracts:
"Americans drink about 3 gallons less milk per person per year since 2010; per capita consumption is down about 11 gallons since 1975.
The U.S. dairy industry is currently producing about 350 million more gallons of milk each year than the year before.
The introduction of new plants at a time when there is an industry-wide surplus of fluid milk processing capacity forced us into this position.
Further, competition for milk volume has increased and Dean Foods lost volume at higher levels than anticipated."
Farmers were given a 90-day notice from Dean Foods along with resources to mental health professionals, which is becoming a common solution to the dire situation. In early March 2018, Cabot Creamery, a co-operative in the Northeast, sent a list of mental health services and suicide hotline numbers to their farms along with routine payments and the decreasing price forecasts for their milk. The referral of farmers to mental health resources is a direct indication that there is a serious problem and a very unstable future for the conventional dairy industry.
The hands of the dairy farmers are tied. On one hand they are losing buyers for conventionally processed milk, and on the other they are legally blocked from producing raw milk, a product that could give their bottom line a huge boost. Farms are shutting down, and farmers are losing their livelihoods and in some cases their lives. The government and the national pasteurized dairy organizations need to do their jobs of protecting the industry—including all types of milk, meeting consumer demand for nutrient-dense raw milk, and to approach the data scientifically, refraining from a biased approach.
Footnotes:
1 Roberto A. Ferdman. The Washington Post. "The mysterious case of America's plummeting milk consumption." 2014 June. Accessed 4/17/2018 at https://www.washingtonpost.com/news/wonk/wp/2014/06/20/the-mysterious-case-of-americas-plummeting-milk-consumption/?utm_term=.b053ec4a385c
2 Cookson Beecher. Food Safety News. "Raw milk's 'explosive growth' comes with costs to the state." 2016 Jan. Accessed 4/17/2018 at http://www.foodsafetynews.com/2016/01/raw-milks-explosive-growth-comes-with-costs-to-the-state/#.WtihLC7wbIW
3 Centers for Disease Control and Prevention. "Majority of dairy-related disease outbreaks linked to raw milk." 2012 Feb. Accessed 4/17/2018 at https://www.cdc.gov/media/releases/2012/p0221_raw_milk_outbreak.html
4 Weston A. Price Foundation. "CDC Cherry Picks Data to Make Case Against Raw Milk." 2012 Feb. Accessed 4/17/2018 at https://www.westonaprice.org/cdc-cherry-picks-data-to-make-case-against-raw-milk/
5 USAgNet.com. "Groups Applaud Withdrawal of Tennessee Raw Milk Bills." 2018 Mar. Accessed 4/17/2018 at http://www.wisconsinagconnection.com/story-national.php?Id=505&yr=2018
6 Caitlyn Chastain. WRCBtv.com. "Tennessee dairy farmers look for new buyer after Dean Foods terminates contracts." 2018 Mar. Accessed 4/17/2018 at http://www.wrcbtv.com/story/37716269/tennessee-dairy-farmers-look-for-new-buyer-after-dean-foods-terminates-contracts
YOUR FUND AT WORK
Services provided by FTCLDF go beyond legal representation for members in court cases.
Educational and policy work also provide an avenue for FTCLDF to build grassroots activism to create the most favorable regulatory climate possible. In addition to advising on bill language, FTCLDF supports favorable legislation via action alerts and social media outreach.
You can help FTCLDF by becoming a member or donating today.


Anyone wanting to make a contribution to support the work of FTCLDF can donate or find out more.