FOR IMMEDIATE RELEASE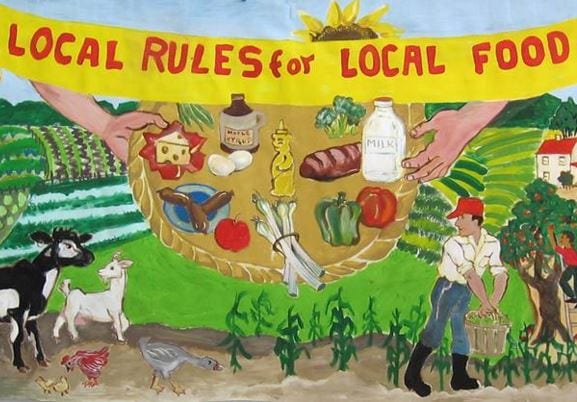 Artistic Credit: ARRT
Falls Church, VA—June 29, 2017—It's been an amazing past couple of weeks in Maine. On June 16, the state broke new ground for the local food movement when Governor Paul LePage signed LD 725 (Legislative Drawer 725), a bill giving control over food regulation to municipalities empowering them to allow unregulated commerce direct from local food producers to consumers within the municipalities' borders. A second bill, LD 835, legislation that would've allowed farms and home kitchens to sell direct to consumers statewide without licensing or inspection, was vetoed by LePage on June 28. A vote by the state House of Representatives to override the veto on the same day came up just short of the needed two-thirds majority.
LD 725, titled An Act to Recognize Local Control Regarding Food Systems, states that "a municipal government may regulate by ordinance local food systems, and the state shall recognize such ordinances." Any ordinance would only apply to food produced and sold direct to consumers within the municipality; any food produced in the municipality "intended for wholesale or retail distribution" outside its borders "must be grown, produced or processed in compliance with all applicable state and federal laws, rules and regulations." LD 725 marks the first time that a state has given regulatory control to a municipal government over food produced and sold locally.
Even without the protection that LD 725 provides, twenty Maine towns since 2011 have passed food sovereignty ordinances known as Local Food and Community Self-Governance Ordinance (LFCSGO). With the new law, that number should increase rapidly; towns that have previously been on the fence about the ordinance will now be adopting it. LD 725 should keep more of the food dollar in the local communities as well as reduce reliance on food imported from outside the state.
LD 835, titled An Act to Promote Small Diversified Farms and Small Food Producers, would have allowed unlicensed sales from farmers to "informed end consumers" if the sale occurred on the farm where the "farm food product originated" or at the home of the consumer. Sales by home kitchen producers could have been unlicensed if the sale was made at either the producer's home or at a "traditional community social event."  The bill did not require inspection for direct transactions between a farmer or a home kitchen producer and a consumer. The bill did have a labeling requirement, including a statement on the label that "This food product was not produced under license or inspected by the state of Maine."
In the governor's veto letter for LD 835, LePage played the fear card stating, "LD 835 is an effort to legislate an illusion that there is no need for food safety training and inspections…Eliminating responsibility for food safety without any requirement for standards equal to known safety tolerance is dangerous to consumers, a risky burden to towns and potentially devastating to food producers who sell hazardous food." In making this statement, LePage ignored the track record of food producers in the twenty towns that have already adopted the food sovereignty ordinance. As far as is known, there have been no cases of food-borne illness attributed to any producer operating under the LFCSGO.
The vote to override the governor's veto was 83-47. One observer blamed the outcome on artisans fighting over the state budget. The opposition to LD 835 is on borrowed time. As the number of towns adopting the food sovereignty ordinance increases, the groundswell for statewide adoption of the LFCSGO will continue to grow until its establishment as the law of the land in Maine will be inevitable.
Congratulations to FTCLDF members Heather Retberg, Betsy Garrold, lobbyist Hilary Lister and others for their success and for setting the bar high for the rest of the country. FTCLDF provided funding for the lobbying effort on both bills.
Read more here about food freedom in Maine.
Media Contact:
Elizabeth Rich, Esq.
Farm-to-Consumer Legal Defense Fund
703-208-3276, [email protected]
YOUR FUND AT WORK

Services provided by FTCLDF go beyond legal representation for members in court cases.
Educational and policy work also provide an avenue for FTCLDF to build grassroots activism to create the most favorable regulatory climate possible. In addition to advising on bill language, FTCLDF supports favorable legislation via action alerts, social media outreach, and the online petition service.
You can help FTCLDF by becoming a member or donating today.


Anyone wanting to make a contribution to support the work of FTCLDF can make a
donation online
or send a check to:
FTCLDF
8116 Arlington Blvd, # 263
Falls Church, VA 22042
Prefer to make a tax-deductible donation? Donate online here.
You may also contact us by email at [email protected] or call 703-208-FARM (3276). Thanks for your support.