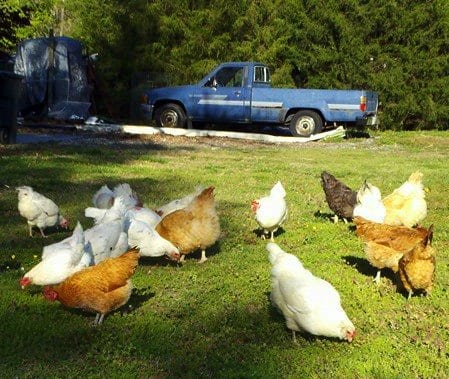 Freerange chickens on Goodwin Farm
Henrico County Virginia officials have told FTCLDF member Stewart Goodwin that she cannot have chickens on her property that is zoned for agriculture. Here is Stewart's account of her dispute with the county.
Jurisdictions across the Commonwealth and the nation are re-writing their local ordinances to accommodate the public's demand to know where their food comes from and the right to raise their own fresh fruits, vegetables and eggs.
It is now legal to raise your own chickens on residentially zoned land in metropolitan areas such as Richmond City, Chesterfield County, the Town of Ashland and most recently, Hanover County. You can even have chickens in row houses in Old Town Alexandria and in downtown Charlottesville!
But one jurisdiction continues to be operating in the dark ages, long before World War II even, when the citizens of the United States were encouraged to have victory gardens and to raise poultry for fresh eggs.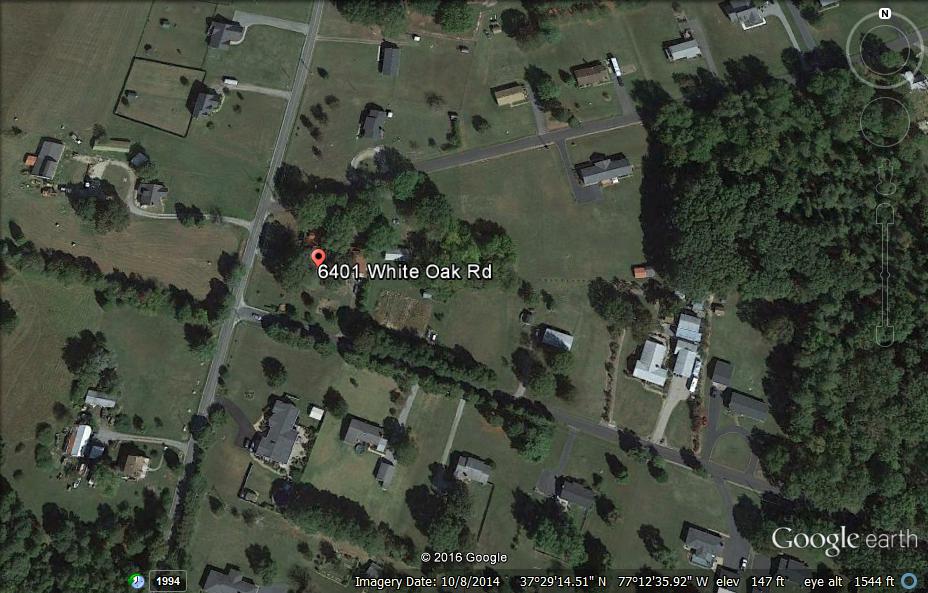 Aerial view of Goodwin Farm
That jurisdiction is Henrico County. Because one unknown neighbor was offended by a sign I put in my yard, Henrico County has strongly suggested, under the threat of legal action, for me to remove my chickens from land zoned agricultural. They are citing local zoning ordinances; first saying I'm zoned residential, then saying I don't meet setbacks for horses (which I'm still looking for) and then setbacks to dwellings, then changing that to lot lines and now they are saying my poultry operation of 36 chickens is a threat to the general health, safety and welfare of the community. Additionally, the county says my chickens cannot freerange on their own property.
Although they have been informed of the Virginia State laws; 15.2-2288.6. Agricultural operations; local regulation of certain activities (passed in 2014) and 3.2-301. Right to farm; restrictive ordinances. When agricultural operations do not constitute nuisance (both passed in 1981) all of which protect my poultry operation, they continue to ignore the state laws and attempt to enforce county ordinances even though they have acknowledged that my property is zoned agricultural and I am an agricultural operation.
Why is it a problem that Henrico County is ignoring state law? Because Virginia is a Dillon Rule state. Under the Dillon Rule, handed down by the Supreme Court of the United States, "If there is a question about a local government's power or authority, then the local government does NOT receive the benefit of the doubt. Under Dillon's Rule, one must assume the local government does NOT have the power in question." But yet, they continue.
Additionally, by denying me the right to farm the property that began as a poultry operation in 1925, without government interference, the U.S. Supreme Court has ruled that the application of land-use regulations to a particular piece of property is a taking when it denies the land's owner reasonable, viable use of it, or "if the ordinance does not substantially advance legitimate state interests…or denies an owner economically viable use of his land." By Henrico County ignoring Virginia State codes 15.2-2288.6, 3.2-300, 3.2-301 and 3.2-302 and restricting the use of my property, it appears to me that inverse condemnation has been created.
To what end this will come is unclear to me at this time. But, I will continue to fight to raise my chickens, to provide fresh, pesticide-free products to my customers and to protect the right of farmers and consumers to know where their foods originate without the fear of being poisoned by e. coli, listeria, salmonella or cancer-causing chemicals injected into our foods to preserve and extend the shelf life.
Join me in my fight to protect not only my operation but also small farming operations all across the Commonwealth, and the United States, from unwarranted intrusion of local governments just because someone was offended by a sign.
Visit and like my Facebook page to help join the fight to save my chickens and the rights of ALL small farmers. I will be posting updates and calls to action on that page. You can also email me. Thank you for your support.
YOUR FUND AT WORK

Services provided by FTCLDF go beyond legal representation for members in court cases.
Educational and policy work also provide an avenue for FTCLDF to build grassroots activism to create the most favorable regulatory climate possible. In addition to advising on bill language, FTCLDF supports favorable legislation via action alerts, social media outreach, and the online petition service.
You can help FTCLDF by becoming a member or donating today.


Anyone wanting to make a contribution to support the work of FTCLDF can make a
donation online
or send a check to:
FTCLDF
8116 Arlington Blvd, # 263
Falls Church, VA 22042
Prefer to make a tax-deductible donation? Donate online at bit.ly/NFG4FTC.
You may also contact us by email at [email protected] or call 703-208-FARM (3276). Thanks for your support.