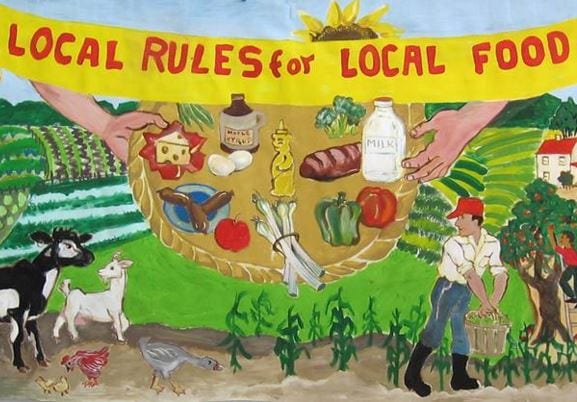 Artistic Credit: ARRT
For the second year in a row, legislation on freedom of food choice nearly passed the Maine legislature but came up short. LD 783, a "Resolution, Proposing Amendment to the Constitution of Maine to establish a right to food", died in the Senate on March 28, 2016. Last year a bill codifying the food sovereignty ordinances 17 Maine towns have passed nearly made it to the governor's desk but was shot down in an appropriations committee after having passed through both the full House and Senate. The bill would have allowed the unregulated sales of food produced by farms and home kitchens direct to the consumer.
Passage of LD 783 would have allowed the people of Maine to vote on a referendum in November 2016. The question on the ballot would have read: "Do you favor amending the constitution of Maine to declare that all individuals have a natural, inherent and inalienable right to acquire, produce, process, prepare, preserve and consume the food of their own choosing for their own nourishment and sustenance and to barter, trade and purchase food from the sources of their own choosing for their own bodily health and well-being?"
If approved by the voters, the following section would have been added to the Declaration of Rights in the Constitution of Maine:
Sec 25. A Right to Food Freedom; food self-sufficiency; bodily health and well-being. All individuals have a natural, inherent and inalienable right to acquire, produce, process, prepare, preserve and consume their foods of their own choosing, for their own nourishment and sustenance, by hunting, gathering, foraging, farming, fishing, gardening or saving and exchanging seeds provided that no individual commits trespassing, theft or poaching or other abuses of private property rights, public lands or natural resources in the acquisition of food for all individuals have a right to barter, trade or purchase food from sources of their own choosing, for their own bodily health and well-being, and every individual is fully responsible for exercise of these rights, which may not be infringed.
LD 783 needed two-thirds of legislators in each chamber to vote in favor for the measure to make the ballot in November. The resolution passed 97-45 in the House but was killed by procedural maneuvering in the Senate; the vote on sending the resolution to voters this fall was never actually taken.
One observer commented, "The pesticide industry, the commercial grocers associations, and bioengineering associations all seek out and back candidates who have a farming background to run for office in Maine, and this block is effectively able to dictate food policy in the state. Until similar effort goes toward identifying and working with candidates who are supportive of peoples' rights to grow, process and exchange food of their own choosing especially in the Senate…any similar legislation on the state level will face a similar fate at this point. Hoping that this can at least influence people to turn out and hold candidates accountable at the polls this next election."
There were positive developments to come out of the effort for a right to food constitutional amendment. MOFGA, Maine Organic Farmers and Gardeners Association, which is the oldest and largest state organic association in the U.S., strongly supported the bill from the beginning after not taking a position on last year's food freedom legislation until late in the session. The widespread publicity in this state the LD 783 campaign received should also be a springboard towards the passage of more local food sovereignty ordinances in Maine towns. Early last month, Liberty became the 17th Maine town to pass a food sovereignty ordinance.
FTCLDF provided funding for lobbying on LD 783 and remains committed to establish the right of people to obtain the food of their choice from the source of their choice in Maine and elsewhere.
YOUR FUND AT WORK

Services provided by FTCLDF go beyond providing legal representation for members in court cases.
Educational and Political Action Services also provide an avenue for FTCLDF to build grassroots activism to create the most favorable regulatory climate possible. In addition to advising on bill language, FTCLDF supports favorable legislation via action alerts, social media outreach, and the online petition service.
You can help FTCLDF by becoming a member or donating today.


Anyone wanting to make a contribution to support the work of FTCLDF can make a
donation online
or send a check to:
FTCLDF
8116 Arlington Blvd, # 263
Falls Church, VA 22042
Prefer to make a tax-deductible donation? Donate online at bit.ly/NFG4FTC.
You may also contact us by email at [email protected] or call 703-208-FARM (3276). Thanks for your support.