Podcast with Joel Salatin, Martha Boneta, and many more
by Kimberly Hartke
Episode 5 of the Food Rights Hour podcast is all about farm-to-consumer access. During this three-part episode by host Kimberly Hartke, you'll hear Joel Salatin and other proponents talk about Virginia's HB 1430, the "Boneta Bill," which provides that the "commerce of farm-to-business and farm-to-consumer sales" is included in the Virginia Right to Farm Act; an interview with Liz Reitzig about the new foodie and farm matching website, FarmMatch.com; and interviews with Alvin Schlangen's lawyer and community members concerning his exciting jury trial win in Minnesota.
The views and opinions expressed in this podcast are those of the speaker(s) and not those of the Farm-to-Consumer Legal Defense Fund.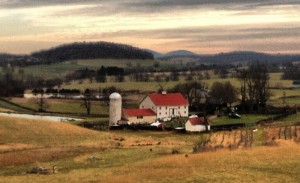 Paris Barns; photo courtesy of Martha Boneta
House Bill 1430, also known as the Boneta Bill, clarifies and expands what products can be sold and what activities can be conducted on a farm. The Boneta Bill was named after Martha Boneta, whose farm store in Paris, Virginia was closed due to citations by the Fauquier County Board of Supervisors. The farm store was cited $15,000 in fines for being out of compliance with a brand new law for, among other things, hosting a friend's child's birthday party without a permit and selling so-called unpermitted products produced from the farm.
Delegate Scott Lingamfelter introduced the Boneta Bill in the Virginia General Assembly to make it clear that Virginia's Right to Farm Act prevents this kind of abuse of the state's farming citizens.
What did farmer and author Joel Salatin and others have to say in favor of House Bill 1430 at a press conference in Virginia? Listen to the podcast to find out!
About Martha Boneta
Martha Boneta is a Farm-to-Consumer Legal Defense Fund member and Fauquier County farmer in Paris, Virginia, who, along with her parents, owns Paris Barns of Historic Liberty Farm, 70-acres where they grow organic vegetables and tend to livestock for wool. She has a barn style farm store where she sold items like produce, yarn, and goat milk soap before the Fauquier County Board of Supervisors cited the farm store for being out of compliance. She is now suing Fauquier County.
Extras
Read "Boneta Bill" Introduced in Virginia and Virginia Pitchfork Protest Becomes Protect Farmer Rights Bill.
Learn more about the press conference and listen to the full conference.
Joel Salatin and Kimberly Hartke will be leading the pitchfork protesters in a rally and in giving testimony in support of the Boneta Bill and another important farm freedom bill. If you live in Virginia, please join them. The event is Monday, January 28; click on the FTCLDF Action Alert for details!
FarmMatch.com is a new foodie and farm matching website. On the show, Liz Reitzig, the new Director of Communications for FarmMatch.com, discusses the site.
What makes this site different from other food finder websites? How does FarmMatch.com work? How can this website help consumers find farms, restaurants, or buying clubs and vice versa? Listen to the podcast to find out!

Founder of FarmMatch, Max         Kane, and Liz Reitzig;      photo courtesy of Hartke Communications

About the Guest
Liz Reitzig is a certified Liberation Wellness Nutritionist and a regular contributor to Liberation Wellness (www.LiberationWellnessBlog.com). She serves as President of the Maryland Independent Consumers and Farmers Association and Secretary of the National Independent Consumers and Farmers Association. As a champion for real foods and farm freedom, Liz is the co-founder and partner in a farm fresh buying club and raises her own family on real foods from local farms. She is also a Chapter Leader for the Weston A Price Foundation. She was featured in the film Farmageddon: The Unseen War on American Family Farms;  see Liz 18 seconds into the trailer.
See Kimberly's blog for a link to a radio show, Foodie and the Beast, featuring Liz Reitzig and Sally Fallon Morell.
Segment 3: Alvin Schlangen's Trial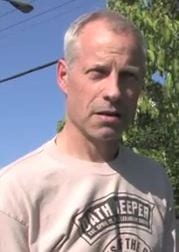 Alvin Schlangen, wearing "Oath Keeper" tee
On September 20, 2012, Minnesota farmer Alvin Schlangen was found not guilty by a jury in Hennepin County on all three criminal misdemeanor counts for violations of the state food and dairy code, making it a significant jury trial win for food rights.
The Farm-to-Consumer Legal Defense Fund and the Weston A. Price Foundation provided assistance to Mr. Schlangen in defending himself against these charges. As the managing member of the Freedom Farms Co-op (FFC), Mr. Schlangen provides a service by delivering nutrient-dense food to FFC members.
What does Nathan Hansen, Alvin Schlangen's lawyer, have to say post trial about the case, and what will he do concerning the similar charges Alvin faces in another county? Why were community members so invested in this case? Listen to the podcast to find out!
Extras
Read Jury Vindicates Farmer of Criminal Charges Related to Minnesota Food Buying Coop or see more details about the case.
See Kimberly Hartke's blogs about this Minnesota farmer.
Questions or comments about this episode of the Food Rights Hour Podcast? Please email [email protected], and we will be glad to respond to you via email or even on a future podcast.
Listen to other recordings of the Food Rights Hour
*Subscribe in iTunes: it's free! When you subscribe to our podcast in iTunes, your computer will automatically download new episodes of the Food Rights Hour Podcast to your Libraries folder on your computer so that you can listen at your leisure or upload them to your mp3 player by simply plugging in your mp3 player and opening iTunes.
Trouble downloading the podcast? If using Internet Explorer, right click the "Download Podcast" button once and select "Save Target As", or try using Mozilla Firefox as your web browser.