Podcast with Dan Ravicher, Esq. by Judith McGeary, Esq.

Episode 1 of the Food Rights Hour podcast is an interview with Dan Ravicher, the lead attorney in the farmers' lawsuit against Monsanto. Over 80 farmers and farming organizations, including the Farm-to-Consumer Legal Defense Fund, have taken on the Goliath of the agricultural world in a suit that could play a critical role in the fight against genetically engineered crops.
What are the laws that allow Monsanto to accuse innocent farmers of patent infringement when their own genetically engineered crops contaminate farms?  What are patents, and how do they affect your daily life? What's happening with this important lawsuit? Listen to the podcast and find out!
The views and opinions expressed in this podcast are those of the speaker(s) and not those of the Farm-to-Consumer Legal Defense Fund.
About the Guest
Dan Ravicher is the Executive Director of the Public Patent Foundation and a Lecturer in Law at Benjamin N. Cardozo School of Law. Labeled a modern day Robin Hood by Science Magazine, Dan is a registered patent attorney who writes and speaks frequently on patent law and policy, including twice testifying as an invited witness before Congress on the topic of patent reform. He received his law degree from the University of Virginia School of Law, and his bachelor's degree in materials science magna cum laude with University Honors from the University of South Florida.
Extras
Read Farm-to-Consumer Legal Defense Fund's initial press release about the lawsuit.
Read the amicus brief mentioned during the interview or more about the lawsuit.
Check out the Farm-to-Consumer Legal Defense Fund's FundRAISER, ending August 31, 2012.
Questions or comments about this episode of the Food Rights Hour Podcast?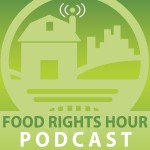 Please email [email protected], and we will be glad to respond to you via email or even on a future podcast.
Listen to other recordings of the Food Rights Hour
*Subscribe in iTunes: it's free! When you subscribe to our podcast in iTunes, your computer will automatically download new episodes of the Food Rights Hour Podcast to your Libraries folder on your computer so that you can listen at your leisure or upload them to your mp3 player by simply plugging in your mp3 player and opening iTunes.
Trouble downloading the podcast? If using Internet Explorer, right click the "Download Podcast" button once and select "Save Target As", or try using Mozilla Firefox as your web browser.