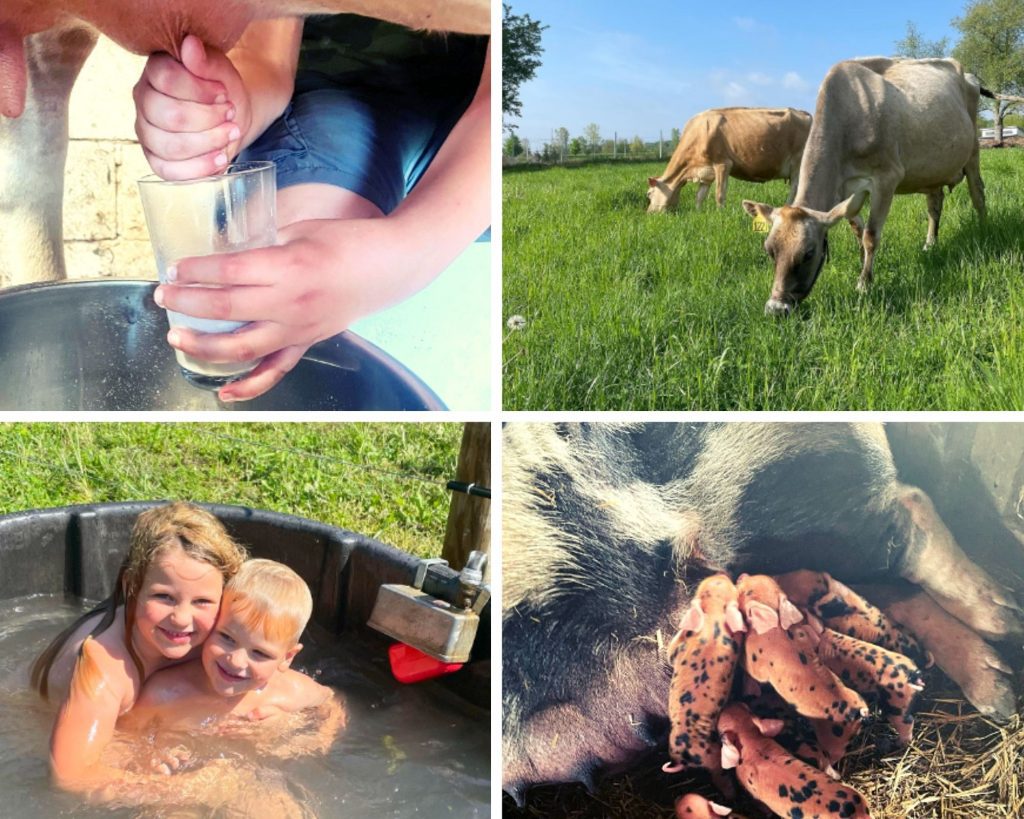 The first Monday of each month is Member Monday where we feature member photos or a video on our Instagram and Facebook pages. Farm-to-Consumer Legal Defense Fund (FTCLDF) is proud of our members, and we take great pleasure in highlighting their operations and the awesome work they are conducting in sustainable farming, animal husbandry, artisanal production, and homesteading. See below for October's member photos!
Belvedere Farms
Belvedere Farms is a diversified, regenerative agricultural family farm in northeast Ohio run by Raelene and Jordan Bradley. With 47 acres, an 1883 barn, a 1908 fixer-upper farmhouse, and 5 little-farmers-in-the-making, they're always fixing something and always learning some new skill.
They have two main priorities:
1. to raise nutrient-dense, delicious food using sustainable, loving, and environmentally-sound practices and
2. to raise their children to be hard-working, compassionate humans who understand, appreciate, are in awe of, and thoughtfully contribute to and care for the natural world around them.
They moved to the farm in 2015, just after their third child was born. The farm had been leased and farmed in conventional row crops for more than 30 years with little to no inputs. The land was depleted and the declining yields year after year reflected that neglect. Little by little as time, money, and energy permits, they're rebuilding and regenerating the biodiversity of the soil, water systems, and forage.
The Bradleys came to farming in search of flavor, looking for nutrient-dense foods bursting with natural goodness that can only come from sun on grass and free-ranging, happy animals (and plants!) living their best lives. They raise beef, pork, chicken, turkeys, eggs, and fresh vegetables.
Photo collage: Milking, milk cows, stock tank dip, and piglets
Find out more about this farm at
belvederefarmstead.com/farm-goods
www.instagram.com/p/CfB9Ny4O8hN
belvederefarmstead.com/milkcow101
Membership
Thank you to all of our wonderful members! We are membership-based and couldn't do the work we do without you! Learn more about membership here.
If you're a member and would like to share your photos with us, email [email protected] for more details.
YOUR FUND AT WORK
Services provided by FTCLDF go beyond legal representation for members in court cases.
Educational and policy work also provide an avenue for FTCLDF to build grassroots activism to create the most favorable regulatory climate possible. In addition to advising on bill language, FTCLDF supports favorable legislation via action alerts and social media outreach.
You can protect access to real foods from small farms by becoming a member or donating today.