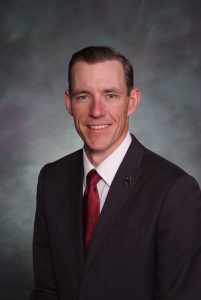 The board and staff at Farm-to-Consumer Legal Defense Fund (FTCLDF) are pleased to announce our newest board member, Wyoming Representative Tyler Lindholm. Tyler sponsored and passed the Wyoming Food Freedom Act, providing freedom for direct producer to consumer purchase of food in Wyoming. After five successful years, this Act remains the best available model for such legislation in the United States.
Tyler has served House District 1 in Wyoming for the last 5 years and serves as Chair of the Corporations Committee and BlockChain Task Force. He brings a great deal of expertise and ideas to further the goals and priorities of FTCLDF. Tyler also brings experience in family owned ranching, currently serving as Vice-President of his family's cattle ranch.
FTCLDF Executive Director Alexia Kulwiec states that "as FTCLDF expands and increases its work involving livestock issues, food freedom, and on-farm slaughter, I can't think of a better addition to the Board to help the organization grow in these areas."
Tyler understands that FTCLDF has a rich history of defending farmers and ranchers across the United States, selling their goods directly to consumers. Tyler reports that "FTCLDF has brought transparency and solutions to the issues farmers and consumers face daily in getting their product to market and it is an absolute honor to be part of FTCLDF and its important work. We will continue to work towards Food Freedom across the nation so the next generation can choose the food it produces and consumes." Tyler and his family live in Sundance, Wyoming.
FTCLDF, founded in 2007, is the nation's leading 501(c)(4) nonprofit supporting people's right to raise, produce, and consume the foods of their choice. Our work includes research, education, advocacy, and legal services and is supported chiefly by its members and grants.
YOUR FUND AT WORK
Services provided by FTCLDF go beyond legal representation for members in court cases.
Educational and policy work also provide an avenue for FTCLDF to build grassroots activism to create the most favorable regulatory climate possible. In addition to advising on bill language, FTCLDF supports favorable legislation via action alerts and social media outreach.
You can protect access to real foods from small farms by becoming a member or donating today.