FOR IMMEDIATE RELEASE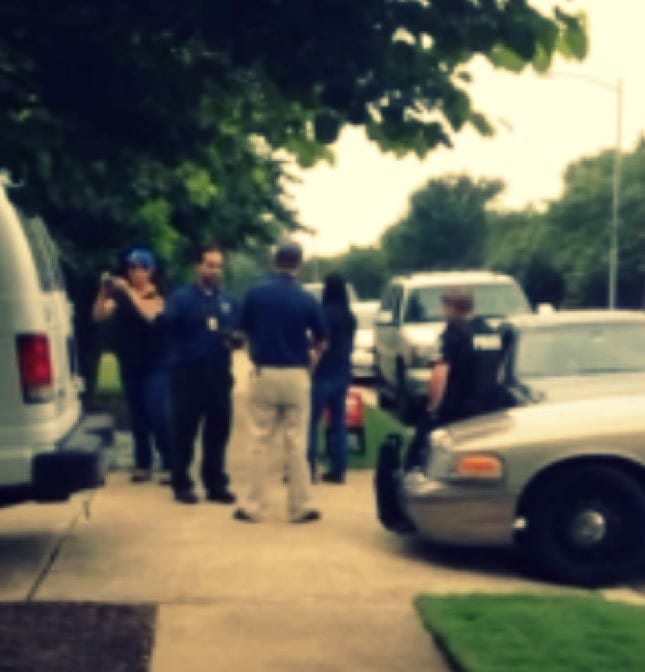 State and City Inspectors Swoop in on Austin Raw Milk Customers
Cameron, TX—June 10, 2016—Health departments have stepped up their attacks on your right to purchase food directly from farmers, resorting to bringing the police to harass and intimidate local raw milk customers.
That's what happened to one group of raw milk customers in Austin recently. They went to a private home to meet the courier that they had hired to pick up their milk and were met by four inspectors from the City of Austin Health Department and Texas Department of State Health Services (DSHS). An unmarked police car pulled into the driveway, blocking the raw milk van and a customer's car—with her children in it—and two policemen emerged (see photo).
The inspectors proceeded to tell the customers that they could not take possession of the milk, ignoring protests that they had already paid for that milk. The inspectors also ignored the statement from the courier that he had a signed agreement with the customers making him their agent—and instead falsely wrote on the inspection report that the courier worked for the farmer.
The inspectors refused to speak to an attorney the courier called for assistance. Instead, one of the city's inspectors confronted the woman who had organized the group drop-off and demanded that she provide her driver's license. When she hesitated, the inspector called a policeman over and then started to take pictures of her car with her children in it. After the woman broke down in tears, the inspector continued to question her to try to find out the names and locations of other drop points.
Because of milk…Purchased from a licensed, inspected dairy…Milk that even the inspectors acknowledge these customers could legally purchase by driving two hours to the dairy.
But because they hired someone to do the drive for them, they had the police called on them and were prevented from taking home the food that they had paid for.
The customers had a written agreement that they each signed with the courier, designating him as their agent to act in their stead—a basic legal principle that goes back to the roots of our common law. Individuals can hire an agent to do anything that they can legally do. But apparently the Health Department believes that raw milk should be the exception to this basic rule of law, and that individuals should be intimidated into abandoning this option.
An inspection report was also filed on the raw milk farm, creating the threat that the farmer could be accused of violating his permit—even though he sold the milk on the farm, never left the farm, and has complied with all the regulatory requirements for selling raw milk.
A separate inspection report was filed on the courier, claiming that he has to be licensed as a retail food establishment. Yet the health departments don't require FedEx or UPS to be licensed, even though they deliver food to people's homes every day.
Under such an interpretation of the regulations, every person who coordinates a bulk order and then divides it up at their house for their community is breaking the law as well.
Is this the start of a broader campaign? We recently received documents indicating that, in 2013, the Ft. Worth Health Department reached out to other cities to discuss how to stop raw milk distribution. We've seen this with cottage foods before—one city health department tries a tactic to crack down on local food actions that they don't like, and then they share the tactic with other cities who also implement it.
Whether you drink raw milk or not, this situation poses a simple question: Can the health departments ignore fundamental principles of law and individuals' basic legal rights and re-interpret regulations simply because they think you shouldn't be eating or drinking something?
Please urge your elected officials to stop state and city health inspectors from interfering with farmers and consumers who are producing and purchasing legal foods by legal means!
And please help us win this fight by making a donation toward this effort. The Farm-to-Consumer Legal Defense Fund (FTCLDF) is providing financial assistance for the attorneys' fees for the farmer who sold the milk. The Farm & Ranch Freedom Alliance (FARFA) is taking on a number of expenses related to attorneys, Public Information Act requests, and our grassroots advocacy campaign. Both these organizations are non-profit groups with limited funds. Help us support the rights of farmers and their local customers:
DONATE TO FTCLDF here
DONATE TO FARFA here
Texans: Please Take Action Now!
Media Contact:
Judith McGeary
YOUR FUND AT WORK

Services provided by FTCLDF go beyond legal representation for members in court cases.
Educational and policy work also provide an avenue for FTCLDF to build grassroots activism to create the most favorable regulatory climate possible. In addition to advising on bill language, FTCLDF supports favorable legislation via action alerts, social media outreach, and the online petition service.
You can help FTCLDF by becoming a member or donating today.


Anyone wanting to make a contribution to support the work of FTCLDF can make a
donation online
or send a check to:
FTCLDF
8116 Arlington Blvd, # 263
Falls Church, VA 22042
Prefer to make a tax-deductible donation? Donate online at bit.ly/NFG4FTC.
You may also contact us by email at [email protected] or call 703-208-FARM (3276). Thanks for your support.